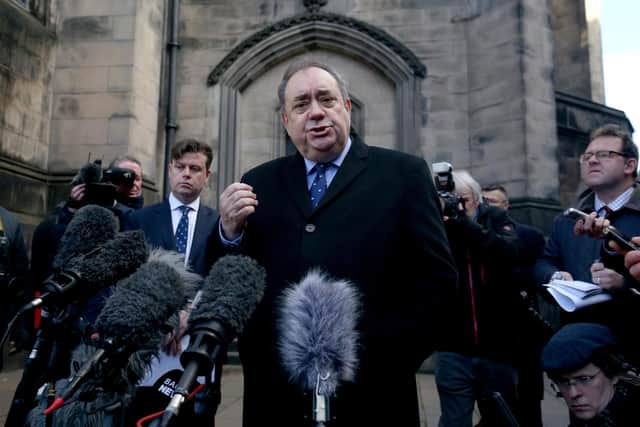 The week's events have plunged the Scottish government, parliament and legal system into the biggest post-war Scottish political crisis and the ex-First Minister's opening statement summed up what is at stake: "The unacceptable conduct of those who appear to have no understanding of the importance of separation of party, government and prosecution authorities, indeed of the rule of law itself."
To recap, the parliamentary inquiry into the disastrous handling of sexual harassment claims against Mr Salmond published his written submission, having been cleared to do so by the Parliamentary Corporate Body (PCB).
The PCB was then persuaded by the Crown Office to take down the evidence and only republished after several passages were redacted to remove any danger of breaching a court order not to identify complainants.
Mr Salmond's appearance before the inquiry on Wednesday was cancelled as he sought legal advice, and such was the pace of change that by Thursday night the official Holyrood Business Bulletin for yesterday said: "There are no meetings today."
The Crown Office intervening to limit the evidence available to such a politically explosive investigation was staggering, at best justified by putting a theoretical risk ahead of the institutional crisis now enveloping the Scottish government, parliament and judiciary. If the evidence did breach the order, then why is every website still carrying the unredacted material not facing contempt charges, an offence for which one man was jailed this week for six months?
The subjects for Thursday's First Minister's Questions weren't hard to predict, or that Nicola Sturgeon's answer would be the same as it's been for weeks: nothing to hide, "relishing" giving her side of the story.
Coming out fighting, Ms Sturgeon rasped out her lines with the trademark half-laugh which signifies both disdain and unease, referring to a "scorched-earth policy that threatens the reputation and integrity of Scotland's independent justice institutions", adding for full effect that they were being sacrificed "on the altar of the ego of one man". Sure enough, that was the line on Friday's news bulletins.
It was noticeable that neither the Law Society of Scotland nor the Faculty of Advocates sought to defend the actions of individuals in the Crown Office, only warning about the dangers of undermining the independence of the system, and that cuts both ways.
Individuals are not then same as institutions and, as the Faculty said: "No one in public life is beyond reproach." Nor should they be above criticism and unfortunately for Ms Sturgeon, amongst the torch-bearers to an alleged bonfire of the Scottish legal system included some prominent legal figures, like Edinburgh University's emeritus professor of Scots law, Robert Black, who said: "There is no way that the unredacted version could be said to risk identification of the women."
There are few more senior lawyers than the former Supreme Court member Lord Hope, who said he was "very surprised that the Crown Office can tell the Scottish Parliament what it can and cannot do".
Ms Sturgeon said anyone suggesting political interference at the Crown Office was "signing up to a dangerous and quite deluded conspiracy theory that risks undermining the integrity and well-deserved reputation of Scotland's independent justice system".
That presumably includes Lord Hope, who also said: "Perhaps there is weakness here in our parliamentary system. Does the Scottish parliament think that it is at risk of being held to be in contempt of court? Or is it just not wanting to offend the Crown Office? There is a question here that needs to be addressed."
Ms Sturgeon appears unaware of how many non-political figures of legal substance are concerned about the Crown Office misjudging the impact of legal intervention in politics, but it was not the first time this week she spoke unwisely.
During her Wednesday Covid media briefing, she was asked about the inquiry and, referring to Mr Salmond's accusers, she said: "The behaviour they complained of was found by a jury not to constitute criminal conduct, and Alex Salmond is innocent of criminality. But that doesn't mean that the behaviour they claimed of didn't happen."
It's true Mr Salmond's acquittal does not mean the women lied, but that's not what Ms Sturgeon said. The clear inference is that while Mr Salmond might not have been found guilty of attempted rape and serious sexual assault, this is what happened and he should have been found guilty.
As well as the new complaint from ex-SNP deputy leader Jim Sillars that this broke the Ministerial Code, it is arguably as defamatory a statement as you are likely to hear, and to defend it she would have to prove something which a jury has already said Mr Salmond did not do.
That could plunge the whole thing back into court and drag the women back into the witness box. In the space of one angry sentence, Ms Sturgeon has opened herself up to legal action of potentially enormous proportions which could prolong the women's ordeal.
Even before this week's dramatic events and Mr Salmond's evidence, it was cutting through to the public consciousness. The latest STV poll still had the SNP on course for an overall majority in May, but a fifth of SNP voters now feel "less favourably" towards the party, independence support has slipped four points, and Ms Sturgeon's approval ratings are down eight.
No wonder Ms Sturgeon is keen to get the election out the way, despite being reluctant to allow any other kind of mass activity, but if May 6 didn't seem so far away a fortnight ago, the next ten weeks are going to be the longest of her career.
A message from the Editor:
Thank you for reading this article. We're more reliant on your support than ever as the shift in consumer habits brought about by coronavirus impacts our advertisers.
If you haven't already, please consider supporting our trusted, fact-checked journalism by taking out a digital subscription.