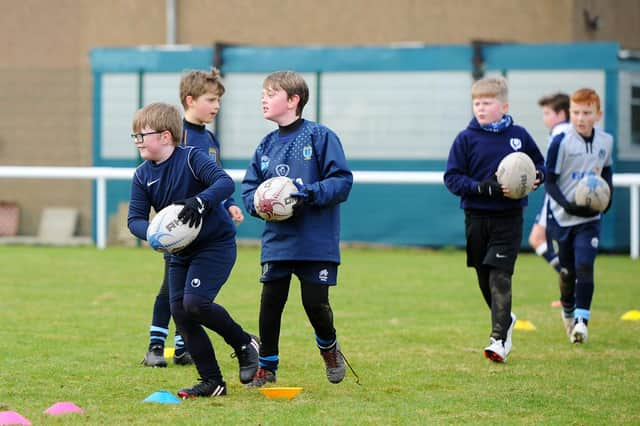 Taking part in sport at a young age helps to form habits that could save your life in later years (Picture: Michael Gillen)
However, when faced with the facts, they do sound rather miraculous. Who would not want a 50 per cent reduction in their risk of a major illness like heart disease, stroke, type 2 diabetes and cancer? You could also reduce the risk of an early death by as much as 30 per cent.
Not only that but "it's free, easy to take, has an immediate effect and you don't need a GP to get some", adds the NHS website.
If you've not all ready guessed, the miracle cure is simple: exercise.
So the news that children under the age of 12 will be able to start playing outdoor contact sports like football and rugby, among other relaxations of the Covid lockdown rules relating to sport, is more important than it may seem.
There has been much talk about "building back better" after the Covid pandemic subsides and changing our attitudes to sport should be high on the list.
For too long, it has been seen as an optional extra; for too long, we have undervalued and overlooked the extraordinary benefits of physical fitness.
Not only does it make our lives longer and healthier, it also makes us happier and, potentially, if we embrace active rather than vehicular travel, richer too – just think of all the money saved on petrol, train tickets and the like.
The gradual return of children to schools has focused minds on the need for them to catch up academically. However, sport needs to be part of that discussion and must not be sidelined.
The habits we form when young can last a lifetime and human beings are simply not designed to live sedentary lives. And yet it is remarkably easy to do so in the modern world we have created where, Covid aside, many people travel to work by car, sit at a desk, then travel home to sit on a couch.
"Sport for all" is a common refrain and yet far too many people in Scotland do none at all. As the lockdown eases, we must look for ways to reduce whatever barriers that exist, financial or otherwise, to ensure this excellent slogan becomes a reality.
A message from the Editor:
Thank you for reading this article. We're more reliant on your support than ever as the shift in consumer habits brought about by coronavirus impacts our advertisers.
If you haven't already, please consider supporting our trusted, fact-checked journalism by taking out a digital subscription.