A tree is not just for Christmas - Stuart Goodall
As Christmas approaches, many of us have a real tree as the centrepiece of our festive home, decorated with bright lights and baubles. And like the seasonal messages from animal welfare charities, we should reflect that a tree – like a dog – is not just for Christmas.
I recently had the pleasure of arranging the delivery of a 7ft Nordmann Fir – supplied from near Inverness by Scottish business Highfield Forestry – to the Scottish Government HQ at St Andrew's House in Edinburgh.
And it was very pleasing to hear Environment Secretary Màiri McAllan – who received the tree on behalf of the Scottish Government – highlight the importance of trees and timber all year round, not just for Christmas.
We need wood, because it is all around us – in the fabric of our homes, in our garden sheds and fences, in our kitchens and in the pallets and packaging vital for delivering food and presents for Christmas.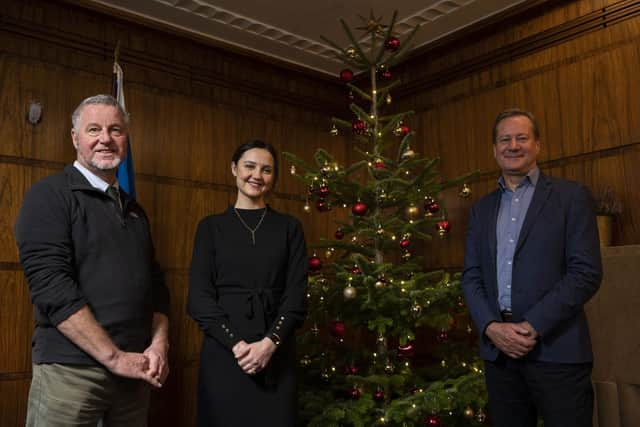 The Scottish Government understands this and has planted more than 75 per cent of all new UK woodland over the last four years. This brings jobs and growth to Scotland's rural economies and supports Scotland's 2045 net zero target – when its emissions are balanced out by the greenhouse gases saved by actions like tree planting.
With the Scottish net zero target five years ahead of the rest of the UK, there is real urgency to move quickly – and tree planting and increased use of home-grown wood is a major element of net zero, sucking carbon dioxide out of the atmosphere and locking it up it in wood products, as well as displacing high-carbon materials.
One huge opportunity, as we face a double-whammy of freezing temperatures and rising energy bills, is to build more energy-efficient homes, using timber frames made from wood grown in Scotland.Scotland leads the way in building with timber, with close to 85 per cent of all new homes using timber frames compared to only around 20 per cent in England, but more could be built using Scottish timber and there is scope to use more wood in our homes.
A shift to using more wood in construction is crucial. Academic studies show that sawn timber for construction uses 35 times less energy to produce than brick, and 24 times less than steel. The thermal insulation properties of wood are five times better than concrete, 10 times better than brick and 350 times better than steel.
Yet while Scotland is leading the way, the recent Climate Change Committee report to the Scottish Government suggested a slight loss of momentum in Scotland – a salutary reminder of just how difficult achieving net zero will be.
However, Scotland is still in a strong place and at a recent conference organised by Confor, Climate Change Committee Chair Lord Deben said he had repeatedly held up Scotland as a beacon of what could be achieved through greater tree planting and wood use.
A key reason for Scotland's success is the recognition that we need all types of tree planting to deliver a balance of economic and environmental benefits.
As we approach Christmas, spare a thought for those who are getting trees into the ground across Scotland. Winter is the prime tree planting time – so let's hope the temperatures won't stay too low for long (as they did recently) and that the snow won't get too deep, which can hamper both planting and the harvesting of mature trees.
The typically variable Scottish weather is already delivering milder temperatures, so hopefully we can get more of those trees in the ground to support our economy and environment in the long-term.
You can do your bit. Buy a Scottish-grown tree to support local business, then recycle it - and remember trees are not just for Christmas.
Stuart Goodall is Chief Executive of forestry and wood trade body Confor: www.confor.org.uk
Comments
 0 comments
Want to join the conversation? Please or to comment on this article.