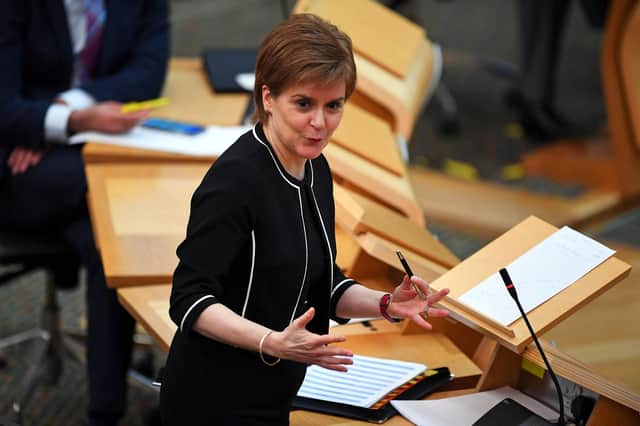 'The Time is Now' has been launched with the 2021 Scottish election now looming. Picture: Andy Buchanan/POOL/AFP via Getty Images
Our starting point is that the scale of challenge presented by Covid and Brexit has enabled us to demonstrate our capacity for radical change. Whatever we do, there will be disagreement and in order to achieve positive outcomes we will require to navigate multiple complex relationships in order to help people find their 'new place'.
In outlining some areas where we think mediation and a mediation approach can make a positive impact, we are firmly of the view that one of the key contributions is to support inclusive government. There are many tensions in the process of government and mediation can help to address them. One of the things we are calling for is for mediation processes to be built into our public sector procedures as this will allow people to better engage in effective decision making.
We also think there are particular areas where the adoption of a mediation approach:
Graham Boyack, director at Scottish Mediation
During the pandemic online mediation has successfully been used to help people resolve their court cases and we believe that this experience can be used to shape better access to justice. The current design of our court system means that this is expensive and the system can get clogged up. But that can change. Mediation has shown it can create the opportunity for discussion and consensual resolution that allows parties to resolve their differences themselves.
Peer Mediation is a programme of training pupils in primary and secondary schools to become young mediators. Our work in Scottish schools has shown that it gives them a sense of responsibility and resilience, and it helps the continuing anti-bullying drive by increasing young people's confidence and competence, tolerance, care, and respect for each other. It also lays the foundation for mediation approaches in later life – what better learning for later life could we impart? It's time to scale up this activity and make it available right across Scotland
Covid has shown us that there are many aspects of life in Scotland where communities are making positive contributions to their areas and determining their own priorities. So when disagreements arise locally within communities it is important that people have support to help them work things out.
How we take decisions to mitigate the impacts of climate change will also have massive impacts for communities across Scotland. Mediation can help in what may be contentious discussions by providing a creative space that allows for locally created solutions, resources are needed for that to happen.
Across business there is a frustration that unresolved conflict can hamper efforts to direct their energies towards recovery from Covid and growing their enterprises. The business community's priority is to have any disputes resolved in the simplest and most efficient way possible, mediation would help in that.
Scottish Government has, to its credit, developed positive uses of mediation in a number of areas. We would advocate for "mediation leads" in every Department to enable the sharing of good practice across government and for the Scottish Government to sign up to the Scottish Mediation Charter and for the Government to bring forward a Mediation Act in the next parliament.
A full version of The Time is Now is on our website at www.scottishmediation.org.uk – join us in influencing the changes that we see as being a key part of Scotland's 21st Century.
Graham Boyack, Director, Scottish Mediation