The Royal Bank of Scotland's Gogarburn HQ is a reminder that for one brief shining moment, it was a global colossus. Then came a disastrous deal and the whole empire crashed into the ornamental fountains. Not just RBS, of course. Turned out, bankers are just gamblers. Worldwide, the ball popped out of the roulette wheel and we all ended up paying the bill.
Sometimes I wish those red-braced city boys had partied more and brokered less. Taken a leaf out of the ledger of an earlier Scottish banker. Gilbert Innes of Stowe lived at 24, St Andrew Square, which must have been handy for his job at the Royal Bank of Scotland. Back then, RBS was a pioneer. Not long after it was created in 1727, it introduced the 'overdraft'. We all know how much fun they are.
Gilbert was a rising star at the bank. He lived with his two formidable, unmarried sisters, Marion and Jane, the height of Scottish propriety. Naturally, they were invited to tea in the very best Edinburgh homes, where the latest gossip would cause a fluttering of fans. Gilbert was very much a club man, on committees for things like Walpole Society and the Society of Antiquaries.
He helped to write the rules for 'entertainments' at the Assembly Rooms. He enforced the ticket system, where tickets were given out for each dance and dancer, and boys and girls could only dance with the corresponding number. Should a ticket number three girl find herself facing a ticket number seven boy, this was considered attempted flirting by the young people, deeply shocking, and the mothers would be called in.
When Gilbert wasn't cruising the dance floor keeping minuets respectable, he was working his way up the corporate ladder. He was good. In 1787, he became a director of the Royal Bank of Scotland. He was seriously rich. I'm not sure if Gilbert danced well, but I'll bet the mammas with unmarried daughters made sure their girls got matching tickets for Gilbert's country dance set.
To no avail. No dancing beauty reeled in the eligible bachelor. Perhaps those girls had a lucky escape, because Gilbert Innes was the original bad boy banker with a sex-fuelled private life that made Wall Street's Wolf look like a New Town poodle.
Respectable Gilbert patrolled the passions of young folks at the Assembly Rooms. Bad Boy Innes ran wild in the city, seducing so many women that it looked like he was trying to beat a production schedule. There were probably more than 30 mistresses, a term used in the 18th century even though Gilbert remained single.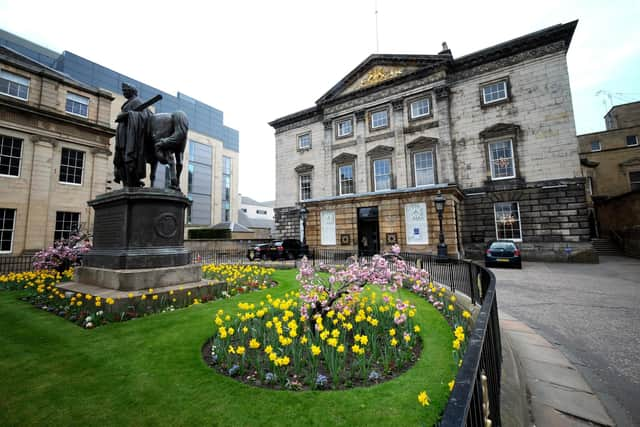 We know an astonishing amount about them. Gilbert loved a ledger and he noted down his girlfriends with meticulous precision, and how much he shelled out for the support of them and his children. He could afford to support these families, but like any other money man, he had a hierarchy of 'investment', even in his women.
Those of a lower social class were expected to work to offset the cost of his kids, but the more "gently born" got some cash off him. Not very much, and we know that because they write begging for more. Oh, not to his home address! Heaven forbid that the respectable Misses Innes should know that their brother was singlehandedly fuelling a population explosion in the city. No, they had to write to the nearest post office, and no, they were not, under any circumstances, to come to the house. One baby-mamma is told never even to set foot in St Andrew Square.
All of this was carefully noted down, and was excavated by Dr Katie Barclay, a wonderful historian, who also uncovered his diaries, where he wails about being such a bad boy, not that he changes his behaviour. He doesn't seem to care that much about all those children.
And then, on one astonishing day, he rocks up to the house in St Andrew Square with eight kids in tow. Effie Burnett, one of his "gently born" mistresses, had died. Gilbert made the stunning decision to bring the children into his home. He could have easily fostered them out. No shortage of willing women to take them in for a suitable fee, thus keeping him out of the picture.
But no. There stands Gilbert with his children, probably in the drawing room, like a sort of tribute 'Sound of Music' Von Trapp family, facing two of those terrifying beasts, Respectable Scottish Women. Jane goes berserk. She starts to make enquiries. She writes letters to the rest of the family. The full extent of Gilbert's out-of-office activities starts to emerge. Things must have been tense in 24, St Andrew Square.
And yet astonishingly, they make it work. Gilbert writes to Jane: "I never thought I cared much for them till they had nobody else to take Charge of them." Jane and Marion ruthlessly style it out. The girls are beautifully dressed, schooled and taken on the visiting round. You can sense the sisters Innes facing down the gossips over the teacups with a "yeah, you wanna make something of this?" expression. Gilbert dotes on them. The girls do well, the boys go into business. He becomes a terrific grandfather.
Now, despite Gilbert's naughty boy behaviour, he got his bank through two major financial crises, left it stronger than he found it and ended his days in the very bosom of respectability in 1832. His obituary in the Caledonian Mercury didn't even mention his scandalous past, but does go on about his singing voice and wonders who'll get his money.
Ah, boys in braces. More bonking, less banking. A whole era of austerity could have passed us by.