Channel 4's The Piano is a bit sentimental for this failed pianist - Gaby Soutar
The 20-something sat down at the piano in Queen Street Station.
He started to play, but we couldn't identify the music. Whatever it was, it seemed to invigorate a pigeon, who was tossing the contents of a discarded bag of salt and vinegar Walkers around the floor.
People started to gather and it gave impetus to the anonymous musician. I'm not sure if the audience, like us, could tell Beethoven from Liszt, but they appeared to be rapt.
We had 20 minutes of music, until our train back to Edinburgh pulled in. The building's acoustics made the sound shine, even if the instrument was hugely out of tune.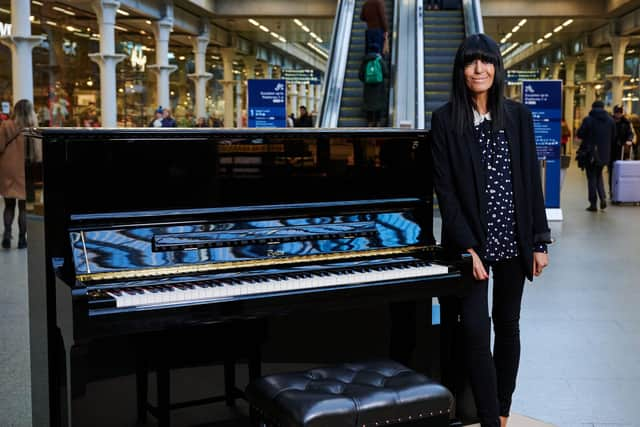 I'm sure they'll have tinkered with the tension of the other Glasgow piano – the one in Central Station, which will feature in an episodes of new Channel 4 series, The Piano, at 9pm on Wednesdays. The third programme is the Scottish one, so you'll have to wait a couple of weeks.
The first in the series, which is hosted by Claudia Winkleman, aired a few days ago and took place in London's St Pancras.
The concept is that Chinese virtuoso pianist, Lang Lang, and pop star singer-songwriter Mika – you know, the one who was responsible for the annoying Grace Kelly song from a few years ago – secretly judge a series of amateur musicians, who tickle the ivories in various train stations.
Winkleman introduces the series by telling us about the "global phenomenon of public pianos". I don't know what she's talking about, though it's probably got something to do with TikTok. Everything does, these days.
I watched the first programme, and it's a bit too huggy for me. Rather than being consoled by Winkleman and told how brilliant they are, I'd rather the rejected musicians would fall through a trapdoor and be eaten by mutant rats living in the London sewers.
Instead, they're allowed to go home, while the winner gets an eventual spot on stage at Royal Festival Hall.
There was no need for the extreme close-up of a budding tear popping out of the corner of Mika's eye, as he watched a woman play the beautiful piece she'd composed. He blinked hard, then harder, but the droplet refused to run. At this point, if I'd been behind the scenes, I would've deployed a water cannon out of frustration.
I am too cynical, when it comes to this sort of coercive sentimentality. Despite that, I do not deny the power of the old Johanna.
I've often thought about tackling the piano that's behind the ticket gates at Edinburgh's Haymarket Station. I never see anyone touching the poor neglected instrument. It is craving the fingers of a punter who's just finished their egg mayo sandwich from the station's M&S. I'm sure it'd be lovely to hear the strains of Clair de Lune, while you're wondering if you've still got time to go to visit platform four's loos.
If I was to play, all I'd be able to remember is chopsticks, or maybe Frère Jacques.
You wouldn't know it, but I had four years of piano lessons. I can't remember any of it. I never enjoyed it much. It was all part of Dad's plan. He was a very cerebral and dedicated man, who zipped through endless grades in double quick time.
Since he died, his beloved piano, which is made from gingerbread-coloured wood, has been snubbed. It's silenced too, with the lid down, so his grandchildren can't slam it on their fingertips. It has a new existence as a double level shelf. The top is reserved for lamps and photos, including one of him on holiday.
I think he thought that my finger span – honestly, I'm like the Pale Man in Pan's Labyrinth – meant that I'd inherited his talent. Unfortunately, I was the opposite of a prodigy. Apparently the antonym of that word is imbecile, so that's more than roughly accurate.
I wasn't disappointed by the years of after-school lessons, which were in the home of a softly spoken woman who had endless patience. I'm sure she was rolling her eyes as she sat behind me.
Instead, it was the practice that I was supposed to do afterwards. At every session, she'd ask me how much I'd done at home, and I'd always have to bluff and blag. I had the same pressure from my parents. They'd herd me towards the piano, and I'd always manage to slither away, like a gecko under a door.
I preferred to waste my time watching Fraggle Rock or cycling round the block. That hasn't worked out too well for me. Still, I may not have become an accomplished pianist, but at least I spent many happy hours with my precious Doozers.
These days, if series The Piano is anything to go by, people skip the formal lessons altogether and teach themselves on YouTube. In fact, the first contestant in the St Pancras episode is a trucker who used this online platform to teach himself to play boogie-woogie piano during lockdown. He fell in love with the style after watching, of course, a TikTok video.
I wonder if his vehicle beeps when it reverses, or if it plays a few jangly chords instead? I hope it's the latter.
Anyway, for those of us who can't play the piano, I'd like to suggest percussion. The global phenomenon of public tambourines starts right here.
Comments
 0 comments
Want to join the conversation? Please or to comment on this article.