Babies provide precious glimmer of hope in Gaza - Scotsman Comment
The evacuation of premature newborns comes amid hopes of a breakthough in talks that could see an end to hostilities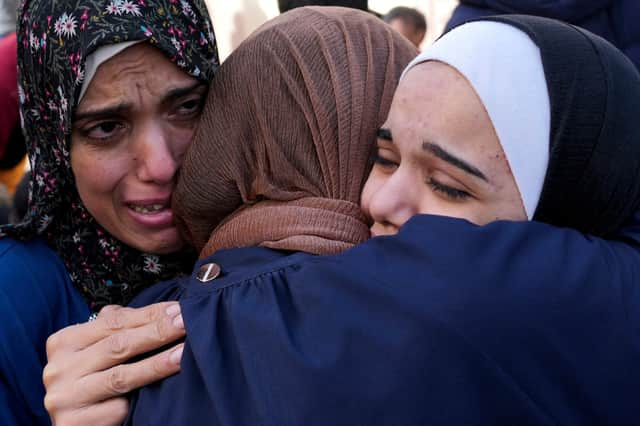 Amid all the horror Gaza has witnessed since the Hamas terror attack in southern Israel, the evacuation to Egypt of at least 30 premature babies from the territory's main hospital provides a precious glimmer of hope.
Heart-rending images of the newborns fighting for life after power cuts shut down incubators and other equipment captured global attention.
Israeli forces continue to battle with Hamas fighters at the Shifa Hospital, which they say is a command centre for terrorists seeking to use patients and doctors as human shields.
First Minister Humza Yousaf yesterday spoke of how his brother-in-law, a doctor in Gaza, is struggling to come to terms with the suffering of Palestinians. Mr Yousaf said: "He says he's never seen death and destruction like it. He told me he doesn't know how he's going to recover from it. He said one of his early jobs, when the conflict began, was to try to match body parts with the correct body. He's in a terrible way."
Last week MPs voted against calling for an immediate ceasefire, on the grounds that Israel is entitled to defend itself and that the terrorists should not be given the opportunity to regroup.
This week, MSPs are expected to vote in favour of an immediate ceasefire, with Scottish Labour at odds with leader Sir Keir Starmer on the issue.
We will hear in the preceding debate that there are no easy answers. On the one hand, Israel is entitled to defend itself against further attack from an enemy intent on wiping it off the map. On the other, the loss of life and the scale of human suffering in Gaza grows more horrifying each day.
At last, there are the faintest of signs that an end to the conflict may just about be within sight.
Qatar's prime minister yesterday said the challenges that remain in talks to release the hostages taken by Hamas on October 7 as "very minor".
The world can only hope a breakthrough can be achieved soon in order to bring an end to civilian casualties and see hostages reunited with their families.
Then the focus must turn to securing a lasting peace.
Comments
 0 comments
Want to join the conversation? Please or to comment on this article.