They might not like his message but they recognise a fellow professional. But, despite a series of confident media performances and a message - now isn't the time to battle over the independence question, it's time to focus on recovery from the coronavirus pandemic - that chimes with public opinion, Sarwar isn't shifting the polls in his party's favour. Right now, it looks like Labour is going to come third, behind Douglas Ross's Tories, on May 6.
On paper, Sarwar should work. In contrast with Scottish Labour's previous leader, the drab and entirely uninspiring Richard Leonard, he is energetic and likeable and his party's manifesto would seem to strike all the right notes when it comes to addressing public concerns.
In this campaign, Sarwar's Labour offers - among other things - the guarantee of a job for every young Scot, investment in the NHS to get cancer treatment - much of it delayed because of the pandemic - back on track, and an ambitious programme of the construction of new, affordable housing.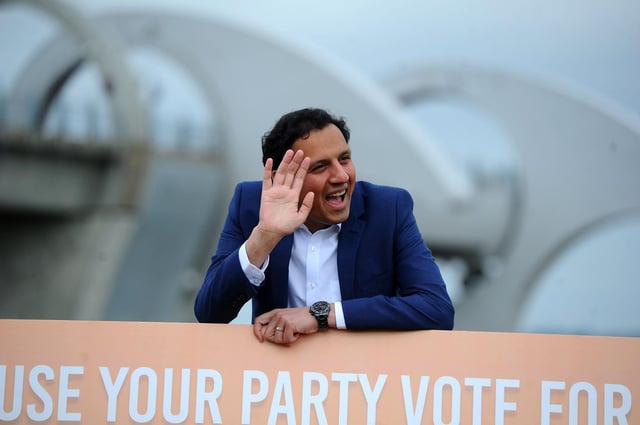 Scottish Labour leader Anas Sarwar campaigns with the party's Central Scotland candidates. Picture Michael Gillen
Each of these policies should, on the face of things, be vote winners.
But Labour's manifesto also contains a commitment to oppose a second independence referendum for the next five years and that, I think, is where the party stumbles, not because it's a foolish position but because Labour has taken too long to make itself clear on the constitutional question.
Labour may have been on the winning side during the 2014 independence referendum but the result sent a wave of panic through the party. A substantial number of traditional Labour voters had backed the break-up of the United Kingdom and the party was desperate not to lose them forever. And, so, Labour tried to ride two horses. The party styled itself a home for Yes and No voters, alike. Some senior figures even hinted that they might be tempted to vote Yes in a future referendum.
We know now that shoppers didn't buy those apples from Labour's cart. Rather, committed No voters turned to the Scottish Conservative Party which, under the leadership of Ruth Davidson, had smartly positioned itself as the natural home of the Scottish unionist.
Alba Party Leader and Former First Minister Alex Salmond. Picture: Lisa Ferguson.
By the time Labour wised up and accepted that the voters it had lost to the SNP weren't coming back soon, it had lost another chunk of support to the Tories.
So, any Scottish Labour leader goes in to an election campaign as a rank outsider. Sarwar may be a more impressive politician than Leonard but the pitch on which he's playing is the same and it's full of ankle-breaking potholes.
Ask an SNP strategist how Labour gets itself back in the game and back will come the answer that it won't until Scotland becomes independent. This, though, sounds more like a taunt than a piece of sincere advice.
However, it seems impossible to deny that while Scotland's politics continues to be an attritional battle between the forces of nationalism and unionism, there will be limited space available for Labour.
Scottish Labour leader Anas Sarwar. Picture: John Devlin
A glimmer of hope for Labour comes in the shape of one Alex Salmond, the man who did so much to harm the party while he led the SNP.
Salmond hopes to return to Holyrood in May as leader of the recently-formed Alba Party. His declared aim is to create a "supermajority" for independence, a block of nationalist MSPs so large that Prime Minister will simply be rendered unable to continue to denying to grant the permission required by the Scottish Government to hold Indyref2.
According to Salmond, he stands ready to work with Sturgeon to deliver independence. But the truth is that he stands ready to make her life an absolute misery.
Alba's declared mission - to ensure that independence negotiations begin immediately after the coming election - is firmly at odds with the First Minister's position. Sturgeon - as Salmond once did - believes that only a referendum recognised internationally as legal and conducted with the blessing of the UK Government will do. She may frequently over-promise when talking to her supporters, suggesting that the independence movement is at the one-more-heave stage, but anyone listening to Sturgeon should pay heed to her repeated insistence that there is no shortcut to the break-up of the Union.
If Salmond returns to Holyrood, we can expect much of Sturgeon's time to be taken up with battling him rather than pushing the UK Government to grant a section 30 order allowing Indyref2 to go ahead. Salmond will loudly and repeatedly insist that the time to act is now and every time he opens his mouth, Sturgeon will be that little bit more undermined.
The independence movement appeared an unstoppable force when it was united but now former colleagues line up behind either Sturgeon or Salmond, each seeing the other as the enemy. The danger for the SNP in this is clear. Voters would not be blamed for finding this ongoing war to be self-indulgent and pointless. They would not be blamed for wondering whether the nationalist project has had its day.
Now, some miracle may occur and Sarwar may lead his party past the Tories and into second place, granting him the status of the main opposition leader at Holyrood but miracles don't tend to happen.
Rather, I think Anas Sarwar's best chance of leading a Labour rebirth is to keep plugging away, all the while hoping that his nationalist opponents inflict enough damage on themselves to make his party a viable option, once more.