Alistair Carmichael: Nothing better symbolises Nicola Sturgeon's time in office than the ferry she 'launched' in 2017, that is still not in service today.
Since Nicola Sturgeon dropped her "bombshell" news on Wednesday morning, commentators have queued up to opine that she has dominated Scottish politics since she took on the role of First Minister over eight years ago.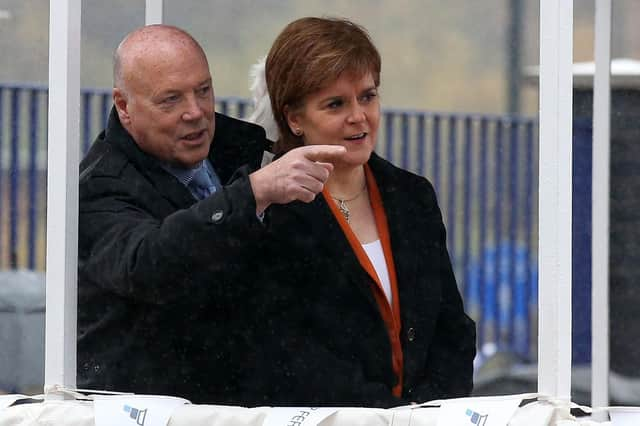 Of course, just because the observation is trite does not make it any less true. In fact, it probably tells us something deeper about the state of Scottish politics for the last eight years than many of these sage commentators realised.
Sturgeon's political and electoral dominance has straddled years where campaigning is everything – and outcomes finish a distant second.
The First Minister has been electorally successful – it would be absurd to deny it – but if you believe that politics is just about winning elections then you have lost sight of what politics ought to be about.
An election victory is not the end of the story but should just be the beginning. In Scottish politics in recent years, it has felt like the ballot boxes are no sooner put away than the posturing and positioning for the next one starts.
We are not alone in this. Across the Atlantic the same has been true for years.
Imagine, for a second, how different it all might have been.
Imagine that, when she entered Bute House, Nicola Sturgeon had told her troops that, however much she wanted it, the case for independence would be put on to the backburner. Her government would focus on delivering better outcomes for the people of Scotland. The education attainment gap would be addressed; the tragedy of soaring numbers of drugs deaths would be tackled with seriousness and determination; Scotland's island communities would get the twenty-first century travel network that they so desperately needed to grow and prosper.
She could have taken on her own party much as Tony Blair did in relation to Clause Four. Had she done so, then that phenomenal political talent, about which so much has been spoken and written, could have been used to deliver better outcomes for the people of Scotland who needed it most.
She could have led a government that would have delivered the real change that people is Scotland's most marginalised, vulnerable and fragile communities needed.
As her career is being appraised some are already identifying the lack of an obvious successor as a weakness in her leadership. Had they but thought to look for it that weakness was apparent in her own unwillingness to face down her own party and to tell them the difficult truth that independence was off the agenda.
Instead we were treated to eight years of campaign without purpose or outcome.
Nothing better symbolises Nicola Sturgeon's time in office than the CalMac ferry she "launched" in 2017, that is still not in service today.
The ferry was a useful prop for a photoshoot and a campaign win. Six years later the islands that need that ferry still do not have it. In a politics where campaigning always trumps outcomes that is what you get.
Alistair Carmichael is Liberal Democrat MP for Orkney and Shetland
Comments
 0 comments
Want to join the conversation? Please or to comment on this article.