Alfa Romeo: Why some prefer the Quadrifoglio to Ferrari's prancing horse
Italian racing and sports cars have always provoked passion.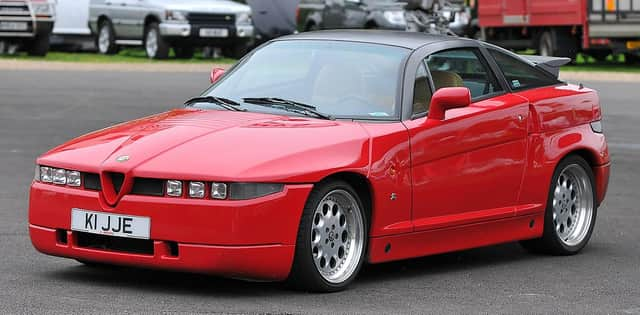 After all, Enzo Ferrari began his career with Nicola Romeo at Anomima Lombarda Fabbrica Automobili - Lombardy Car Company.
A later disaffection with his own Ferrari contributed to Ferruccio Lamborghini branching out from his tractor business.
In the early years of motorsport and at the inception of Formula One, Alfas were a major force.
Driven by the likes of Tazio Nuvolari, Giuseppe Farina, Alberto Ascari and the great Juan Manuel Fangio himself, before and after the war, the mighty red machines were wonders of the burgeoning automotive age. The first two F1 world titles went to cars bearing the four-leaf clover.
As racing fortunes waxed and waned over the years, Alfa became a purveyor of sports cars for the man in the street rather than supercars for the man in the villa on the hill.
It maintained a reputation for engineering excellence and innovation throughout the 50s and 60s, from the famous "hot knife through butter" gearbox up to the development of its magnificent V6 engine – widely regarded as one of the finest ever made.
The unusual flat-four "boxer" engine, which debuted in the 1971 Alfasud and was used up until 1997, was renowned for smoothness and power relative to its size.
Alfa has never been afraid of idiosyncratic design – from the gorgeous two-door Bertone-designed GTA/V coupe series of the 60s and 70s to the brutal 1989 SZ by Zagato and the subsequent "bread van" 145 hatchback, which was promptly copied by several small car makers.
After suffering a nadir of quality and sales in the late 70s and through the 80s and early 90s, the marque has rebounded but is now under the umbrella of Fiat (as are Ferrari and Maserati incidentally).
As we enter the twilight of the age of the internal combustion engine, Alfa Romeo is preparing (for the umpteenth time) to leave Formula One, coincidentally, usurped by Auto Union – like the 50s all over again.
Ferrari F1 fans – the tifosi – are known for their dedication to the racing team. But there is a smaller group – the Alfisti – whose passion for the entire marque burns just as strong.
There will always be those who prefer the Quadrifoglio to the Prancing Horse.