Aid must be allowed to reach desperate Gazans - Scotsman Comment
It is so far only a trickle but perhaps it can give a tiny glimmer of hope to the 2.3 million or so besieged civilians of the Gaza Strip.
Israeli authorities said last night they had allowed a batch of aid into Gaza at the request of the US and the UNRWA, the UN agency for Palestinian refugees, confirmed the arrival of 14 trucks. An initial 20 trucks were allowed in on Saturday.
Of course it is a small fraction of what is needed while innocent people face almost unimaginable hardship. The UN warns the enclave is "on the abyss" and around 100 trucks a day are needed to deliver sufficient supplies.
Hospitals packed with patients and displaced people are running low on supplies and fuel for generators, while Palestinians sheltering in UN-run schools and tent camps are having to cope with dirty drinking water and food shortages.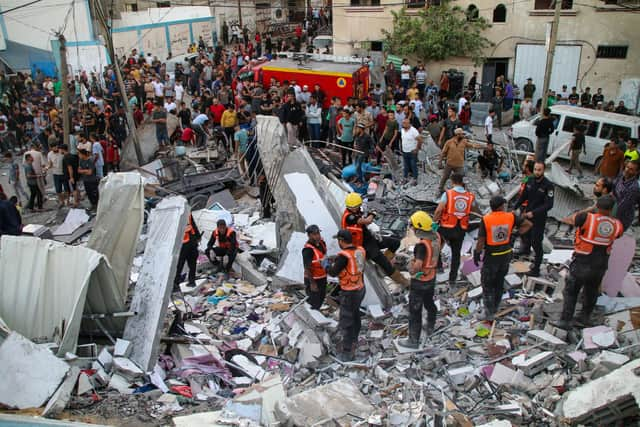 The closure of the territory's sole power plant has led to a blackout across Gaza and crippled water and sanitation systems, leading the UN to warn of a rise in cases of chickenpox, scabies and diarrhoea.
Reports of the first trucks crossing from Egypt came as Israeli warplanes struck targets across Gaza and tens of thousands of troops massed at the border ahead of an expected ground offensive.
The offensive may have been delayed by fears that there remain hundreds of thousands of Palestinian civilians in northern Gaza, despite a sweeping evacuation order.
Inevitably, a ground assault will lead to an escalation in casualties on both sides. More than 1,400 people in Israel have died in the war – mostly civilians killed during the initial Hamas terrorist attack of October 7, when at least 210 people, including men, women, children and the elderly, were kidnapped. The Hamas-run Health Ministry has said more than 4,300 people have been killed so far in Gaza.
The situation is increasingly desperate. But if aid workers can gain access to regular convoys of supplies crossing the border from Egypt, perhaps there are grounds for hope that the civilian death toll can at least be less than it would otherwise have been.
Comments
 0 comments
Want to join the conversation? Please or to comment on this article.