A lockdown trip to the chippy is about feeding the soul - Jim Duffy
It's not been a great week with regard to my own mental health. I've tried to stay cheery and upbeat. But, circumstances have pushed me to places that have left me feeling a bit emotional at times.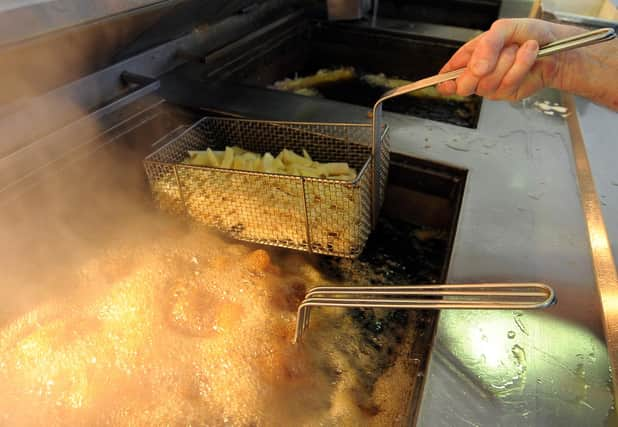 It's not just the lockdown either.
The snow many of us experienced was tough. Yes, it is always lovely to watch it come down. It can be romantic and even nostalgic as it always reminds me of Christmas. By the way - where did Christmas go? All too quick…. but, the aftermath of the snow was debilitating.
I could not get the car out the driveway as it was marooned under a foot of thick white stuff. The neighbours were all the same. The roadway was blocked, no Amazon deliveries, no post and no heading out to Tesco.
I couldn't walk the dog as the pavements were treacherous. And I felt trapped in a snow filled prison yard. Some of you may feel I'm hyperbolising here. But, I think for many of you this will resonate, as the feeling of human frailty in the face of the elements is a real one. It took a few days, but I got hold of a snow shovel and started digging.
Not being able to take my daily walk definitely impacted my mood. But, even as the snow has now gone, I still feel caged.
Lockdown ain't easy. I'm lucky. I have company and a garden and a view. But, for so many I know, staring at four walls, looking out the window or watching the TV is as good as it gets.
There's the increased use of smartphones, tablets and laptops. I checked my "screen time" this week on my iPhone. I was knocked for six at the 300 per cent increase in me staring at social media and surfing the net.
Yes, a lot of it is part of my macroeconomics and crypto homework, but if I'm being totally honest, I do tend to veer off into reading about celebrities, Piers Morgan rants and other total flummery. But, digging deeper into lockdown behaviours is a fascinating pastime.
I went out for a walk in the evening this week around Newport on Tay or Newpsy as it is known locally. It's a wee town situated on the River Tay at the Tay Bridge. It was about 7pm, dark and chilly.
As I walked towards the small set of shops, I could immediately smell the fish and chip shop. It's unmistakable in any town - that yummy smell.
I turned the corner and to my amazement there was a queue of about 16 people all lined up for dinner. The social distancing was great. An orderly queue winding up the street with masks and face coverings. And I immediately got judgmental.
I'd hazard an educated guess that the average age of the Newpsy chippy queue was about 25 years old. So, a few around their early 20s and some around 30 or so. The gender split was fairly even about 60 per cent male and 40 per cent female.
And the first thought that went through my head was – why the heck are they not cooking for themselves? I immediately went to judging them as lazy. Young people these days, eh? Then I had to think a bit harder at what I was looking at. The was not just a chippy queue, it was a lockdown version of a night out!
These souls had also been locked up during the snowfall. They have been locked down for weeks and weeks. They have probably cooked enough from scratch or had more than enough microwave meals. They needed a night out, an escape, a better version of the dark reality that is life for so many just now. I looked a bit closer.
No-one was in a hurry. The normal status quo on a queuing system is - hurry up as we all want to get the front and get served. Not tonight in the Newpsy chippy queue.
It was relaxed and calm as the participants were enjoying the "company". There was some quiet banter and chit chat. Nothing rowdy, after all no alcohol available anywhere, no pubs open.
This 30-minute wait from the back of the queue to pick up dinner was in fact a release for many there. This wasn't just about fish 'n' chips. It was an energiser for these diners, free from their prison cells to go out and feel the warmth of other human beings. The penny dropped for me right there and then.
I circled the block and as I came back around the queue was still holding at about 16 people, although 30 per cent had been served, while new folks had joined at the rear. Still the same vibe, just happy to be out, to feel alive.
I'm no social scientist, but who would have thought a trip to the chippy could actually play such a vital part in promoting better mental health. Sod whether or not the chips are good for you, the whole human experience was what this was all about.
Foucault, Derrida and Comte would've been most impressed at my findings. It wasn't an America Beauty moment where a white plastic bag was dancing in the wind, but I did feel very happy for those buying fish chips.
Lockdowns, I have no doubt, are messing with our mental health to various degrees. I think even as we progress through vaccines and mutations and learn to Iive with this coronavirus strain, the ramifications further down the line may have some negatives.
But each night at the Newpsy chippy, I know it is playing its part not just in feeding the body, but feeding the soul.
Comments
 0 comments
Want to join the conversation? Please or to comment on this article.