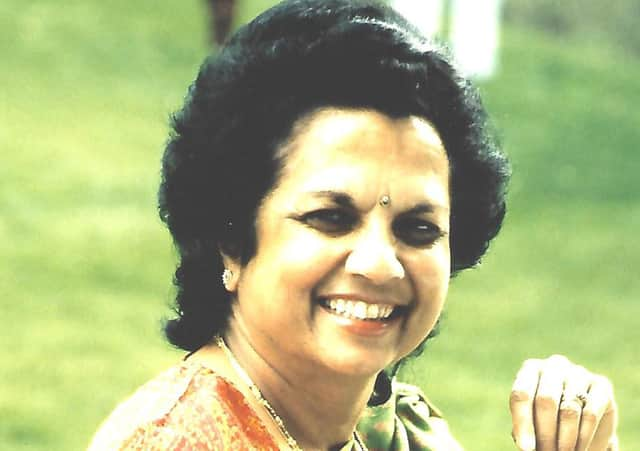 They were curiously prescient words from my mother, Saroj Lal, on a flying visit to Scotland with her husband Amrit in 1968: "Edinburgh is so beautiful. I'd love to live here one day."
On their return to Birmingham, where Amrit was a postgraduate student, a letter lay waiting for him. He had been offered a teaching post at Edinburgh's Napier ­College. So began the enduring ­relationship between Saroj and her beloved Edinburgh – one that would leave a lasting legacy for race relations across the city and enrich the lives of its diverse communities in so many ways.
Saroj was born in Gujranwala – now in Pakistan – and spent her childhood in India during one of the most turbulent periods in its history: Partition. Her father, Behari Lal Chanana, was a prominent Congress Party politician, and his forward-looking views on democracy, equality and women's rights were to influence her throughout her life.
In 1962 she graduated with an MA in Economics from Punjab University in Chandigarh and taught briefly in Ludhiana before her marriage to Amrit Lal, who had studied engineering in Glasgow in the 1950s. His work took them to Madras and then to Singapore, where I was born, and where Saroj had her first taste of a multi-racial society.
In the late 1960s the couple migrated to the UK: firstly to Birmingham, where Saroj experienced racism directly for the first time, and finally to Edinburgh where their daughter was born. Despite considerable obstacles, Saroj managed to combine raising a young family with furthering her education and career. From 1969 to 1970 she trained as a teacher at Moray House before teaching at South Morningside Primary for three years.
In 1973, she began volunteering with the YWCA, leading to the post of community worker with the Roundabout International Centre. Compassionate and caring by nature, engaging with minority ethnic ­communities allowed her to develop her innate ­sensitivity to their needs, especially those of women from more traditional Sikh families with whom she would forge a lifelong bond. In 1977 she was invited to address the ­Women's Overseas General Committee of the Church of Scotland at Assembly Hall – a moment she often recalled with pride.
The late 1970s and early 1980s witnessed enormous social and political upheaval, crystallised in the race riots of 1981. For Saroj and others the focus sharpened from multi-culturalism to advocating for a truly pluralistic, equal Britain. Now able to draw on a wealth of personal and professional experience, in 1980 Saroj moved to Lothian Racial Equality Council (LREC) where she would remain for 16 years, eventually becoming director in 1988.
Her tenure as the leader of LREC was undoubtedly her finest hour. Spearheading the strategic work undertaken by the organisation placed her at the forefront of race relations in Scotland. She rose to the challenge with typical aplomb, rapidly becoming an authoritative – and highly visible – figure in the ongoing campaign for racial equality and social justice.
Saroj never shied away from confronting the authorities head-on, negotiating with a daunting range of public and third sector agencies – including the Home Office, Lothian Health Board and Prison Service – to champion the cause of equal opportunities. It was, however, her trailblazing work with Lothian and Borders Police that was arguably her greatest achievement: defining the nature of racial attacks and monitoring racist incidents, implementing robust reporting systems, developing police training and encouraging recruitment from minority communities. It was a tribute to her standing and stature that she became the first Asian woman in ­Scotland to be appointed as a Justice of the Peace.
Saroj was the inspiration for numerous landmark initiatives to support the city's ethnic groups and their evolving needs. She revised and updated Religions and Cultures, a guide widely used by the NHS. In collaboration with Pilmeny Development Project she obtained funding for Milan, a support group for South Asian and Mauritian elderly (and post-retirement she acted as chair of NKS, a project for South Asian women).
She was also the driving force behind the founding and development of the Edinburgh Hindu Temple, now firmly established on St Andrew Place in Leith. Thanks to her determination, multi-faith symbols appeared at Mortonhall Crematorium, a quiet space for prayer was created at Edinburgh Royal Infirmary, and Edinburgh Council designated a riverside site for Hindus to scatter their ashes. She set up the city's first-ever ­interpreting and translating service and its first dedicated ethnic library service at McDonald Road Library. While at the YWCA she had contributed to the growth of English as a Second Language classes across the city, and at LREC she expanded mother-tongue teaching in several minority languages.
Her passion for the arts led directly to many young people learning the sitar and to the formation of the classical dance troupe Dance Ihayami. She was an active board member with the Scottish Arts Council, and a key player in the 1986 Commonwealth Arts Festival. A savvy media operator, in 1984 she even made her TV quiz show debut on BBC Scotland's I Believe, You Believe – representing the Hindu faith, but in so doing pushing societal boundaries even further.
Saroj's achievements were all the more remarkable given what was predominantly a male world and an often sexist environment. Yet she clung to her long-held principles, striving to win the trust of orthodox Asian parents and encouraging girls to pursue their education by creating the Asian Cultural Girls' Club at Drummond Community High School and the Continuation Course at Telford ­College. As Kaliani Lyle, former head of Citizens Advice Scotland, said: "Saroj was a feminist – bottom line. A woman who cared for and about other women. She embodied it, lived it, practised it." Decades before #MeToo, Saroj was ahead of her time.
Always impeccably dressed in her trademark sari or salwar kameez, with a matching bindi and slash of red lipstick, Saroj was a force to be reckoned with. But she was also incredibly warm and funny, often irreverent and mischievous, and immensely proud of her family. She enjoyed a particularly special relationship with her granddaughter, Isha, and there was no prouder moment for Saroj than when – in August 2014 – Isha become a pupil at George Heriot's School, fulfilling a long-cherished dream.
Saroj Lal has touched the lives of many, both in Scotland and far beyond, and I know that generations to come will be grateful for her gifts to the city that was forever close to her heart. She is survived by her husband Amrit, son Vineet, daughter Kavita and granddaughter Isha.