Obituary: Joe Brattisani, chip shop owner whose suppers attracted sporting and theatre stars
Joseph Brattisani, chip shop owner. Born: 4 December, 1937 in Edinburgh Died: 14 July, 2020 in Melrose, aged 82.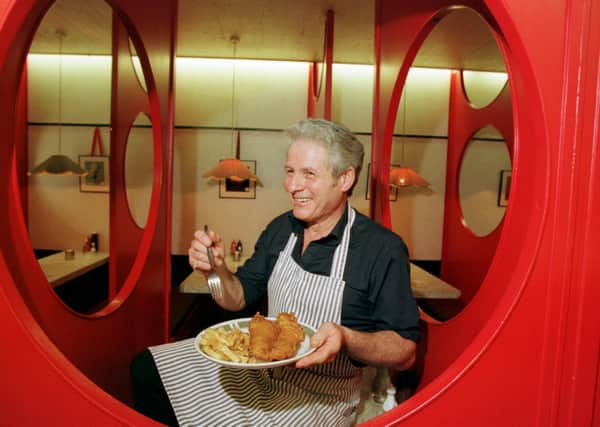 Joe Brattisani was always rightly proud of his family's place in Edinburgh's social history and the part he played in its success.
His grandfather Giuseppe was one of the first Italians to settle in the Scottish capital, emigrating from Parma and opening the city's first Italian fish and chip shop in 1889.
The ensuing family empire remained hugely popular for more than a century. But his role might have been all so different had Joe, known as Joey to his family, pursued his first choice of career.
One of five children to parents Joseph Brattisani, a bookmaker and chip shop owner, and his wife Evelyn, who worked in Jenners department store, he left the city's Bellevue Secondary School in the 1950s to learn the hotel and hospitality business in Birmingham. Fortunately, for fans of the Italian chippy, he hated the hotel industry and ditched that career idea after just a fortnight.
National Service followed in the Army Catering Corps, where he learned his trade as a chef in Aldershot and Germany, before returning to Edinburgh and opening his first chip shop in Dundee Street.
The family's original chip shop had been in Stockbridge, an enterprise kept going by his grandmother when his grandfather went off to fight with the Italian army during the Great War. On his safe return they opened another chip shop, the Deep Sea on Union Place.
Their son Joseph was the next generation to take on the business, owning five restaurants throughout the city. And two of his sons Joe and Charles, who grew up working in the shop, peeling potatoes during their holidays, then followed in the footsteps of their father and grandfather.
As his father's bookmakers' business took off, Joe was asked to get involved in the family's Tollcross restaurant. Meanwhile Charles opened his shop on Henderson Row. Further Brattisani businesses opened in Haymarket, a popular post-match stop for hordes of rugby and football fans, and in Newington which became a compulsory trip for leagues of hungry swimmers leaving the Royal Commonwealth Pool.
Joe also ran a fishmonger's in Rodney Street which entailed him making a daily early morning visit to the fish market. He would then return to the shop, prepare the fish and cut potatoes for chips and deliver them to the family's own chip shops. In addition he supplied fish to various other Edinburgh chippies.
The Brattisani brand, which also involved brother Eric and sister Maria, was known the world over and the shops were patronised by various sports personalities, theatre stars such as Jack Milroy, Rikki Fulton and Stanley Baxter and singers including Lulu, Backstreet Boys and Boy George. Sean Connery would pop in from time to time and his niece, who worked in one outlet, would sometimes be collected at the end of her shift by the Bond star's own son Jason Connery, now an actor and director. The Newington shop was also favoured by author Ian Rankin's Inspector Rebus who was known nip out of the station for a Brattisani's traditional fish supper, buttered bread and tea.
After three generations, the Brattisani empire finally came to an end when, following many years of long and exhausting working hours, the brothers decided to retire from the business, selling the last shop – the Newington chippy – in 2004.
But Joe did not truly retire until a couple of years ago. He ran a property portfolio, was a member of Craigmillar Park Golf Club and enjoyed a round of golf each week. Although he spent all his working life living in Edinburgh, he also had a home at Branxton in the Scottish Borders where he had lived since giving up the chip shop businesses.
He is survived by Elaine, his daughter with his first wife Eleanor, and son-in-law Jamie; Joseph and Samantha, his children with his late second wife Muriel; granddaughter Olivia and his siblings Charles, Eric and Maria.
Comments
 0 comments
Want to join the conversation? Please or to comment on this article.