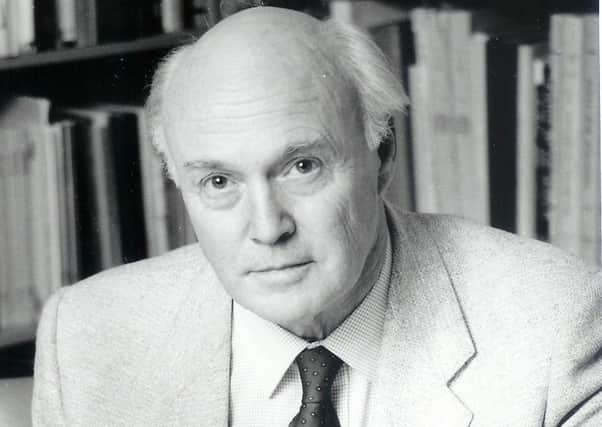 David Stronach was barely able to pronounce the word when he announced, aged nine, "I'm going to be an archaeologist!"
The Scots schoolboy had just been introduced to the discoveries of the ancient world at the Royal Ontario Museum in Toronto, following his evacuation from Britain during World War Two, and was instantly enthralled.
Unlike many a fleeting childhood enthusiasm, his youthful fascination was to prove a lifelong passion, transforming him into one of the world's leading experts on ancient Near Eastern art and archaeology and fostering an engaging friendship with crime writer Agatha Christie.
But that illustrious career had once been in serious danger of being snuffed out before he'd even had a chance to grasp it, thanks to a fanatical German fighter pilot – just one hair-raising incident in an extraordinary childhood.
The son of a physician/surgeon, he was born in Nottingham but regularly holidayed at his grandparents' homes in Edinburgh and Glasgow and in the Highlands. His parents were also determined he and his sister Gillian should see more of the world and the family was in Europe in late August 1939 when they fled France just days before war was declared.
Back in the safety of Scotland, the children initially attended Invertrossachs, a school in The Trossachs run by the Parents' National Educational Union, before leaving with their mother for Canada in 1940, a trip involving a dangerous Atlantic convoy crossing.
The following year they moved to New York where young Stronach attended the progressive Horace Mann School in Upper Manhattan and was free to explore the city's streets, parks and museums, often riding the subway solo.
Then, as the threat of a German invasion of Britain faded, his mother headed home with the children, negotiating a sea passage to neutral Portugal and flight to Bristol. En route they aided a torpedoed cargo ship, witnessing the traumatic sight of flooded lifeboats and finding only a few wounded survivors.
Arriving in Lisbon, a "hotbed of intrigue" he said, they were tailed by a trio of strangers and put under close surveillance by a couple of Germans, assumed to be Nazi intelligence officers.
After a two-week delay they finally took off and were enjoying lunch over the Bay of Biscay when their Dakota was attacked by a long-distance German fighter. In his memoirs Stronach recalled: "My mother had been idly looking out her window …when she suddenly saw bullet holes appearing on top of the wing. We were being pummeled with bullets and the German plane was diving at us."
Their pilot swiftly performed a power dive, reaching the safety of a cloud bank but sending Stronach rolling around the aircraft.
He had been on the floor drawing and, after resuming his seat, immediately spotted two puncture holes in the window. The bullets had passed directly over his head as he drew.
They made it back to England on one engine where, after seeing the bullet-ridden fuselage, one of the ground crew drily informed them: "As you probably know, you're all living on borrowed time".
Stronach's education concluded with a spell at Gordonstoun where he enjoyed history and broke the school and the North of Scotland schoolboys' record for the 100 yards. He went on to do his National Service with the Duke of Wellington's Regiment before going up to Cambridge University for an MA in archaeology and anthropology.
After winning a scholarship to the British Institute of Archaeology in Ankara he was totally captivated by Near Eastern archaeology. He was a fellow there and at the British School of Archaeology in Iraq and went on to become the British Academy's archaeological attaché in Iran and then founding director of the British Institute of Persian Studies, a post he held for almost 20 years.
He developed a particular interest in the first millennium BC empires in Mesopotamia and Iran and worked alongside author Agatha Christie and her second husband, Max Mallowan, the first director of the British School of Archaeology in Iraq.
They were all part of the team at Nimrud where Christie developed photographs of the dig and cleaned the ivories they unearthed. In Baghdad he helped with her shopping as she picked up carpets and jewellery in the bazaars.
On one occasion, while travelling to Siraf, on the Persian Gulf, they found floods had brought down a bridge and he had to manoeuvre the rather large Christie into a small boat and navigate the swollen river. "I thought if I don't get this right, you know, whatever will the world say?", he told the publication Archaeology.
Stronach led excavations in some of the most significant archeological sites in Iran including: Pasargadae, the capital of the empire of Persian King Cyrus the Great; Nush-I Jan, a Median religious site; and Shahr-I Qumis, an early Parthian capital.
In Iraq he directed the University of California Berkeley Expedition to the site of Nineveh, the Assyrian capital featured in the Biblical story of Jonah and the whale..
Appointed professor of Ancient Near Eastern Archaeology at UC Berkeley in 1981, he was highly -respected and a key player in making the institution one of the world's foremost for study in his field. More recently, with Iran and Iraq largely inaccessible for fieldwork, he focused on the Caucasus and in 1992 was involved in an international research project in Armenia, Dagestan and George, relatively unexplored areas of the former Soviet Union.
Modest, likeable and adventurous he received many accolades including the OBE for services to British cultural interests and Anglo-Iranian relations and the Archaeological Institute of America's gold medal for distinguished archaeological achievement.
Predeceased by his wife Ruth, whom he met in Iran when she was a young archeologist, he is survived by their daughters, Keren, a patient and family experience specialist and Tami, choreographer, actor and dance professor best known for playing the Childlike Empress in The Neverending Story.