Obituary: Billy Hunter, Scottish international who made his name as one of the 'Ancell Babes' at Motherwell
Billy Hunter, footballer. Born: 14 February, 1940 in Edinburgh. Died: 2 August, 2020 in Edinburgh, aged 80.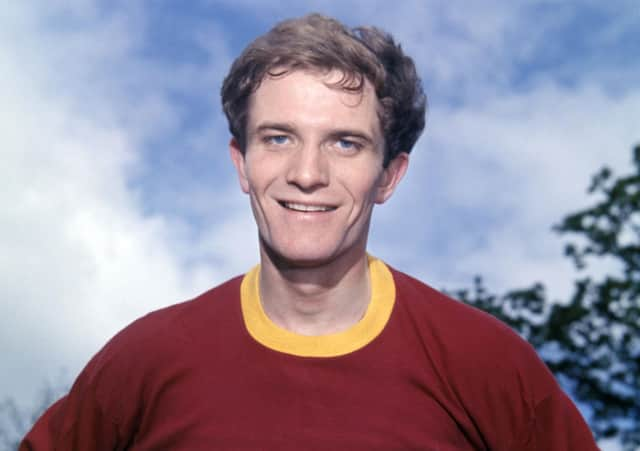 Footballer Billy Hunter has died at the age of 80
Billy Hunter who has died aged 80 was a Scottish international footballer renowned for his class on the pitch as well as off it.
A gifted and resolute player mostly at inside forward with abundant technical ability and an eye for goal, he made his name as one of the famed "Ancell Babes" with Motherwell for whom he starred between 1957 and '67, playing some 300 games and scoring 64 goals. He won three full caps in 1960 aged 20 with four League and four under-23 caps either side of them.
Off the pitch thanks to his strong social conscience he made notable contributions to a number of worthy causes including Cclasp, a childrens' cancer charity, St Columba's Hospice, as Ambassador for the Football Memories project in association with Alzheimer's Scotland helping dementia sufferers through football reminiscence and as a valued loyal friend supporting former playing colleagues afflicted by the condition. He was vocal in his belief that the link between heading the old heavy football and the high number of former players with dementia should be recognised and steps taken to improve their plight.
At Motherwell manager Bobby Ancell's youth policy produced players of the calibre of Billy, Ian St John, Andy Weir, John Martis, Sammy Reid and Pat Quinn who also died recently. Although the team did not win a major trophy they produced some stunning football and memorable results. Those included a 7-0 drubbing of Leeds United, Jack Charlton et al and a 9-2 whipping of Brazilian cracks Flamengo with the incomparable Gerson in their ranks in floodlit friendlies at Fir Park.
Other highlights included finishing third in 1959 in the old First Division behind champions Rangers whom they beat four times consecutively that season and in 1961 beating Rangers at Ibrox in the Scottish Cup 5-2, one of Billy's favourite games.
William Hunter was born to parents Willie, an electrician's mate and Maggie nee Neilson in Edinburgh where he was brought up in Begg's Buildings, Abbeyhill, the "Wee World" as it was known due to its self contained community which Billy later described in a book.
He attended Abbeyhill Primary School where his football talent was noted and saw him selected for Edinburgh Schools. Then he went to Broughton High School where he showed potential academically and continued playing football with the Boys' Brigade and well known juvenile club, Edinburgh Norton.
Sadly when he was 15 Billy's mother committed suicide, a traumatic event later triggering intermittent depression. Shortly after he left school to begin work in a Charlotte Square stockbroker's office where Jimmy Robertson who ran Edinburgh Norton was cashier. His brother was a scout for Motherwell which led to Billy signing for the club in 1957 and making his debut on 12 October aged 17 against Dundee.
Such was his impact that within a year he was selected for the Scottish League to play against the League of Ireland, the youngest player on the field, alongside hallowed names like Willie Bauld, Dave Mackay and Eric Caldow. Shortly after, leading football writer John Rafferty commented in an article," He has such ball control, speed and acceleration, grace of movement that it makes him an aristocrat among young players."
With form like that it was no surprise he earned three full caps in 1960 against Hungary, Turkey and Wales with him marking his emotion laden debut with a goal in a draw in Budapest's iconic Nepsatadion in front of 90,000.
Domestically Motherwell earned rave reviews for outstanding wins in friendlies against top notch opposition with Billy well to the fore. First were Leeds, then Djurgardens of Sweden, Winterthur of Switzerland, Gothenburg of Sweden, Athletic Bilbao of Spain, Flamengo who shortly before had beaten Manchester United 5-0 and finally Brazilians Bahia.
In 1962 Billy began a run of ill fortune with injuries, sustaining repeated serious fractures of the same forearm necessitating bone grafts from his tibia and hip, which caused him to lose almost two seasons. The tibia graft weakened his ankle, despite which he resumed playing at the top level domestically and was in the Motherwell team that won the Summer Cup in 1965. But there was to be no return to international football.
The Ancell era had come to an end and in 1967 he joined Detroit Cougars for a season before transferring to boyhood favourites Hibs for just over two seasons, playing only thirteen games. He then went to South Africa where he spent three seasons, initially with Hellenic where George Eastham was player/manager and then Cape Town City alongside old friend St.John.
Next port of call was Portsmouth as assistant manager to St. John for three seasons followed by a brief spell as Queen of the South manager in 1978 and thereafter a spell as manager of Inverness Caley in the Highland League.
After completion of a Business Studies course he worked as an Independent Financial Adviser in Edinburgh with several companies and for a while undertook scouting for Spurs among others.
In 1964 at Canongate Kirk he married Rona Tait with whom he enjoyed a long happy marriage during which they had Jacqueline. Rona was a shorthand typist and later worked in administration.
A prolific writer and keen poet with a vivid imagination, Billy completed four books with a £10,000 plus donation going to St.Columba's Hospice. The first concerned his and Rona's walk along the Southern Upland Way and others were the football themed 'We Are the Champions' and 'Look Back in Amber,' in addition to 'The Wee World.' He also contributed poems for books published in support of Football Memories. Other interests included working his family allotment and music, which he found therapeutic. He enjoyed singing Sinatra while strumming a guitar and jam sessions with grandson Cameron.
On his death, Motherwell's website referred to him as "perhaps the most complete player ever to pull our famous colours over his head," a wonderful accolade. He was also a marvellous multi dimensional human being warmly remembered by all.
He is survived by his wife, daughter, son in law Robbie and grandson.
Want to join the conversation? Please or to comment on this article.