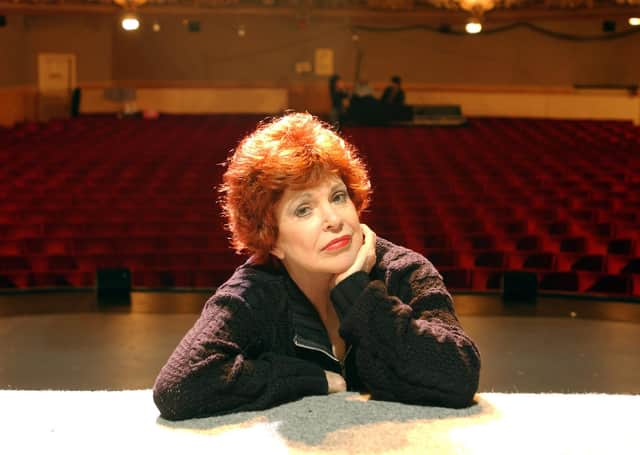 Although her brother Jimmy Logan was the more famous sibling in Scotland, Annie Ross was certainly better known in the United States, where news of her death was greeted with the headlines "Annie Ross, mainstay of 'the greatest jazz vocal group that ever was', dies at 89", in the Washington Post, and "Annie Ross, jazz singer and actress who overcame demons, dies", on a Los Angeles Times obituary that did not even mention Jimmy.
Her parents took her on tour with them to the US when she was four . . . and that was the last she saw of them for 12 years. She was left with an aunt, won a talent contest, was signed by MGM and was making movies by the time she was seven.
She enjoyed even greater success as a jazz singer and she certainly did have her demons to overcome. "Annie lived a jazz life," said Gill Parry, producer of No One But Me, a documentary about Ross that screened at the 2012 Glasgow Film Festival.
At 19 Ross had a child, who she gave up to be raised by the father's family, she was lucky to survive heroin addiction and at one point was declared bankrupt and lost her home. Her close friends included the jazz singer Billie Holliday, her lovers the comedian Lenny Bruce, both of whom struggled with drugs and died young.
She worked with Count Basie, Dizzy Gillespie and Charlie Parker, enjoyed international success as part of the vocal trio Lambert, Hendricks and Ross in the late 1950s and early 1960s and wrote songs that were later recorded by the likes of Bette Midler and Joni Mitchell.
Commenting on YouTube, on Twisted, one listener remarked: "The difference between Joni Mitchell's version and the 1959 Annie Ross version is that Joni sounds sane. She sings great but tames the tune. Annie Ross sings it like she's nuts." Ross sang fast and was accomplished at vocal gymnastics and scatting.
Ross never turned her back on movies entirely and appeared in Superman III and Short Cuts, as well as dubbing Britt Ekland in The Wicker Man – much to Ekland's horror.
She was born Annabelle Allan Short in 1930 in London, while her parents, music hall entertainers Jack and Mary Short, were on tour. Her brother Jimmy was two years older. Her parents had her on stage by the time she was three. "My mum and dad wanted me to be a star," she said. "They used to call me the Scottish Shirley Temple." They subsequently left her in the US with her aunt Ella Logan, a Broadway singer and actress.
She grew up in Hollywood, sang Loch Lomond in an Our Gang short in 1937, and played Judy Garland's sister in Presenting Lily Mars in 1943, all under the name Annabelle Logan.
When she was only 14 she co-wrote the song Let's Fly, which was recorded by Johnny Mercer and his band, though her aunt did little to encourage her musical ambitions. "My aunt said to me, 'Why don't you become a set designer, because you can't sing,'" Ross recalled in the film No One But Me.
At 17 she returned to Scotland and then moved to Paris where she had a fling with drummer Kenny Clarke, resulting in a son. Attempting to make it as a singer in the US, she realised she could not bring up the child herself.
Twisted was her big break, though she did not realise it at the time. A producer asked her to write lyrics for a jazz instrumental. She did so, beginning with the lines "My analyst told me that I was right out of my head; The way he described it, he said I'd be better dead."
Back in Scotland she appeared in music hall with the rest of the family, before learning Twisted was a hit. The Washington Post called it "a hipster's anthem of non-conformity". Back once more in America she teamed up with singers Dave Lambert and Jon Hendricks. They were renowned for their "vocalese", an approach in which words are added to jazz tunes, especially instrumental solos. One critic said of their debut album Sing a Song of Basie: "Hip doesn't get any hipper, cool doesn't get any cooler."
But her drug addiction was a major problem and she decided to leave the group and tackle it in England. She married an actor, Sean Lynch, in 1963 and they briefly had their own club in London. They divorced in 1975 and Lynch died in a car crash soon afterwards. Ross was bankrupt, but got a starring role in the Granada series Send in the Girls and a recurring part in Charles Endell, Esq.
She also dubbed Britt Ekland's voice in cult Scottish movie The Wicker Man, which came as a shock to Ekland. "I wouldn't have done the film if I'd known I would be dubbed," she said. "As an actress, I offer my face, my body and my vocal cords. You can't just take one of those away. I was very, very hurt." Actually they took two away as they also used a body double.
Robert Altman gave Ross a cameo in his 1992 film The Player and wrote a role specially for her in Short Cuts, that of a jazz singer who has come through tough times and survived. It helped revive her singing career and she would go on performing into her eighties. She became a US citizen in 2001. She is survived by her companion former record producer Dave Usher.