Trump breaks ground on new Aberdeenshire course named after his mother
Former US president Donald Trump has attended a ceremony to break ground for a second course at one of his Scottish golf resorts, which will be named after his Lewis-born mother.
Earlier, he told reporters it's "great to be home" as he arrived at Aberdeen Airport on his private jet just before 11.30am.
Declining to take questions from reporters, he left with his son Eric and entourage before heading to Trump International Scotland Course to cut a red ribbon to mark breaking ground on the new MacLeod course – dedicated to his mother, Mary Anne MacLeod.
It was granted planning permission in 2020 and will sit to the west and south west of the original 18 holes.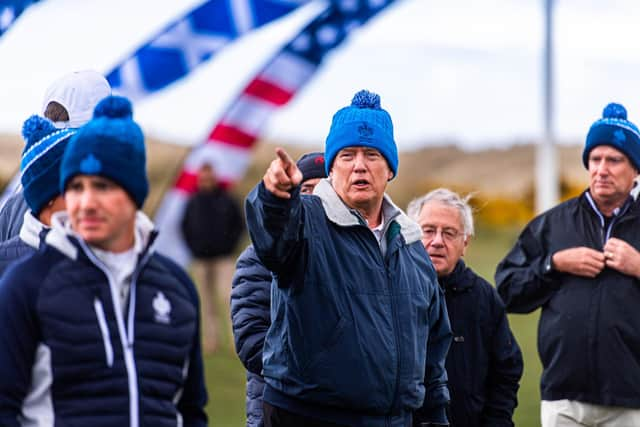 He said: "We are going to build a great golf course that aims to replicate the outstanding championship links we already have here and many believe to be the greatest golf course in the world.
"We will build a course that will be fit to host many great championships in the future along with our championship links.
"We've had a lot of pleasure in working on this land and there is no other land like it. We have incredible views by the sea and there are no other dunes like these in the world. It will be a great success."
In 2020, the sand dunes at the Menie golf resort lost their special status as a nationally-important protected environment after government agency NatureScot said the area no longer merited being retained as a Site of Special Scientific Interest (SSSI) following construction. Mr Trump then described the decision as highly politicised.
Mr Trump said yesterday the second golf course project was "very close" to his heart, and added: "It will be dedicated to my late mother and that is a source of great pride to me and my family. My mother was an incredible woman who loved Scotland.
"She returned here every year and she loved The Queen. I got to know The Queen too during my visits here I love Scotland just as much."
Dr Martin Hawtree, who designed the initial championship links at the Menie Estate, was commissioned to design the MacLeod course.
In 2022, planning permission in principle was granted for 550 properties at Menie after a deal was struck to include affordable homes in the design. Some of the properties will cost more than £1million but the houses have not yet been built.
Mr Trump is due to visit Trump Turnberry in South Ayrshire before heading to his golf course at Doonbeg on Ireland's west coast later in the week.
Mr Trump last visited the Turnberry course in South Ayrshire while in office in 2018, meeting the Prime Minister Theresa May and the Queen during his time in the United Kingdom.
During that trip, thousands took to the streets of Edinburgh in a third day of protests against the visit with demonstrations also unfolding at Turnberry Mr Trump played a round of golf.
His visit sparked a security operation, with police also investigating how a paraglider managed to fly over the South Ayrshire resort flying an anti-Trump banner. After leaving Scotland, Mr Trump attended a summit with Russian President Vladimir Putin in Helsinki.
Mr Trump met Elizabeth II a second time during a state banquet in 2019.