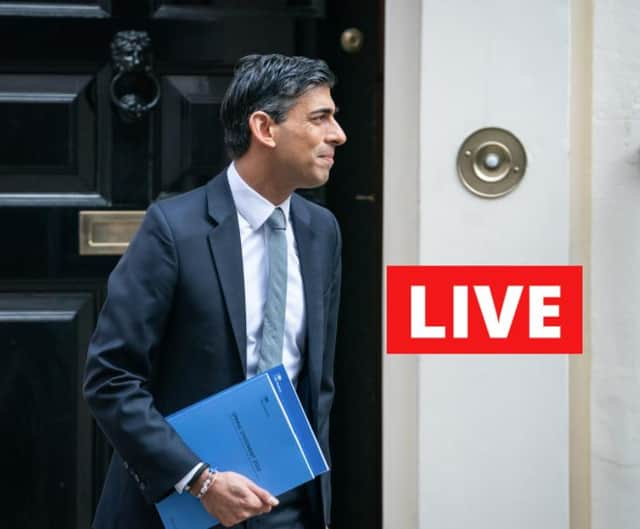 Chancellor of the Exchequer Rishi Sunak leaves 11 Downing Street as he heads to the House of Commons
But he acknowledged the impact of inflation, which is at a 30-year high, and the global economic uncertainty caused by Vladimir Putin's invasion of Ukraine.
The Office for Budget Responsibility (OBR) downgraded growth in gross domestic product – a measure of the size of the economy – from the 6% forecast for this year at the time of the Budget in October to just 3.8%.
Mr Sunak said "it is too early to know the full impact of the Ukraine war on the UK economy" but the OBR acknowledged there was "unusually high uncertainty" around the economic outlook.
The cost-of-living crisis driven by rising fuel and energy prices was set to be exacerbated in April by the 1.25 percentage point hike in national insurance to fund the NHS and social care.
But Mr Sunak unveiled a £6 billion plan to increase the threshold at which people start paying national insurance contributions (NICs) by £3,000 to £12,570 from July.
Mr Sunak said it was "a £6 billion personal tax cut for 30 million people across the United Kingdom, a tax cut for employees worth over £330 a year".
Mr Sunak said around 70% of workers would have their tax cut by more than the increase coming in April.
And he promised further support in 2024 with a pledge to cut the basic rate of income tax from 20p in the pound to 19 – "a £5 billion tax cut for over 30 million people".
Rising energy, goods and food prices helped push inflation to increase 6.2% in the 12 months to February, Office for National Statistics (ONS) figures revealed on Wednesday morning, hours before Mr Sunak's speech to the Commons.
You can follow live updates from the Spring Statement in our live blog.
Spring statement 2022: Live updates on UK Spring Statement from Rishi Sunak
Show new updates
Chancellor of the Exchequer Rishi Sunak leaves 11 Downing Street as he heads to the House of Commons, London, to deliver his Spring Statement.
The Chancellor is reportedly gearing up to announce a temporary cut to the duty of up to 5p per litre in his statement.
Figures from data firm Experian Catalist show the average price of a litre of fuel at UK forecourts on Sunday was 167p for petrol and 179p for diesel, amounting to an increase of 18p for petrol and 26p for diesel over the past month.
Pump prices hit new record highs ahead of Chancellor Rishi Sunak's potential announcement of a fuel duty cut in his spring statement.
Ahead of Rishi Sunak's Spring Statement, which is expected to include fuel duty cuts, here's what fuel duty is and how a potential could affect you.
Rishi Sunak is expected to announce a fuel duty cut in today's Spring Statement. Photo: anyaberkut / Getty Images / Canva Pro.
Pat McFadden, shadow Chief Secretary to the Treasury, said the Tories' reasons for hiking taxes now is so that they can cut them just before the next election.
Speaking to Sky News, he said Labour's proposal for a windfall levy on oil and gas companies would be "a real help this year".
"We've said a better place for the Chancellor to raise revenue right now would be a windfall levy on the oil and gas companies that are making the most from the current situation.
"The chief executive of BP described the current energy market as a cash machine for his company," he added.
"We hear a lot about the tax increases in April being necessary for public services, but at the same time, the Treasury is constantly briefing Tory MPs that the reason these tax rises have to happen now is so that the Tories can cut taxes before the next election.
"That is cynical timing and it means that the tax rises are not actually governed by an economic imperative, but by the Tory party's election grid, and that's not a good reason to pile on payments for families now."
Shadow chancellor Rachel Reeves said "Labour will get our economy firing on all cylinders" as she prepared to respond to Rishi Sunak's spring statement.
"With our plans to buy, make and sell more in Britain and our climate investment pledge, we will create a stronger economy," she said.
Ms Reeves posted a picture on social media showing her preparing for her appearance in the Commons with Labour leader Sir Keir Starmer and shadow Treasury chief secretary Pat McFadden.
Will we see an increase in National Insurance?
Tory MP Mark Harper has defended a hike in national insurance as a way to put money into the NHS and social care.
He told Sky News: "I can't comment on the specifics of what was going to be announced today, but I think on the national insurance rise, it's very clear – we've said we're going to put an extra £12 billion into, first of all, into the health service for backlogs that have arisen because of the pandemic, and then a long-term funding settlement for social care.
Chancellor Rishi Sunak has admitted the financial outlook is "challenging" because of soaring inflation and the Russian invasion of Ukraine, Downing Street has said.
No 10 said he provided an update on the economic situation to ministers during Wednesday morning's Cabinet meeting.
A statement read: "The Chancellor provided an update on the economic and fiscal picture, and described the outlook as challenging given the global shocks we are facing as a result of the conflict in Ukraine and rising inflation.
"He said that throughout the pandemic, the Government has shown the British people we are on their side and we will continue to stand by them through the uncertainty that we now face.
"He described how the sensible management of the public finances enabled the Government to step in and help people with £9 billion of support for their energy bills in February.
"He said that this Government would continue to take a responsible and sustainable approach in order to be able to grow a stronger, more secure economy for the future."
You can also watch the Spring Statement live on our site.