Searching for the not-so-ordinary histories behind Edinburgh's tenement front doors
Behind the ordinary front doors of Edinburgh's tenements, the not-so-ordinary stories of those who called them home over hundreds of years are now emerging.
Writer Diarmid Mogg is giving voices to the forgotten, the disappeared and the seemingly unremarkable as he peels back the layers of life lived in the closes of the city for his latest research project, Tenement Town.
His findings have not only charted a changing city, but numerous personal tragedies, ambitions, successes and failures of its people, which have left the mark deep into the timeline of these properties.
"The front door is the way in, into the story of people's lives," Mr Mogg said.
A resident of the city's Southside for 20 years, Mr Mogg first became interested in these hidden histories after walking past, almost on a daily basis, the front door of 25 South Clerk Street, where the thick graffiti sat at odds with the building's 1850 beginnings as a home for the "genteel classes" of the capital.
After pulling the thread of records linked to the address, he found it had been home to a man who died of gangrene a month after a tin box fell on his toe on a Dublin train.
Andrew Smart also called it home. He fell from the fourth-floor window while checking the weather. After neighbours heard a thud, he was discovered impaled on several railings in the garden below in 1888. Later, in 1916, resident Charles Grant died after a "hurricane force" wind blew his car through the railings at Aberdeen beach.
Meanwhile, a fashionably grey door at 8 Nicolson Square, which sits between the busy Kebab Mahal takeaway and Phone Science Repair Lab, has also drawn in Mr Mogg, not least given the mishmash of styles that now cluster on the front of the building "like a whale covered in barnacles", he said.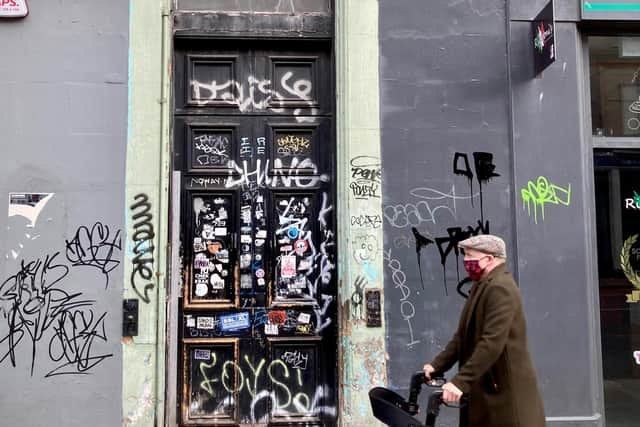 Today, outside Number 8, workers shelter in the doorway for a cigarette, a builder's ladder runs up the front of the tenement and a stream of students briskly flows past the front door in search of lunch. It is the briefest, fleeting snapshots of city life.
But push into the past and the stories of those who lived across these four storeys start to emerge given Mr Mogg's deep search of newspaper archives, birth certificates and death records.
Mr Mogg said: "Walking around Edinburgh and doing these stories behind the doors, there is a feeling that you have in a city, which is that you are here temporarily. You are inhabiting places that other people have inhabited before you, and now they are gone, just as you are living in them and will one day be gone too.
"That may sounds depressing, but actually I think there is a comfort in that. You have this chain of people and events and this chain is a permanent thing, even if every little link in that chain is temporary."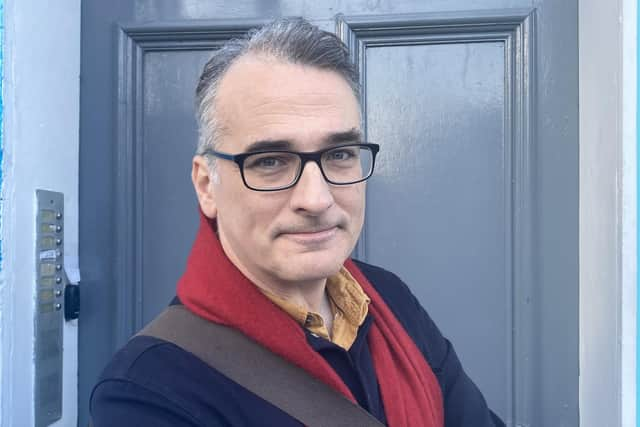 In 1926, Number 8 counted Jenny Nord among its residents, a widow whose husband contracted an infection from a minor scratch or perhaps an insect bite and died within a week.
Tragedy also visited the door of her neighbour Maggie Campbell, who was sixth months' pregnant with her fourth child when she was beaten to death in 1920 by her husband Nicholas, a plumber, who came home drunk with six pies for the family and accused his wife of taking money from him.
Mr Mogg said: "It turned out to be in his pocket. That day Nicholas had received a gratuity of £62 for his five years of service during World War One and had gone out to celebrate.
"In court, the defence said that Nicholas was a loving husband when sober, but a 'madman' when drunk. Indeed earlier on the day his wife died, his son had seen him fighting with a pram that someone had left in the close."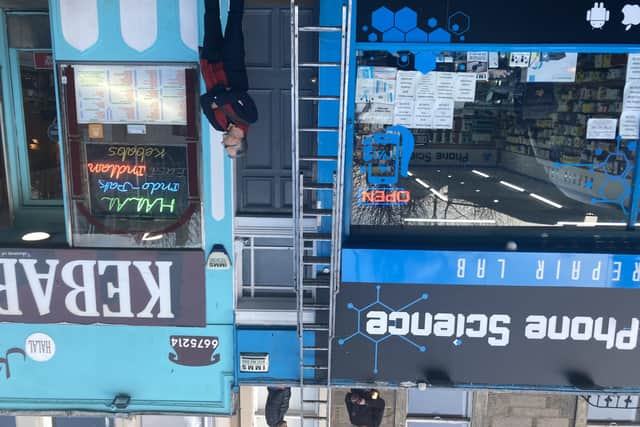 There was also a suggestion his behaviour was caused by the trauma of war – he had been wounded three times – and an injury suffered in 1910 when a brick fell four storeys on to his head.
Also at Number 8 was a Miss Emma Oliver, who in 1916 witnessed a Zeppelin drop a fire bomb on a tenement across the square, killing five men. Six months later, she was fined £1 for failing to obscure the light from her windows, because "carelessness may cause another unwelcome visit of hostile aircraft".
Step back further into the history of Number 8 and the report of the death of George Hogg, aged five, appears.
"He was playing with some other children in the top flat when he fell out of the window," Mr Mogg said. "He clung onto the sill as long as he could, then dropped around 50 feet to the ground. He broke both arms and his skull and died within a hour."
The writer added: "I found a lot of people who died after falling out of tenement windows."
The call of mid 19th-century emigration also came to Number 8 when Richard Weston fulfilled a lifetime's ambition and followed his brother to America.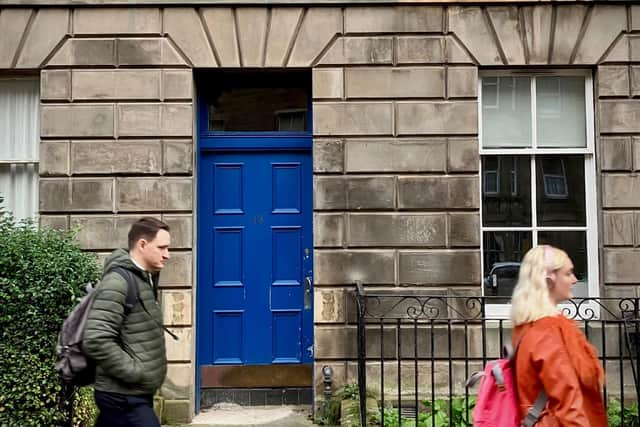 Mr Mogg said: "He had a perfectly dreadful time. He returned home after six months, so emaciated and fatigued that his family hardly recognised him and he couldn't speak a word for nine days. Eventually, he wrote a book called A Visit to the United States and Canada in 1833 with the purpose of discouraging other emigrants."
Mr Mogg said: "From this one front door, you have all these different people and all these seemingly ordinary details start to feel a little less ordinary. These are the unsung Joes of the city. These are the real lives of people who have until now been largely anonymous."
You may never walk past a front door in the same way again.
Comments
 0 comments
Want to join the conversation? Please or to comment on this article.