Scottish castle seeks keeper for famous landmark
It could be a dream job for those who love their history.
A famous Scottish castle is seeking a keeper to look after the famous coastal landmark that attracts around 135,000 visitors every year.
Dunnottar Castle near Stonehaven in Aberdeenshire is looking to appoint an assistant custodian to help run the attraction which has played a key role in Scottish history and starred in a number of Hollywood films.
A spokesman for the castle said it was looking for an "enthusiastic and conscientious" person to take on the role as its team gets bigger as visitor numbers continue to rise.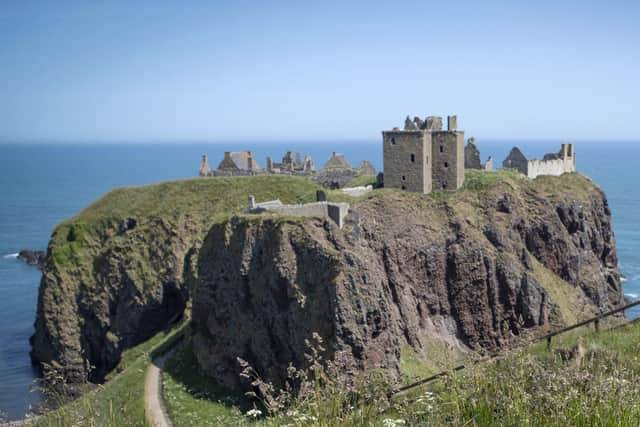 Those who take up the job will be expected to open and close the castle, work in the ticket kiosk, sell postcards and share stories of the fortress with visitors. With more than 200 steps leading to the castle, a good level of physical fitness is a must – as is a willingness to clean the toilets.
The role is full-time, covering five days a week.
The castle, which is privately owned by George Pearson, 28, whose family first bought the pile in 1919, is due to upgrade its offering to tourists with a visitor centre and cafe planned in a £4m investment.
The visitor centre, which will create 18 jobs, will have panoramic views over the castle, which sits on top of a 160ft cliff overlooking the North Sea.
The expansion comes amid growing visitor numbers at the site, which has experienced a growing global profile partly due to its appearance in Pixar's Brave and a big screen remake of Frankenstein starring Daniel Radcliffe.
A planning application has been lodged with Aberdeenshire Council, with 10 houses planned as part of the development.
The plans signal a major step change for Dunnottar, where the Honours of Scotland were hidden from Oliver Cromwell's men during the 17th century. The castle was later forfeited by the Crown following the 1715 Jacobite rising.
Earlier, in the late 13th Century, William Wallace attacked an English garrison at the castle site, taking it back under Scottish control with it later reclaimed by English forces.
In the late 14th Century, the first stone of the castle was laid by Sir William Keith, Great Marischal of Scotland,