Scotland yet to match free testing for over-65s under huge UK expansion
The Scottish and UK governments have announced the biggest expansion of coronavirus testing yet as ministers in Edinburgh and London rush to meet targets ahead of a deadline tomorrow.
Every NHS and care worker in the UK and their families will be able to get a test for coronavirus whether they have symptoms of the illness or not, it was announced yesterday.
In Scotland, anyone over the age of 70 who is admitted to hospital will be tested whether they have coronavirus symptoms or not, and will also be given a test four days later to verify that they haven't picked up the illness.
UK Health Secretary Matt Hancock went even further, promising a coronavirus test to every care home resident and hospital patient regardless of whether they show symptoms.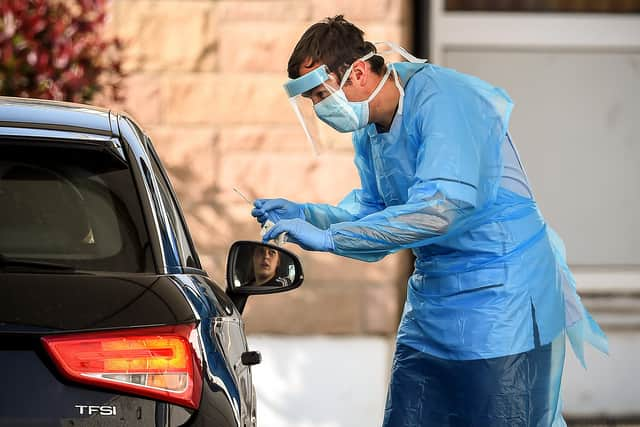 In addition, tests will be made available to anyone in England over the age of 65 or working in a job that requires them to leave home, who is symptomatic.
It means that millions of private sector workers in sectors like manufacturing and construction will be eligible in the biggest step towards universal coronavirus testing yet.
The huge expansion in testing gives ministers just a day to hit targets of 3,500 daily NHS tests in Scotland and 100,000 tests across the UK in all settings.
However, the UK government said it would not become clear whether it had met the 100,000 target until Saturday due to delays in collecting data.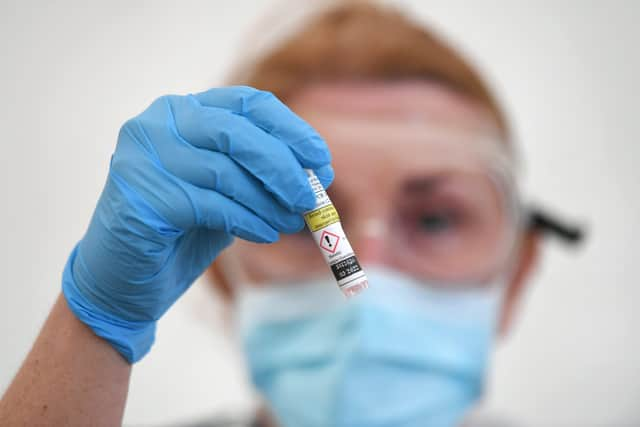 Scottish Conservative MP Andrew Bowie called on the government in Edinburgh to go further and match UK ministers in promising a test for every care home resident, saying: "We must have this in Scotland too. Just today I spoke to a constituent who works in a care home in Aberdeenshire, desperate for a test."
Scottish Labour leader Richard Leonard said there was a "gap and a time lag" between the Scottish Government's announcements and progress on the ground.
"We are still not even meeting the Scottish Government's 3,500 tests per day target," Mr Leonard warned.
"And although the health secretary announced six weeks ago that there would be increased community testing the interim Chief Medical Officer has since made clear that it would only start this week. This is neither "early" nor "rapid".
"Throughout this pandemic there has been a gap and time lag between what the Scottish Government announces and what is actually being delivered on the ground."
Scottish Green MSP Alison Johnston also called for all Scottish health and care staff to be given a test, whether they show symptoms or not.
"On International Workers Memorial Day we must do everything we can to protect our frontline health and care workers. I'm glad the Scottish Government are working towards implementing my proposals on testing for those without symptoms, but it is important we do this as a matter of urgency for our NHS and care heroes.
"The evidence shows the virus is spread before or when mild symptoms arrive, so the urgency is clear if we are to prevent transmission, protect our workers and eliminate the virus as part of a test, trace, isolate strategy."
Just 1,205 people were tested by NHS boards in Scotland in the latest 24 hour period, while 43,453 tests were carried out across the UK on Monday.
Capacity for testing across the UK in all settings is still short of the target with 73,400 tests available yesterday.
A network of drive-through testing centres will grow to 89 across the UK by the end of the week for tests outside the NHS, and the number of testing kits that can be ordered through the post from the gov.uk online portal will increase from 5,000 per day to 25,000.
Mobile testing facilities run by the armed forces will also be increased from 17 to 70 by the end of the week.
Mr Hancock insisted the government was on track to meet its testing goal, and added that in an effort to "bring as much transparency as possible" to the death figures, "from tomorrow we will be publishing not just the number of deaths in hospital each day, but the number of deaths in care homes and the community too".
Such a move would "add to our understanding of how this virus is spreading day by day, and it will help inform the judgments that we make as we work to keep people safe", he added.
It comes as 21,678 patients have now died in hospital after testing positive for coronavirus in the UK as of 5pm on Monday, up 586 on the day before.
Analysis by the PA news agency shows some 24,243 deaths involving coronavirus have now been formally registered across the UK, though the true toll is thought to be far higher.
Office for National Statistics (ONS) figures released on Tuesday show around three in 10 of all Covid-19 deaths in England and Wales are now occurring in care homes.
Mr Hancock said a taskforce examining whether existing drugs can be used to treat coronavirus have identified a number of "promising candidates".
Comments
 0 comments
Want to join the conversation? Please or to comment on this article.