Royal Dornoch 'first golf course in the world' to fit defibrillators to all buggies
Royal Dornoch has become the first golf club in the world to install defibrillators on all its buggies.
The move comes after a campaign by New Heart Start, which was set up after its found er lost four friends to cardiac arrest when they were just in their forties.
David Sullivan, an ex-military trainer, has travelled across the UK with John Salako, former England international footballer, in his mission to open up widespread access to defibrillators.
Mr Sullivan said: "Royal Dornoch is the first course in the world to install potentially life-saving defibrillators and first aid kits on each of their golf buggies but, hopefully, it won't be long before others follow suit.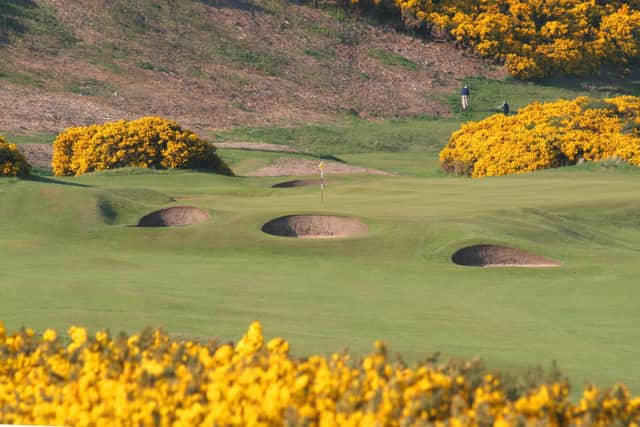 "We are seeing more and more golf clubs around the UK purchasing defibrillators for their clubhouses.
"That is fantastic. But we believe clubs can go one step further to protect members and visitors by providing defibrillators in every buggy going out onto the course."
Mr Sullivan was captivated by Royal Dornoch after visiting last summer during his three-month fundraising challenge which saw him hit golf balls from John O'Groats to Lands' End and teaching CPR skills to 40,000 people on the way.
He said there were 30,000 cardiac arrests a year in the UK with "an unacceptable" survival rate of less than eight per cent.
If a defibrillator can be used within the first three minutes, the survival rate can be boosted by around 70 per cent, Mr Sullivan added.
Neil Hampton, general manager at Royal Dornoch, said: "We were very impressed with what David and John have been doing to promote the use of defibrillators," he said.
"We have had one at the clubhouse and at the half-way house for several years.
" Luckily, they haven't been called into action so far, but defibrillators have a track record of saving lives.
"Now we have installed a Phillips AED on all five buggies that are hired out to golfers with medical conditions."
Another travels with a 'roving ranger' on the course.