Robert Burns 'treasure trove' hidden away for more than 100 years comes home to Scotland
A "treasure trove" collection of 12 Robert Burns manuscripts and a book that outlines his thoughts and hopes as a young writer have come home to Scotland.
The works, which have been hidden away for more than 100 years, were saved for the nation after a purchase from a vast and illustrious private library in the north of England. The items will go on display at the Robert Burns Birthplace Museum in Alloway, Ayrshire.
The manuscripts were donated to the National Trust for Scotland (NTS) by the Friends of the National Libraries in 2022 following a £15 million campaign to secure the entire private collection and prevent it being broken up and sent overseas.
The letters, poems and songs will go on show in Alloway as part of a new exhibition, Homecoming, which opens today.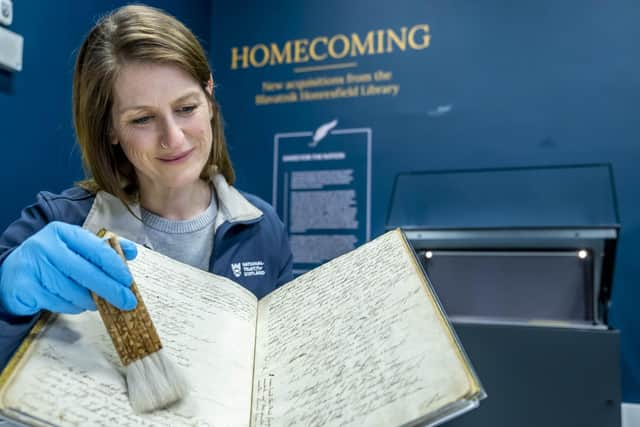 Sarah Beattie, curator for NTS in Dumfries and Galloway, said it was "incredibly special" to show the items in the place where Burns was born, and as people around the world prepare to celebrate Burns Night on January 25.
Ms Beattie said: "They have been in a private collection for well over 100 years and they have not been seen by members of the public, so for us to have ownership of them and for them to be on display now, particularly at Burns season, is fantastic. It means we can open up Burns and his writing to many more people."
Also on show will be the Burns First Commonplace Book, a collection of early drafts, thoughts, influences and creative processes that was compiled between 1783 and 1785 when he was still an unpublished poet.
The book, which was was last displayed in Scotland in 1896 at the major Burns exhibition held in Glasgow, was given jointly to the National Library of Scotland and NTS from the Blavatnik Honresfield Library by the Friends of the National Libraries last year.
The Blavatnik Honresfield Library collection, which was housed in Manchester, was one of the most historically important private literary collections accumulated during the late 19th and early 20th century.
It was brought together by two brothers, Alfred and William Law, who were hugely successful, self-made Victorian industrialists with a passion for literary history and book collecting.
Following the successful campaign by the Friends of the National Libraries, the National Library of Scotland also recently took ownership of Sir Walter Scott's original manuscript for Rob Roy.
Philip Long, chief executive of NTS, said: "What we're celebrating here today is the public display for the first time in over 100 years of literary works by Robert Burns that give an even greater insight into his career and life, which had not been seen since the late 19th century.
"We're celebrating the return of this treasure trove of material by Burns here at the Robert Burns birthplace museum where people will be able to come and see this collection.
"As the custodians of the place where Burns was born, and many of his most important works, the National Trust for Scotland is honoured to add these important pieces to our collection and to share these with the public through our new exhibition."
The manuscripts include poems Donocht Head and Queen of the Lothian and the songs As I Was Walking Up The Street.
Comments
 0 comments
Want to join the conversation? Please or to comment on this article.