Remembrance poppies to be plastic free this year in major redesign
​Remembrance poppies will be plastic free and recyclable for the first time this year in a move to reduce single-use plastics.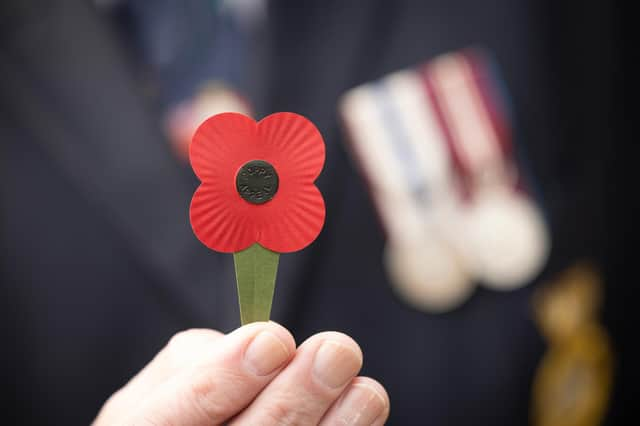 The new poppy both north and south of the border is the first redesign of the historic symbol in a generation.
While the new plastic-free version is on sale, existing poppies with plastic, which can be recycled at Sainsbury's supermarkets, will also be available as the charity looks to clear out its remaining stock.
The new stems are made from 100 per cent paper, produced from a blend of renewable fibres from responsible sources, which can be recycled in household collections.
The Royal British Legion said 50 per cent of the paper also comes from the offcuts created during the production of paper coffee cups.
The poppies feature a black centre embossed with the words "Poppy Appeal", and no longer have a plastic stem or centre.
They can be fastened with a pin in the stem, worn in a buttonhole or a stick-on version is available.
The Royal British Legion, which produces 170,000 poppies a day in the UK to meet the demand ahead of Remembrance Sunday, said an analysis from University College London scientists suggests the new design could reduce emissions by 40 per cent.
It is the first redesign of the poppies since the mid-1990s and the latest in a series of designs since it was first used to raise funds in 1921 following the First World War.
There have been more than 10 versions of the poppy throughout the years, including those from hand-crafted red silk with wire stems in the 1920s and a cardboard "austerity poppy" in wartime in the 1940s.
D-Day and Royal Navy veteran John Roberts, 99, from Whitstable, said: "I've been wearing a poppy for more than 70 years, all different versions from cardboard ones, cotton ones and ones with a plastic centre and today's new plastic-free version but while the poppies have changed, what will always remain is its important meaning.
"When I see people wearing a poppy, I think of all those we lost in World War Two.
"During the D-Day landings, my ship was based just offshore at Sword Beach. I witnessed the destruction happening on land – I'd never seen anything like it and never saw anything like it again.
"I was one of the lucky ones who survived as our ship was narrowly missed by a torpedo, so I wear my poppy to remember those who weren't so lucky."
Andy Taylor-Whyte, director of the campaign, said: "We're so proud that this year we have our new plastic-free poppy too, so that the public can wear this poignant symbol of remembrance with less impact on the environment.
"Since the first Poppy Appeal in 1921 to today, public donations have provided a lifeline for service people and their families, and last year, we helped more than 27,000 people in the armed forces community.
"As a veteran myself, I am grateful to the public for giving what they can to support the Royal British Legion Poppy Appeal this year."
Comments
 0 comments
Want to join the conversation? Please or to comment on this article.