'Outlander promotes a deeply distorted view of Gaelic life and culture - and the damage is done' - Deborah Dennison
Propaganda has been a tool used for centuries to spread hatred, racism and to defeat a feared enemy.
Mid-18th century Scotland – the time of the Outlander story – was flooded with cartoon broadsides, pamphlets and newspapers portraying the Jacobites as primitive, thieving, lying, boorish, sexually predatory Highlanders, paying 'a Servile and Abject Obedience to ... their Chieftains' (General Wade, 1724).
Jacobite women were portrayed as whores, and Charles Edward Stuart as alternatively an effeminate coward, or an over-sexed Catholic fanatic. If believed, such disinformation can do damage to people and a culture.
Using the language and music of a people may seem a celebration of it. But Outlander promotes a deeply distorted view of the known nature of the Gàidhealtachd. Presented with lots of raw sex, fantasy and slick Hollywood production values, in Scotland, and around the world, people believe the disinformation.
Outlander's Claire escapes the villainous Redcoats, only to find herself in the hands of the boorish, threatening men of clan MacKenzie. We are shown an image of Highlanders which echoes the vicious cartooned propaganda of Hogarth's famous 'Sawney on the Boghouse' or the 'Whipping Post'.
Highland history certainly included cattle raiding and long clan conflicts, but the Dualchas, the essential nature of Highland culture, had at its beginning the creation of the Book of Kells on Iona.
For centuries, Highlanders were educated in Paris, Rome, Edinburgh and Glasgow, honoured their Gàidhlig bards, including women, and followed laws which saw violators brought before clan councils. The clan system was not feudal, nor did clan chiefs have absolute power over their clansmen.
MacLeod of Dunvegan promised his clansmen would join the Jacobites. When they found they were to join the Government forces, a large part of MacLeod's fighting tail simply walked away.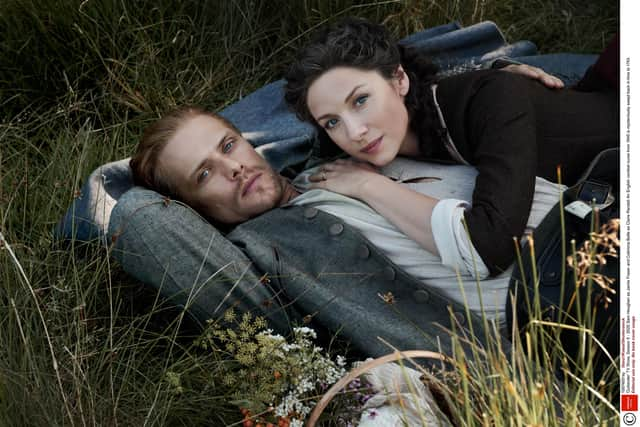 The primary sources for this evidence are many – contemporary memoirs, the Gàidhlig poets who fought in the Risings, the eyewitness reportage in The Lyon in Mourning, and the first-hand knowledge and research of David Stewart of Garth. Garth, an officer in the Black Watch, remarked at the beginning of the 19th century the men of the Highland regiments – recruited from the Gàidhlig speaking clans – were known as exceptional for their honourable and gentlemanly behaviour.
The frequent arguments in which Claire, the lead female character in the series, demands her independence do not reflect the role of Highland women.
The plotting of Outlander is mostly predictable: Claire gets in trouble, Jamie saves her, they have sex and he makes statements like "when I'm inside you, I feel like God". Then Jamie gets in trouble, Claire saves him, and they have an argument about women not being owned by their husbands.
But Highland women served on clan councils and as clan bards, and there is evidence there were female clan chiefs. Jacobite women defied their husbands and raised men at arms. Lady Clanranald defied her husband the Clanranald chief and, with her son, raised clansmen in 1745. Lady Anne MacIntosh also defied her husband, and did the same.
Jenny Cameron, who fervently raised money and arms for the Jacobites, found herself the subject of vicious Government propaganda, depicted as a whore in cartoons spread all over the British Isles in 1746. There is no evidence she was sexually promiscuous and the defamation nearly ruined her life.
The notion this is all tolerable because the series has brought more tourism to the Scottish Highlands may be offset by the damage done. Outlander fans have trampled down the Fraser pit grave at Culloden, chipped away pieces of the Clava Cairns and Castle Doune for 'souvenirs of Jamie'.
Most employment created by tourism is low-wage work in hotels and restaurants. Cottages in the Highlands up for sale as holiday lets are priced far beyond the reach of local people and whole communities have become winter ghost towns.
A number of men sport Outlander muddy coloured 'clan tartan' great kilts, slouched bonnets and huge beards – none of which would have been seen in the Jacobite army – to give tours, talks in schools, and promote themselves on social media as 'authentic Highlanders', based on Outlander.
When this writer pointed out on social media that one of them was presenting seriously inaccurate history, I received a lewd, abusive message – because, according to his belief, that's the way real, manly Highlanders behave.
Some of Outlander's depictions of real people are reprehensible. The real Charles Edward Stuart rarely mentioned Divine Right and was far more interested in Enlightenment ideas, garnering the admiration and friendship of Voltaire and de Montesquieu. From the 1720s onward, the Stuart Court received pleas from Scotland, including Lochiel and MacLean, expressing fears for the survival of people of the Highlands.
This deeply motivated the young Charles. Had he been the cowardly, weak, spoiled brat depicted in Outlander, the chiefs would have been fools to follow him and he would not have survived five months, sleeping rough, often without food and earning the love, fierce loyalty and admiration of those who were with him.
In 1746, on hearing character defamation of Charles Edward, the Prince of Hesse-Cassel, Cumberland's ally, replied: "I am personally acquainted with him, he has many great as well as good qualities, prudence as well as courage (Chambers, 1827)."
One of Charles's few true loves was Marie-Louise de la Tour Auvergne, who bore him a son who died. She was married and had had an impeccable reputation until she fell deeply in love with the Prince. Author Diana Gabaldon depicts her as a promiscuous woman of questionable character – echoes of the treatment of poor Jenny Cameron.
- Deborah Dennison is a Jacobite scholar, writer, filmmaker and founder member of the Historians' Council on Culloden.
Comments
 0 comments
Want to join the conversation? Please or to comment on this article.