Those travelling Scotland's main train operator have so far avoided any increase in ticket prices, unlike those on English-based operators like LNER and Avanti West Coast, who have been paying up to 5.9 per cent more since March 5.
The freeze was announced last September as part of measures to tackle the cost of living crisis triggered by rising inflation, which postponed any fares increase for three months from the usual rise in January.
Scottish Liberal Democrats leader Alex Cole-Hamilton called last month for fares to remain unchanged for the rest of the year.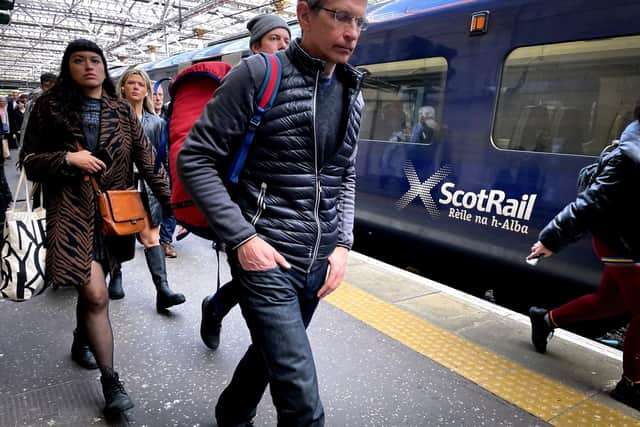 The Scottish Government's Transport Scotland agency, which controls nationalised ScotRail, told The Scotsman that no decision has been made about when fares would increase.
The move, announced in the Scottish Budget in December, would effectively halve fares on some routes during the morning and evening peak hours, such as the main Edinburgh-Glasgow line.
Alex Hynes, managing director of Scotland's Railway, which comprises ScotRail and track body Network Rail Scotland, told The Scotsman that the trial was "the biggest change to pricing in a generation".
He admitted it could cause overcrowding on some services so would have to be carefully planned, but said it was "unlikely" that passengers would be unable to get a seat. He said: "It is a risk but it's one that we carefully manage."
A rail industry source predicted this was likely to be worst during the evening peaks on Wednesday and Thursdays when the greatest number of commuters and shoppers would want to travel.
Mr Hynes said: "We have not yet fully worked out the implications. We are working through all the detail and don't know how many new customers it will generate."
He said the scheme had originated with the Scottish Government wanting to do something "bold and radical on rail fares" as part of its Budget process.
It is also aimed at helping to meet other policy goals such as the climate emergency as well as the cost of living crisis.
Transport minister Kevin Stewart said: "Work on the precise methodology and design is being finalised."