New Ukraine ambassador wore a kilt for first meeting with Zelensky
Martin Harris grew up in Scotland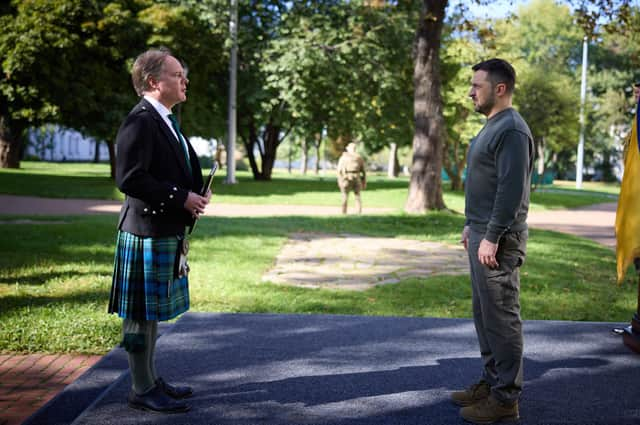 The UK's new ambassador for Ukraine wore a kilt for his first meeting with President Vlodymyr Zelensky.
Father-of-three Martin Harris, 54, previously served from 2003 to 2008 in Kyiv as deputy head of mission and consul general, and raised his children in Ukraine.
Mr Harris, who grew up in Scotland, wore his family's Ferguson tartan for his initiation into the role, which was admired by President Zelensky.
After the war broke out in February 2022, Mr Harris got a tie made from a tartan named "Ukraine Forever" as a gesture of solidarity.
Earlier this year, Mr Harris spent a month in Lviv to refresh his fluent Ukrainian.
He went on holiday to Scotland recently and was moved to see the Ukrainian flag flying in rural Shetland.
Mr Harris said: "The Ukrainians express their national identity strongly through traditional clothing, so I wanted to wear my national dress as the UK's new ambassador. President Zelensky noted my kilt and many Ukrainians have complimented me.
"My kilt was in my family tartan Ferguson and I also have a tie in a tartan called Ukraine Forever, which was created in solidarity with the country after it came under the full-scale attack.
"I'm honoured to lead the UK's Embassy as we support Ukraine in its fight for freedom and democracy. Ukraine is defending the international principles underpinning the UK's security, as well as its own.
"The courage and resolve of the Ukrainian armed forces and people are a constant inspiration. It is a privilege to be here in Ukraine standing alongside them.
"Our relationship has never been closer or more important. Together we are stronger."
Mr Harris will lead the Foreign, Commonwealth & Development Office (FCDO) at the British Embassy in Kyiv, after taking over from Dame Melinda Simmons.
Previous postings included Moscow, where he was involved in a hostage situation in 2002, and Afghanistan, and Mr Harris also served as the UK's Ambassador to Romania.
During his last stint in Kyiv, Mr Harris was caught up in the Orange Revolution, when pro-democracy campaigners demonstrated against the rigged election result in 2004.
Mr Harris said: "This is my second posting to Ukraine. When I left in 2008, I thought I'd really like to come back as Ambassador, so this is a dream come true. My family has a great affinity with Ukraine because it's where my children grew up.
"What has unfolded has been truly heart-breaking for us. There was never a doubt I should take on this role and their excitement was tinged with disappointment they couldn't come with me to live in Kyiv.
"I'm under no illusion that this is a dangerous posting, but this is as much about protecting the UK's security as about Ukraine's security. The conditions Ukrainian soldiers are facing on the front line are much more severe.
"The people who deserve all the credit are the Ukrainian warriors on the front line."
The UK's total military, humanitarian and economic support for Ukraine now amounts to £9.3 billion – more than any country other than the United States.
Comments
 0 comments
Want to join the conversation? Please or to comment on this article.