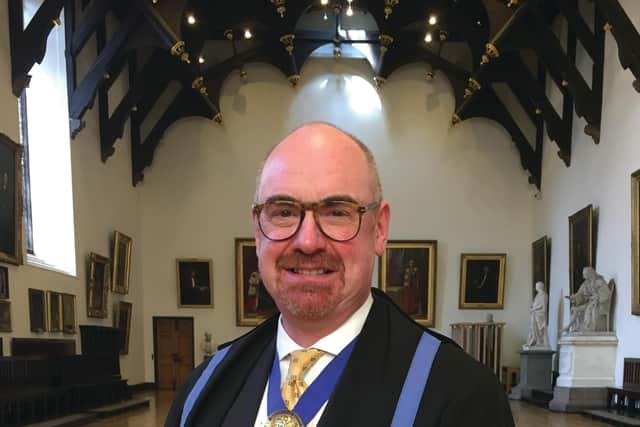 The past 18 months have undoubtedly been among the most challenging any of us have ever faced. However, despite the difficulties, the legal profession has continued to deliver essential advice and representation to those for whom help was needed, and I am very proud of that.
The rapid transition to online communication and working has been remarkable to witness –taking place over weeks and months rather than years. It has, however, taken hard work and determination, along with a collaborative and flexible approach by the profession and across the justice sector, to develop innovative, practical, solutions to ensure colleagues and clients were kept safe while business continued.
There is no doubt that technology, along with the dedicated efforts of everyone involved, has played a vital role in keeping our justice system open and operating as we face the biggest backlog our courts have ever seen. However, there are legitimate concerns about just how well we are served by online justice. It will be essential that we identify the changes which offer long-term value and those which, though having been useful in a time of crisis, should now be rejected.
In considering the criminal justice system in particular, there are increasing concerns at the growing imbalance in funding. Our criminal justice system relies equally on the judiciary, the prosecution and the defence. If any one of these is out of balance, the whole is put at jeopardy.
Investment in legal aid must remain a priority. We pushed hard for support during the pandemic and were pleased the Scottish Government created a legal aid resilience and recovery fund to offer a much-needed financial lifeline. We also welcomed the government's £1 million support for 40 new legal aid trainees. This fund, managed by the Law Society, will assist firms in nurturing new talent.
These initiatives have provided a financial respite for this vital part of the profession but they alone are not enough. In the past decade, the number of firms and solicitors providing criminal legal aid reduced by a quarter, and civil legal aid firms by a fifth.
We were already concerned about the capacity and resilience of the sector before the pandemic, and these concerns are more acute now. There is an urgent need for long-term funding solutions to ensure that everyone, regardless of their financial means, has access to justice now and in the future.
The people and businesses of Scotland and beyond place a great deal of trust in the legal profession, but the high level of client satisfaction is no reason for complacency. The Law Society has long recognised and led a case for change to improve legal services regulation. The Scottish Government has recently launched a consultation and we will engage fully in plans for regulatory reform to ensure proposals maintain high standards and offer greater protections for the public. It is also vital that any resulting proposals for change recognise the importance of the independence of the legal profession. We urge our members and others to respond to this important consultation.
Change is, as ever, a constant theme – none more so than that which is needed to address the climate crisis. Solicitors advise their clients or employers on a range of matters associated with climate change, as well as considering the environmental impact of their own businessesand activities. We need to understand the challenges which are ahead, and ensure we are prepared to influence and inform policy and legislative development in this area.
In advance of the recent COP26 climate change conference highlighting the roles of the law and lawyers in addressing the climate crisis, the Society published carbon audits for 2018-19and 2019-20. The wholesale shift from office to home working saw its carbon footprint cut by almost two-thirds.
As we resume a more familiar lifestyle, including increased travel and office working, such a substantial reduction is unlikely to be repeated, however it highlights the difference that can be made and the Society will take forward a series of recommendations to curb its own environmental impact.
Another significant change will of course be the imminent retirement of our long-serving chief executive, Lorna Jack. We have been extremely fortunate to have had Lorna as our chief executive for the last 13 years. She has been a fantastic support to me and to each of my predecessors, as well as an inspiring leader to the society's staff team and an ambassador for Scotland's legal profession. She will be much missed, but I look forward to welcoming her successor and to carrying on the work to be done as we look beyond the pandemic.
Over this past year the legal profession has proven to be resilient and responsive to the extraordinary circumstances presented to it.
It remains vital that we continue to communicate and collaborate to ensure that we retain an independent justice system and a strong, increasingly diverse, legal profession that serves our society so well.
- Ken Dalling is the Law Society of Scotland President
This article first appeared in The Scotsman's Legal Review 2021