Mr Hamilton, who lived in Argyll, died on Monday aged 97. He is survived by his wife Jeanette and three children.
First Minister Nicola Sturgeon described him as a "giant" of the independence movement.
Ms Sturgeon said: "During my time as the SNP leader, I have received occasional words of wisdom, encouragement and support from him, which I will always treasure.
"He is one of the many giants on whose shoulders the modern SNP stands. My condolences go to his loved ones."
Mr Hamilton, along with teacher Kay Matheson and fellow Glasgow University students Gavin Vernon and Alan Stuart, 'repatriated' the Stone of Destiny – on which Scotland's kings were once crowned at Scone – from Westminster Abbey to Scotland on Christmas Day 1950.
All four, members of the Scottish Covenant Association that supported Scottish home rule, managed to get the stone out of the abbey, into a car and headed north despite numerous roadblocks and searches.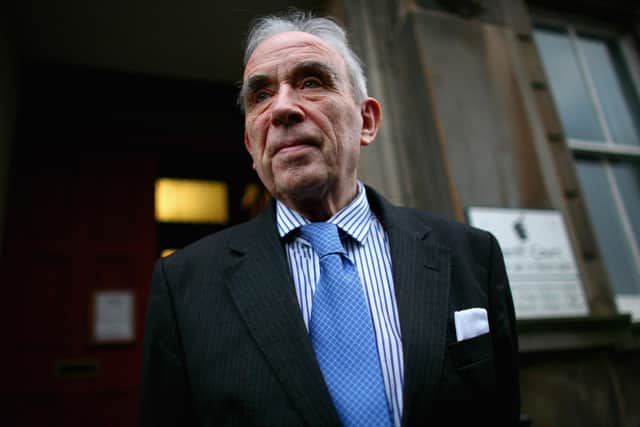 Former health minister Alex Neil described his friend as a "patriot, an intellectual, a universal man, someone who cared about people".
The two first met when Mr Hamilton stood as a SNP candidate for Strathclyde East in 1994 during the European elections and Mr Neil served as his campaign manager.
Mr Neil said: "Ian was a multi-faceted character. He was a patriot and people always refer to the Stone of Destiny recovery. But he was a much bigger character than that.
"He was an extremely clever man, he always thought outside the box. He was an intellectual, a universal person. He didn't judge anyone by their status, their income, their rank, but by who they were, what they believed in and how they treated other people."
Paisley-born Mr Hamilton went on to become a well-respected advocate and worked both in Scotland and Zambia, where he was the director of civil litigation in the 1960s.
Roddy Dunlop KC, Dean of the Faculty of Advocates, said he was "deeply saddened" by the death of Mr Hamilton.
Mr Dunlop said: "Ian was a faculty legend, renowned for his fearless advocacy and effortless bonhomie."
He referenced Mr Hamilton's role in the seminal 1954 case, MacCormick v Lord Advocate, which contested Queen Elizabeth using the title 'Queen Elizabeth II' in Scotland given Scotland had never had an Elizabeth I.
Mr Hamilton, a second petitioner and not yet called to the Bar, claimed it was a breach of administrative and constitutional law, as per the Act of Union 1707.
The case found in favour of the Crown, given the act made no provision for the numbering of monarchs' titles. However, the Lord President noted there was an absence of authority on whether courts in Scotland or England could determine whether governmental actions were in breach of the Act.
Mr Dunlop said: "His name will live long after his death, as the man who, whilst a student, "liberated" the Stone of Destiny; as the man who, before even calling to the Bar, addressed the Inner House as the second Petitioner in the seminal case of MacCormick v Lord Advocate and as the man who thereafter was one of the greats in the Scottish criminal courts.
"Ian was a formidable advocate, a great friend to many and a lovely man. It is thus with deep sorrow that we bid him farewell."