Cardiff riots: Police condemn 'totally unacceptable' violence after two teens die in crash
Violence continued into the early hours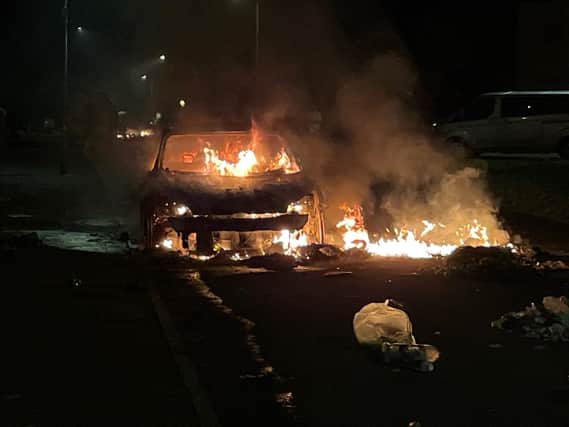 The level of violence towards emergency services and damage caused by riots that broke out in Cardiff after two teenage boys died in a crash has been described by police as "totally unacceptable".
Tensions reached breaking point after officers were called to a collision, in Snowden Road, Ely, shortly after 6pm on Monday.
South Wales Police said the collision had already occurred when officers arrived, and they remained on the scene to manage "large-scale disorder" until the early hours of Tuesday morning.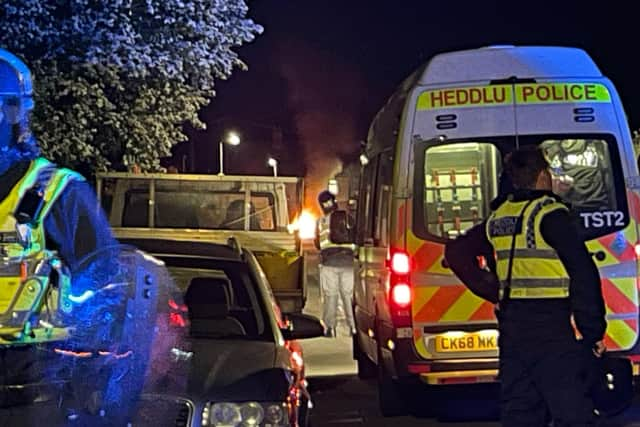 The force said arrests have been made but did not say exactly how many.
Specially-trained public order officers were deployed, including officers from neighbouring police forces, as several vehicles were set alight, property was damaged and officers were injured.
Assistant Chief Constable Mark Travis said: "First and foremost our thoughts are with families of the two boys who have died following the collision in Ely and with those affected by the disorder which followed.
"These are scenes we do not expect to see in our communities, particularly a close-knit community such as Ely.
"We received a large number of calls from residents who were understandably frightened by the actions of this large group who were intent on causing crime and disorder.
"The level of violence towards emergency services and the damage to property and vehicles was totally unacceptable.
"Our focus now is to fully investigate the circumstances of the collision and the appalling scenes that followed.
"Arrests have already been made in connection with the disorder and more will follow. We shall be maintaining an enhanced police presence throughout the week and into the weekend.
"We would like to thank the public for their support and appeal to anyone with information or video footage to come forward and provide that to us."
Scenes being livestreamed on YouTube showed young people throwing fireworks and other missiles at a line of police officers with riot shields who were blocking one end of the street.
Shortly before midnight a car was set on fire and burned fiercely, while a second vehicle was overturned and also torched.
One person was attacked because rioters thought they were an undercover officer, according to a senior officer at the scene.
Police, including mounted officers on horseback, were seen outside Ely police station in the early hours of Tuesday after suggestions it could be targeted.
Alun Michael, South Wales Police and Crime Commissioner, told BBC Radio 4's Today programme: "My understanding is that there was a road traffic accident involving two teenagers on an off-road bike or scooter and sadly they died.
"That's an incident obviously that is being investigated in its own right.
"And that appears to have sparked, for reasons that aren't clear, the disorder that you've referred to in which something like a dozen officers were injured, fortunately none of them life-threatening, and the connection between the two is far from clear.
"So obviously there's going to be investigations going on this morning to try and establish what happened.
"It would appear that there were rumours, and those rumours became rife, of a police chase, which wasn't the case.
"And I think it illustrates the speed with which rumours can run around with the activity that goes on on social media nowadays, and that events can get out of hand."
Mr Michael said people will be "brought to account" for the violence.
"Obviously very frightening for local people. And there were a lot of calls to the police expressing concern about what was going on," he said.
Mr Michael added: "Ely is an area which has a lot of deprivation, but it's also a very warm community.
"I think what we have is an incident that involved some people and a proper investigation is needed to establish exactly what happened."