Bank of England leaves interest rates unchanged after 14 rises in a row
The Bank of England has left interest rates unchanged at 5.25%
The Bank of England chose not to heap more pressure on mortgage holders on Thursday as it kept its interest rate unchanged for the first time in almost two years.
In a close decision, policymakers said they had opted to keep the base rate, which influences how much families need to pay to borrow money, at 5.25%. They also downgraded the outlook for the economy.
Officials still left the door open to further rises in the future, promising to "take the decisions necessary" to return inflation to normal levels.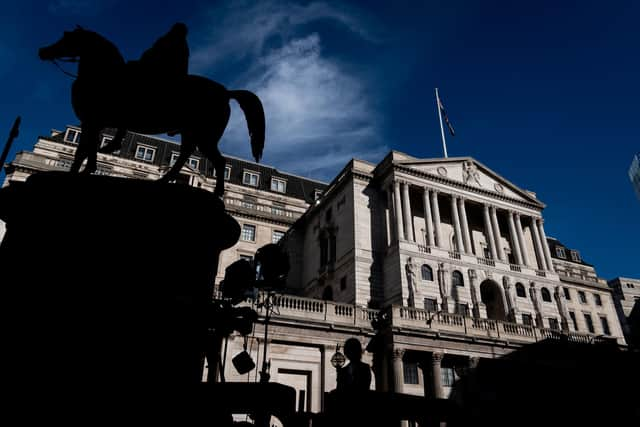 It is the first time since November 2021 that the Monetary Policy Committee (MPC) has met without deciding to raise interest rates.
Since then, the base rate was increased in 14 consecutive meetings, taking it from 0.1% to 5.25% as the Bank attempted to put a lid on runaway inflation.
Many had expected this week's meeting to bring the 15th straight rise, and it almost did. Four of the nine-person MPC voted to raise rates to 5.5%.
The MPC also downgraded its forecast for the UK's economy on Thursday. It now expects gross domestic product (GDP) to rise just 0.1% in the third quarter of this year, compared with the 0.4% rise it forecast in August.
Speculation that the MPC might hold rates grew on Wednesday after the Office for National Statistics (ONS) revealed that consumer prices index (CPI) inflation rose less than expected last month.
The ONS said that inflation was 6.7% in August, down from 6.8% in July. The Bank itself had earlier forecast August inflation at 7.1%.
"Inflation has fallen a lot in recent months, and we think it will continue to do so," said Bank Governor Andrew Bailey, who voted to keep the rate unchanged.
"That's welcome news. But there is no room for complacency. We need to be sure inflation returns to normal and we continue to take the decisions necessary to do just that."
Economists who had expected a rise had speculated that decision makers would be convinced to hike further due to recent increases in wages.
MPC members, including Mr Bailey, have previously warned people against asking for too many pay rises as – they said – that could force inflation up even further.
But on Thursday the five that voted to keep rates unchanged said that "the recent acceleration in the AWE (average weekly earnings) was noteworthy but was not apparent in other measures of wages".
They also noted that "headline and services CPI inflation had fallen back and were lower than had been expected".
The four who voted to raise rates said that although there were some signs the economy was weakening, real household incomes had started to rise.
"These members judged that overall there was evidence of more persistent inflationary pressures," the Bank said.
The MPC also voted unanimously to sell another £100 billion in Government bonds over the next 12 months, taking its holdings down to £658 billion.
Comments
 0 comments
Want to join the conversation? Please or to comment on this article.