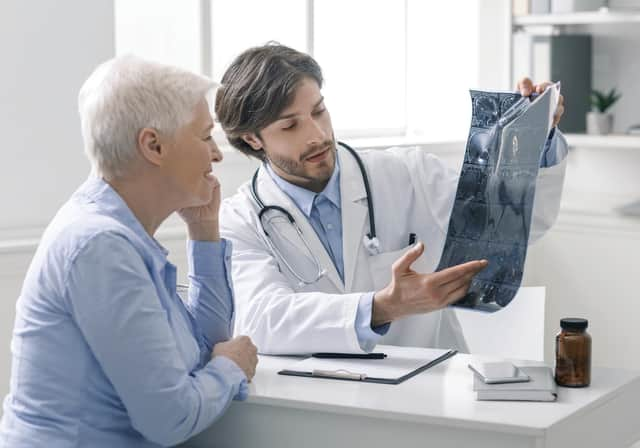 At the same time, Wischik's close collaborator, Professor Bjoern Schelter, hopes to see progress in bringing new tools aiding the diagnosis and monitoring of dementia to market.
"Our big vision is to radically transform dementia care in terms of both therapeutics and diagnosis," says Wischik. "That's all!"
The story has its origins in 1988, when Wischik found that "tangles", previously identified as a factor in causing Alzheimer's, were made up of a protein called tau. Eight years later, he discovered an existing chemical used in medicine that dissolved the tau tangle filaments.
"That was the big 'A-ha!'," he explains. "Here, in our hands, we saw a drug which got into the brain and dissolved tangled filaments in the test tube. It interfered with the formation of tangles, so it had potential to slow the disease process. That's what put us on the road to everything.
"The drug we're trialling is just a slight variant of the original, which shows how long it takes to get from the lab bench to treating people."
TauRx established its research base in Aberdeen on the basis of the positive lab data.
"I thought with further research, the lab data could support turning it into a treatment," says Wischik. "The drug had already been used in various ways, including treatment of manic-depressive psychosis. So we were confident it could get into the brain."
The confidence was well-founded, but nevertheless there were bumps in the road.
A positive large Phase 2 clinical trial using an earlier variant of the drug indicated that a high dose was needed. So increased treatmentsof the improved version were then used in the subsequent large Phase 3 trials for mild and moderate Alzheimer's.
Only after the trials were completed did further work by Schelter show that the low dose of the drug which had been used as a control in the Phase 3 trials for study blinding – due to a side-effect of slight urinary discolouration from the drug – was just as effective in the majority of patients.
Wischik says: "The improved version drug was so well-absorbed that we saw a strong treatment effect from the control dose, and high doses didn't produce a better response.
"That was very surprising, but the improvements in the drug between the Phase 2 and Phase 3 trials meant it was getting into the brain much more efficiently and producing treatment benefits at a much lower dose than we had expected."
The present trial, due to give results mid-2022, is testing what is believed to be the optimal dose against a true placebo.
"From all our data analysis, we're hopeful that this could represent a major and imminent breakthrough in the treatment of Alzheimer's," says Wischik.
"Aberdeen has the most advanced tau-based therapeutic research programme in the world and the only late-phase trial targeting tau."
In 2013, TauRx partnered with Genting Group to form Genting TauRx Diagnostics, with the aim of developing new and improved diagnostic tools to identify people with different forms of dementia.
Schelter, chief executive of GT Diagnostics, insists effective new tools are vital. He says: "Some assessments commonly used in dementia diagnosis go back to 1975, and are still relied on today.
"We want to bring diagnostics into the 21st Century, to give people the power of informed choice and opportunity to make lifestyle adjustments before the disease becomes too severe.
"The ultimate hope, obviously, is a treatment to stop disease progression altogether, in which case we hope that early diagnosis will help to prevent the damage done by the disease."
Wischik explains why it is so important to look at therapies and diagnostics as a package: "I was working in the north-east in old age psychiatry. I had a rural practice and needed something there and then to enable me to assess patients and make a diagnosis. For treatment decisions, you need a firm diagnosis; it's not enough just to have a vague opinion that then depends on further tests and assessments.
"The pathway from GP to full specialist assessment is clunky and expensive. If we're to have a treatment available in two years' time, it's necessary to develop better diagnostic tools that also operate to monitor treatment effect."
So how soon might we see diagnostic tools for "brain health" used widely by the health services?
"The tools we are developing are regulated, so regulatory clearance is needed," says Schelter. "They go through a research phase, testing phase, then regulatory approval phase. We are now in the regulatory approval, or clearance, phase. Then the market needs to accept the tools and they need to be integrated into standard patient care pathways. It's hopefully just a matter of months before they start to be available."
The pace of 21st Century technology has hugely accelerated the development of tools, says Schelter. "Modern technology –data collection, electronic tools based on apps and neuroimaging – has advanced so much and will hopefully revolutionise the diagnostic field, to help assess the full picture in each patient much more quickly.
"More advanced concepts allow you to detect diseases, or different forms of dementia, sooner, but also save cost and time, funnelling patients more efficiently to help them sooner. And the sooner people are alerted, the more power they have to make changes."
Wischik says tools have to work for patients and professionals alike. "Cognitive check-ups are not happening and should become standard assessment similar to other screening programmes. But GPs don't have time to do that on top of everything else. It needs to happen through modern technology at home and in the waiting room, not by sitting with a person and asking questions that produce inconclusive results."
So where do the professors hope they will be in a year's time?
"I hope the products under development will be available to the public soon and used to support diagnosis, saving costs, saving time and helping to diagnose the disease early," says Schelter. "The diagnosis ultimately needs to come from a clinical professional, but these tools support the process dramatically."
And Wischik says: "We want diagnostic tools out there and accepted, but let's hope we have trial results to support us on a journey to making this new therapeutic treatment available. It's not just a light switch and the drug is suddenly available, there's a whole journey of regulatory approvals and preparing the market, including healthcare systems, patients and doctors.
"When you go hill walking, and see the first summit, you think, 'Wow, we've done it'. Then you see there is twice as high still to go!"
But Wischik is not daunted by the journey – and says it's down to experts to keep the show on the road. "Doctors are doing their damnedest to help patients, but it's our job as researchers to come up with better tools and better drugs. It's our duty and our responsibility to find solutions and get them to market to deliver the benefits they are designed to provide."
The World Alzheimer's Report 2021 says 75 per cent of people with dementia are not diagnosed, and that 33 per cent of clinicians believe nothing can be done to treat it.
Professor Wischik says: "The treatments available are pretty ineffective, and there are concerns by some that they are just temporary palliations.
"Maybe there's ageism here too; a big misconception is that you become dottled as you get old and lose it. People think it's part of normal ageing. It's not. Even the highest estimates for dementia are around 30 per cent – that means there's another 70 per cent who don't have the disease."
The WAR 2021 also says 46 per cent of people living with dementia (and carers) identified fear of diagnosis, and the stigma of dementia, as a barrier to diagnosis. Why is this?
Schelter says: "Too little is communicated about what's known about the disease, so there is a natural fear and that leads to stigma.
"The common conception is that because there is no cure, diagnosis is unhelpful. But when you speak to people with the disease, they often say they were relieved and grateful when a diagnosis was made because they could suddenly understand what's going on."
This article first appeared in The Scotsman's Life Sciences 2021 supplement. A digital version can be found here.