$100,000 prize for Harvard academic with "close intellectual relationship" to Scottish writer Adam Smith
An American academic has been awarded a $100,000 prize which recognises his "close intellectual relationship" with the great Scottish writer and thinker Adam Smith.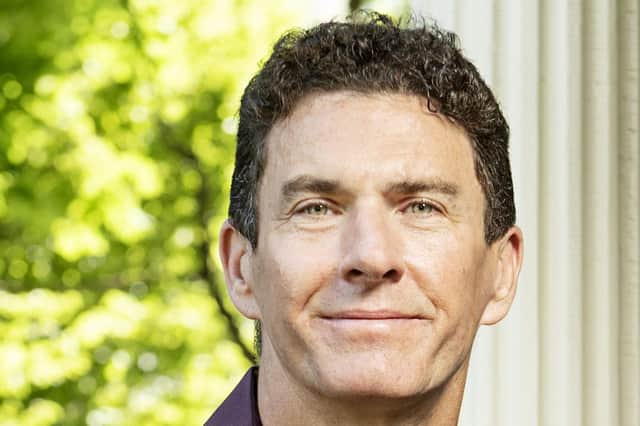 Dr Joseph Henrich of Harvard University was chosen as the winner of the 2023 Panmure House Prize - awarded in the 300th anniversary year of Smith's birth in Kirkcaldy in 1723, and named after his last home, in Edinburgh, where he died in 1790.
The annual award recognises important research into long-term thinking and its relationship with innovation, to mark the spirit and legacy of Adam Smith.
Judges selected Dr Henrich because of his approach to analysing the human condition by cutting across many different disciplines, in the same approach displayed by Smith and his Scottish Enlightenment contemporaries.
James Anderson, chair of the Panmure House Prize judging panel, said: "Dr Henrich's work seems to us to thrillingly and brilliantly embody the best of Smith's work in its empiricism and its rigour but also in its ability to transcend narrow intellectual boundaries.
"In doing so, he challenges us to look at the evidence of our own human evolution and ancestry to understand how innovation is born and how culture evolves. We can think of no more fitting award in this special year."
Dr Henrich, who is based in the Department of Human Evolutionary Biology, Faculty of Arts and Sciences at Harvard University in Massachusetts, said: "I'm greatly honoured to receive the Panmure House Prize, selected by such an esteemed panel of judges from around the world, celebrating the 300th anniversary of Adam Smith's birth."
Dr Henrich, the Ruth Moore Professor of Biological Anthropology, deploys evolutionary theory to understand how human psychology gives rise to cultural evolution and how this has shaped our species' genetic evolution. Using insights generated from this approach, he has explored a variety of topics, including economic decision-making, social norms, fairness, religion, marriage, prestige, cooperation and innovation.
He has written the acclaimed books, The Secret of Our Success and The WEIRDest People in the World: How the West became psychologically peculiar and particularly prosperous. In this context, WEIRD stands for Westernised, Educated, Industrialised, Rich and Democratic as Dr Henrich explores how institutions and psychology jointly influence each other over time.
The Secrets of our Success examines how the evolution of both our cultural and social natures produce a collective intelligence that explains both our species' immense success and the origins of human uniqueness.
The resources from the Prize will be put towards the third book in Dr Henrich's series - echoing Adam Smith's own plans to release a third book following his masterworks, The Theory of Moral Sentiments and the Wealth of Nations. Unfortunately, Smith was unable to complete the third book before his death.
Professor Adam Dixon, the Adam Smith Chair in Sustainable Capitalism at Panmure House, said: "Panmure House's mission is to examine Adam Smith's work in its entirety - not just looking at him as the father of modern economics but as a moral philosopher who was deeply interested in understanding everything about the world around him. Smith is often described as a polymath, a person of great and varied learning - which is why it seems so appropriate to award the 2023 Panmure House Prize to Joseph Henrich, an academic who delves deeply into a broad range of disciplines and the historical interplay between them.
"His work embodies the Enlightenment spirit of wide-ranging and open-minded intellectual inquiry to address complex problems and to support social and economic progress. The judges therefore felt that Dr Henrich's work echoed that of Adam Smith, and that he was very much walking in the footsteps of Smith and his contemporaries.
"We look forward to working with him and learning from his research."
Christopher Stubbs, Dean of the Division of Science in the Faculty of Arts and Sciences at Harvard University said: "This is an extraordinary opportunity to support Professor Henrich's innovative work exploring collective brains in the modern world."
The Panmure House Prize is named after the Edinburgh house where Adam Smith lived for the last 12 years of his life, before dying there in 1790.
The property, between the Canongate and Calton Road in Edinburgh's Old Town, had fallen into near-dereliction before it was rescued by the Edinburgh Business School at Heriot-Watt University and reborn as a physical and intellectual centre for research and debate in the spirit of Smith and his contemporaries from the Scottish Enlightenment.
The Panmure House Prize was first awarded in 2021 to Rachelle Sampson, Associate Professor of Logistics, Business and Public Policy at the Smith School of Business, University of Maryland, for her research to help shed light on the critical importance of long-term investment for the breakthrough innovation necessary to solve some of our most pressing challenges.
The 2022 prize was awarded to Dr Aravind Ganesh from the University of Calgary in trying to find a better way to fund and focus long-term investment in medical research and innovation.
Both Aravind Ganesh and Rachelle Sampson received $75,000 to further their research, but the Panmure House Prize judging panel increased the annual prize to US$100,000 (thanks to the generosity of sponsor Baillie Gifford) to mark Adam Smith's tercentenary.
The 2022 winner of the Panmure House Prize was motivated by a desire to focus medical research funding more sharply to improve the prospects of breakthroughs which support enhanced health and well-being.
Dr Aravind Ganesh from the University of Calgary in Canada helped create the Let's Get Proof online platform to strengthen the connection between medical research and those who fund it.
Their aim is to increase engagement between donors, the selection of research projects to be funded, and the impact achieved.
By providing tailored, simplified, and peer-reviewed information about different research projects, the team hopes to increase public trust in medical research projects and encourage investment.
Over time, the team will examine whether projects on Let's Get Proof can achieve better funding success rates than traditional grant-funding agencies.
The Let's Get Proof site uses crowdfunding to democratise public donations, allowing donors to have a say in which research projects they want to receive financial support. This has successfully created a 'free market' of ideas, benefiting communities around the world, with an emphasis on targeting research towards lower and middle-income countries.
Dr Ganesh described the progress of the project in a lecture at Panmure House in September 2023. The initial focus has been on stroke research and relatively small projects but the aim is to expand this to different areas of medical research and bigger budget research.
Linking the work to Adam Smith, Dr Ganesh said: "He was in many ways set against rigid hierarchies and closed systems and was a big proponent for the free availability of information so that people could make decisions that were their own. Through Let's Get Proof, we're using the same philosophy to try and make it a bit more of a free market of ideas for the benefit of society."
The first winner of the Panmure House Prize – Rachelle Sampson – won the award for her work on the need for a longer-term investment approach to foster 'breakthrough innovation'.
Her work looked at how short-term investment decisions can foster short-term thinking in businesses, which leads to fewer transformational innovations in the longer term.
It found that "more long-term oriented firms patent more and have more influential and novel patents". Examining the behaviour of a firm's institutional investors showed that the move from long to short-term investment tended to create external pressures on firms for short-term returns - and that this impatience had a detrimental effect on innovation. You can watch the lectures given by both previous winners at www.panmurehouse.org.
Adam Smith moved to Panmure House in Edinburgh in 1778 and lived there until his death in 1790.
During this period, he completed the final editions of his masterworks The Theory of Moral Sentiments and The Wealth of Nations. Great luminaries and thinkers of the Scottish Enlightenment visited Smith regularly at the House in this period to enjoy suppers and heated intellectual debate.
The house, built in 1691 and once the home of the aristocratic Panmure family, had fallen into near-dereliction by 2008. It was rescued by Edinburgh Business School and Heriot-Watt University and following a 10-year, £5.6 million renovation, Panmure House opened in November 2018. It is a centre of excellence for the study of contemporary and world-leading social and economic debate and research, convening in the name and spirit of Adam Smith to effect positive change.
An executive team led by Director Dr Caroline Howitt is now in place at Panmure House, which also holds regular lectures and events - including a busy Fringe programme.
The Panmure House Prize, sponsored by Baillie Gifford, was launched to reward outstanding, long-term research and its connection to innovation. It is open to researchers from any academic discipline in any part of the world.
To find out more about the rich history, sad decline and remarkable renewal of Adam Smith's final home, search for Saving Panmure House on any podcast platform. To find out more about the work of Panmure House and Smith's tercentenary, go to www.panmurehouse.org