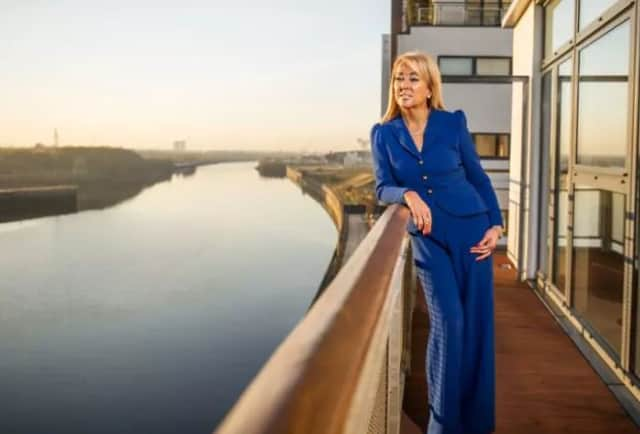 Kilmarnock-born Marie Macklin has just been named Scotland's non-executive director of the year.
The entrepreneur picked up the accolade from the Institute of Directors Scotland for her work with Appointedd, the Edinburgh-based online booking software developer founded by Leah Hutcheon.
"It's an exciting time for the whole tech sector and Leah Hutcheon and her team are leading the way with their online booking system, which revolutionises cross time zone scheduling for businesses," said Macklin, who last year said her Klin regeneration group was spearheading plans to transform Diageo's former Johnnie Walker bottling plant in Kilmarnock into an "urban park" project that could create 1,000 permanent jobs.
Marie Macklin at the former Diageo Hill Street site in Kilmarnock
The scheme, dubbed Halo, will feature an enterprise, engineering, manufacturing and textiles centre for small and medium-sized businesses, along with a 1,000-capacity education, conference and exhibition centre, a cultural hub and a year-round leisure and water sports facility.
"Kilmarnock deserves the very best for this iconic site and that is what we are setting out to deliver," said Macklin when Diageo announced it was providing a £2 million grant for the project.
"We listened carefully to what the people of the town had to say and the Halo project will provide a fitting and sustainable legacy for the Hill Street site that will last for generations of Kilmarnock residents to come."
The IoD accolade comes after Macklin, who also has a background in financial services and banking, was named female business leader of the year at the Scottish Business Awards in November.
Marie Macklin receives her IoD award from Jane Clark-Hutchison of sponsor Bank of Scotland
As well as investing in Appointedd, her Macklin Enterprise Partnerships (MEP) investment vehicle has backed Mallzee, the Edinburgh-based personal shopping app founded by Cally Russell that has been dubbed the "Tinder of fashion".
MEP evolved out of Macklin's personal investment activities and runs three funds targeting entrepreneurs, companies undergoing restructuring and start-ups going through the Entrepreneurial Spark accelerator programme.
Macklin said: "For me it is all about people. Obviously the product and the plan have to be right, but it is people who make a business."
She has also joined Strathblair Associates, a new collective of business leaders that has been formed in an effort to help drive the growth of privately-owned firms across Scotland, as its strategic adviser.
"I believe that businesses need help to scale and fulfil their potential. Strathblair has brought together talented and experienced business people who can work with owners and executives to make a real difference."