Leith Docks incident: US Navy ship Petrel was owned by Microsoft co-founder Paul Allen's estate which located major Second World War US warship wrecks
The ship that partially toppled over in a Leith dry dock on Wednesday is a research vessel once owned by the late Microsoft co-founder Paul Allen.
It is believed to have been in Leith since 2020.
The US Navy said it had procured Petrel last September "to support US Navy efforts in maritime domain awareness".
Mr Allen bought the underwater research vessel to reach ocean depths beyond the capability of his yacht Octopus, which he had fitted out for deep sea exploration.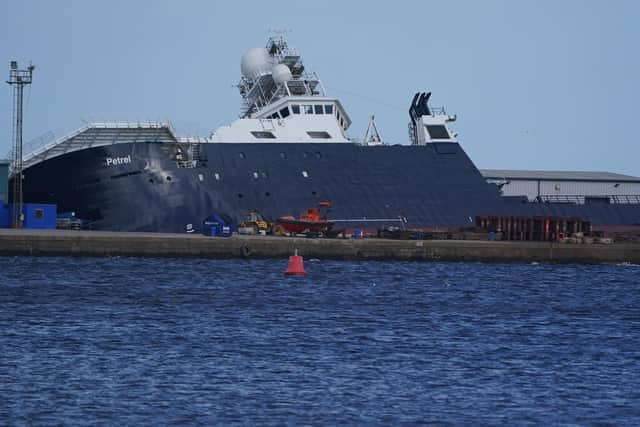 According to the estate's website paulallen.com, the vessel's purpose was "to locate historically significant shipwrecks and explore underwater eco-systems".
Mr Allen said he had been inspired to document the final resting place of the many military personnel who had not returned home from Europe after the Second World War.
A statement on the estate website said: "Like many others, I have a personal connection to this history. My family was fortunate that my father returned from his WW2 service in the European theatre. For thousands of other families, this unfortunately was not the case. In documenting the final resting place of so many service members, all of us involved want to keep alive the memory of their dedication, heroism and self-sacrifice."
Petrel's missions included locating the "elusive" wreck of heavy cruiser USS Indianapolis, sunk by a Japanese submarine in July 1945 after a secret mission to deliver components for one of the nuclear bombs dropped on Japan, from which only 316 of the 1,196 ship's crew survived.
The research vessel also located two other wrecks from the war, months before Mr Allen's death in 2019 – aircraft carriers USS Wasp and USS Hornet, the latter of which took part in the first airborne raid on the Japanese mainland and the Battle of Midway.
Comments
 0 comments
Want to join the conversation? Please or to comment on this article.