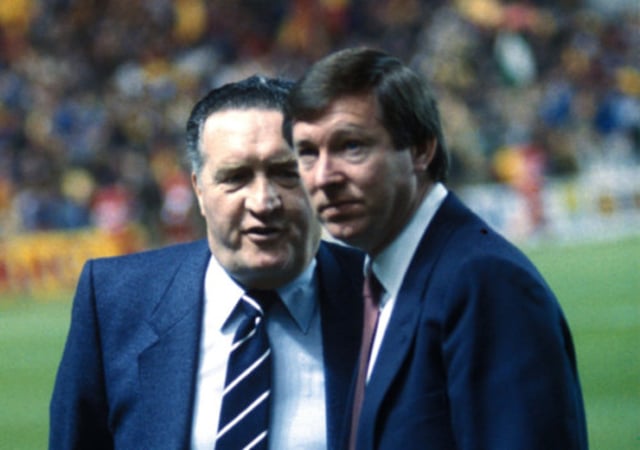 He has been hailed as one of the greatest football managers ever produced by the British game as well as the creator of modern-day Celtic who turned an ailing club into the kings of Europe during his reign at Parkhead.
With 11 players all from within a 30 mile radius of Glasgow, Stein took Celtic from a trophy-less outfit to 1967 European Cup winners in little over two years. It was the first time a British manager had won such a title.
Stein is credited with more than just achieving an impressive collection of results. He achieved a fundamental shift in the outlook and profile of the club which barely had been noticed outside of the UK, maybe even Scotland, before.
The Lisbon Lions, the team that held the cup following its 2-1 victory over Inter Milan, were to change all that.
Stein was born in Burnbank, Ayrshire, and started work as a miner as his father had done before him. He played part time with local team Blantyre Victoria before moving briefly to Wales to take up his first professional playing job with Llanelli Town. He was to fist sign with Celtic in 1951, where he enjoyed some success, but retired six years later as a player due to ankle problems.
A spell as manager at Dunfermline Athletic perhaps gave a sense of what was to come. From battling against relegation, he took the club to their first Scottish Cup victory in 1961 and then the quarter-final of the European Cup Winners' Cup in 1961-62.
Jock Stein, left, with Bobby Murdoch and the European Cup. Picture: AP
Stein was to send shockwaves around Europe with his next act - taking the Pars to the Fairs Cup. After eliminating Everton 3-1 on aggregate the team then clawed back a four-goal deficit against Valencia with an astounding 6-2 victory at East End Park.
Perhaps this least-recognised of all Stein's achievements should rank amongst his greatest, commentators have long argued.
It was 1965 when Stein - recalled as intense, funny, intelligent and sometimes mean - returned to Celtic Park as a manager where he dispensed innovative tactics to his players. His hands-on approach to training was different to other managers of the day with Stein's muddy black tracksuit becoming his trademark. It was then more the norm for managers to turn up to training wearing a suit.
Ten Scottish league championships, eight Scottish Cups and six Scottish League Cups were to follow, with the 1967 European Cup the ultimate jewel in Jock Stein's crown.
A serious car crash in 1975 brought Stein's sustained run of domestic success to a sharp halt and he missed much of the following two seasons. His return was a difficult one and he was ultimately persuaded to step down, although his exit form Celtic was not an entirely amicable one.
Stein headed to Leeds United but his eye was on the Scotland managers' job and he asked at least on journalist friend to tout him on-air as a possible replacement for Ally MacLeod.
He had already had a stint in charge of the the national side, on a temporary basis in 1965, and in only seven games achieved World Cup qualifying wins over Finland, Wales and Italy.
In 1978, he took the job on a permanent basis, steering Scotland to the group stages of the 1982 World Cup in Spain, losing only one match in the qualifying campaign.
Stein tragically died as he had lived - for football - and collapsed just moments after Scotland nailed their qualifying place in the 1986 World Cup in Mexico.
A late penalty from Davie Cooper against Wales at St Ninian's Park in Cardiff on September 10 1965, and a brush with an intrustive photographer, led to Stein being lifted by his colleagues to the physiotherapy room, where he died.
His death, at the age of 62, was to stun both the game - and a nation of all football colours.