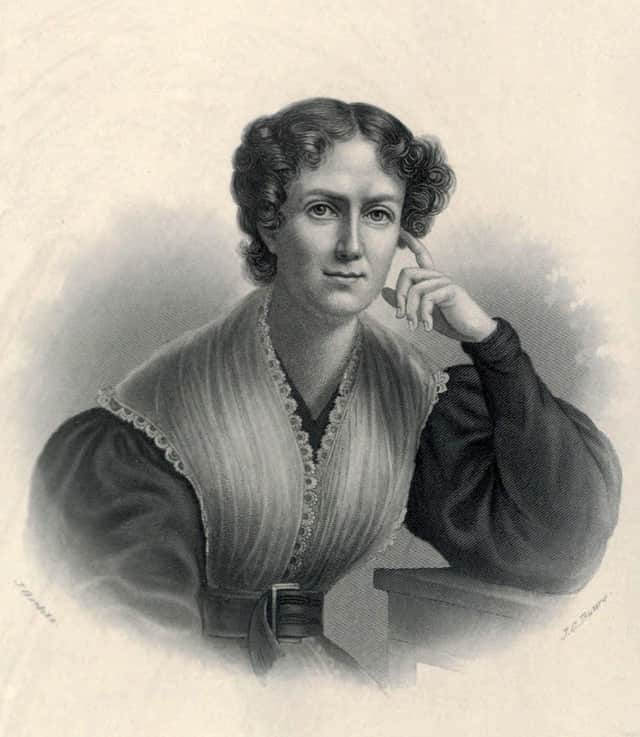 FRANCES Wright was a woman of firsts; a true pioneer whose progressive, free-thinking attitude, desire to abolish slavery and relentless campaigning for social equality, proved she was decades ahead of her time.
Frances 'Fanny' Wright was born in Dundee's Nethergate in 1795. Her father, James Wright, was a free-thinking radical and revolutionary, which belied his status as one of the town's wealthiest linen manufacturers. The local constabulary were well aware of his political leanings, and had James placed under surveillance. At one time, he was almost caught harbouring 'radical' literature. James is said to have dumped the books into the Tay in the middle of the night.
Sadly, both Fanny's parents died months apart from one another before her 3rd birthday. The young Frances inherited her father's riches but was split up from her siblings and sent to live with her grandfather and teenage aunt in England.
Growing up she would walk through the streets of London with her grandfather, experiencing the harsh realities of inner city poverty and destitution all around her. Frances' grandfather explained to her that the poor begged because they were too lazy to work. Later on, when quizzing her grandfather over why rich people without work never became beggars, he answered that work was shameful and simply that "God intended there should be poor, and there should be rich".
Incredibly, her grandfather's views and opinions failed to rub off on the young Frances. On the contrary, she, like her late father, grew to develop radical views of her own.
In her late teens she returned to Scotland to live with her great-uncle, James Mylne, and spent the next couple of years reading, writing and studying and touring the Scottish Highlands. At age 18, Frances had penned her first book.
At the age of 23, in 1818, Fanny journeyed to the United States to witness for herself the so-called 'Land of the Free'. Upon her arrival, she was shocked to the core to the see the manner in which African slaves were being treated. For two years, she travelled widely across America to spread her messages championing equal rights and socialism. Fanny spoke out fiercely against organised religion, greed and runaway capitalism and fought tooth and nail for the abolition of slavery. She was the first female in America to address mixed crowds at a public events and a true pioneer of feminism.
Frances Wright was also the first woman in the United States to campaign publicly against slavery. In 1825 she arrived in Memphis, Tennessee and parted with large sums of her personal inheritance to found the Nashoba Commune. Wright purchased slaves, then freed and settled them on the commune with a view to providing them with free education and the hope that they might one day be able to enter general society on equal terms.
Unfortunately, the ideals of the colony failed to materialise as Wright had envisaged, and when she returned to Nashoba in 1828, the commune had fallen into wrack and ruin. Fanny abandoned her plans and the remaining slaves were sent to Haiti.
During her lifetime, Frances attracted the attention of the great American poet Walt Whitman, who described her after her death: "She was a brilliant woman, of beauty and estate, who was never satisfied unless she was busy doing good—public good, private good.
"We all loved her; fell down before her; her very appearance seemed to enthrall us; the noblest Roman of them all; a woman of the noblest make-up whose orbit was a great deal larger than theirs—too large to be tolerated for long by them; a most maligned, lied about character - one of the best in history though also one of the least understood."
Frances' progressive endeavours were not met with universal approval. Critics called her 'The Great Red Harlot' on account of her red hair, inappropriate style of dress (trousers, bodices and skirts cut above the knee), and accused her of engaging in illicit romance.
In 1831, Wright married a French physician and fell pregnant with a daughter. The marriage did not last, however, and when the couple divorced, Frances' ex-husband gained full control of her assets, including all future revenues from her publications and public speaking events.
Frances Wright died in December 1852 after suffering a bad fall on an icy staircase in Ohio.