Wind farms Scotland: A blustery week for renewables as vandals take the wind out of windfarm company's sails
It's been a blustery week for renewable energy companies in rural Scotland
It is far from fresh news that some communities are vehemently against onshore windfarm developments in their area. The past decade has seen a rise in bespoke groups gathering momentum on social media to protest against certain energy projects.
Some planning applications have been dismissed as unnecessary by campaigners due to areas being "saturated with turbines", while other proposals are denounced over concerns for wildlife and the environment.
But this week, things appeared to get physical.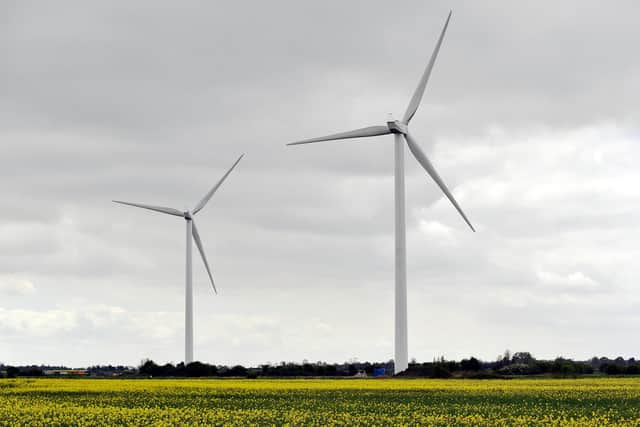 It was reported on Tuesday that some vandals targeted a wind turbine delivery in the Scottish Borders.
Firm Energiekontor had to cancel the transportation service to the Pines Burn wind farm site, located about 5 miles south of Hawick, for repairs after the attack caused damage to a lifter vehicle's tyres.
There is no confirmation the move was done by anti-windfarm activists. The deliveries were, however, halted last month for a review following complaints they had "paralysed" Hawick town centre.
The firm has also already been faced with criticism for the disruption caused by the slow-moving convoys carrying the 65m (210ft) blades, but has pledged to keep traffic impact to an "absolute minimum".
Last week, "fairly lively" and "heated" discussions were had between campaigners and developers on windfarm proposals near Moffat.
Belltown Power UK plans to establish the Rivox windfarm to the west of the town, while Community Windpower Ltd hopes to construct one of Scotland's largest turbine sites at Scoop Hill, about three miles to the south east.
Combined they would add 89 new turbines to the countryside surrounding the town.
Members of campaign group Save Our Hills said if the project was to go ahead, they would be "surrounded by turbines".
The group insisted there was no need for more windfarms in the area, adding: "It's the wrong place and destroying the community and biodiversity of the area and [has] ill effects on tourism."
The area is known for its golden eagle projects and the Dark Sky Park.
Tensions are also brewing among the Galloway National Park Association, with Energiekontor and energy company RES set to submit a planning applications for onshore windfarms near Newton Stewart early next year.
The association is bidding for Galway to become Scotland's next national park after ministers promised a new one would be designated by 2026, but members fear possible windfarm developments will hinder the region's chances.
Comments
 0 comments
Want to join the conversation? Please or to comment on this article.