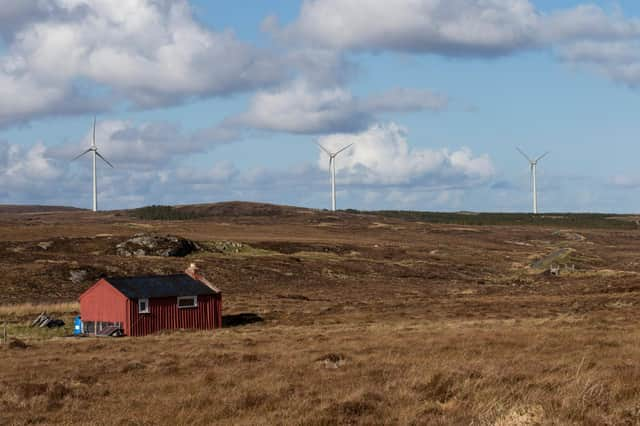 The UK's biggest community-owned wind farm, Beinn Ghrideag on the Isle of Lewis, is to divert some of its £800,000 a year community benefit fund to help people in the Western Isles get through the coronavirus crisis
The money is part of a £20 million community benefit pot paid out by wind farm developers to communities across Scotland each year and is usually spent on local projects.
But a growing number of groups are now redirecting funding to support those facing severe hardship as a result of the worldwide health crisis.
Two schemes – in the Scottish Borders and Western Isles -–have already taken action, with more set to follow suit.
Point and Sandwick Trust brings in around £800,00 a year from its 9MW Beinn Ghrideag scheme on the Isle of Lewis, the UK's biggest community-owned wind farm.
All profits – more than £1 million since 2015 – are invested in important local projects such as the Bethesda Hospice.
Now the charity is funnel ling all income not already committed into the new Hebridean Pandemic Community Fund.
Around £40,000 has already been set aside, with more to follow as time goes on.
Calum Macdonald, development manager for Point and Sandwick Trust, says the decision had been made to help support, despite the fact the Western Isles is one of the few regions where no cases of Covid-19 have been identified.
"We are very lucky that there have been no reported infections in the island as yet and we pray that it remains that way," he said.
"But whatever happens we will have to pull together to help each other and also to help the fantastic health and care workers we have in these islands to tackle this virus."
He added: "The full impact of the pandemic in those countries worst affected has been traumatic. We have to be ready for it coming here, when it will be all hands to the deck."
At the other end of the country, Community Energy Scotland and Berwickshire Housing Association own a 7.5MW scheme near Cockburnspath in the Scottish Borders.
The scheme pays out around £40,000 in community funding each year and is now working with a new volunteer group to provide emergency grants to struggling local families.
"We have been humbled by the reaction of local communities to the coronavirus emergency and are delighted to be able to help, if only in a small way," said Jamie Adam, development manager for Community Energy Scotland.
"We have now been contacted by a new volunteer action group who want to divert some of the money to provide emergency grants to local families who might be experiencing hardship or redundancy.
"This is a great opportunity for renewable energy projects to provide direct action on a pressing local issue, and we'd love to see more wind farm owners following suit."
Industry leaders have welcomed the move.
Claire Mack, chief executive of membership body Scottish Renewables, said: "Almost £21 million in community benefit payments is given to communities across Scotland every year and this unprecedented response to the coronavirus pandemic shows how industry and communities can work together on the issues which really matter.
"Scotland's renewable energy industry looks forward to continued engagement with communities as we work towards our ambitious net-zero target."
The move comes as the latest figures show 90 per cent of Scotland's electricity demand is being met by renewable sources, including offshore and onshore ind, hydro and solar power.
This represents a 14 per cent increase over the past year.
Scotland's national target is for renewable to supply 100 per cent of the country's electricity by 2020, which industry experts believe "remains within reach".