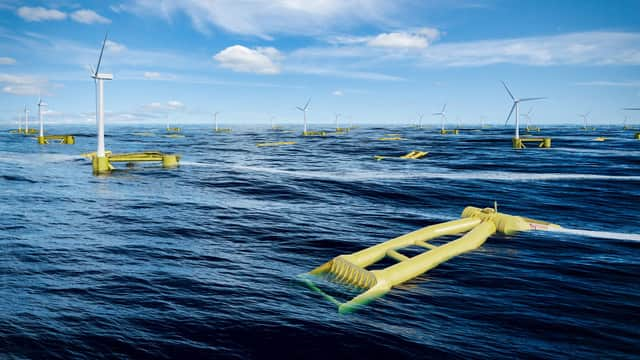 Leading experts in Scotland's wave energy industry, however, say the time to act is now and further support must be given if the opportunity to turn Scotland into a renewable energy powerhouse economy is to be realised.
Scotland has long been at the forefront in developing wave energy technology since the 1970s and is home to one of the most advanced wave tank facilities in the world based at the University of Edinburgh.
Henry Jeffrey, Head of Policy and Innovation Group which is part of the Institute for Energy Systems at the University of Edinburgh, said: "Unique opportunities don't come along that often and we are in a unique opportunity when it comes to wave and tidal energy.
"We have one of the best resources in the world, a very strong supply chain of commercial developers and an academic infrastructure that knows how to support the industry.
"We are in a good position to exploit this technology however it is a nascent technology, and it does require commercialisation to take place through a feed-in tariff with the right balance of technological push and market pull."
The UK Government this year showed its support for the wave and tidal sector by changing the Contracts for Difference (CfD) scheme so that wave and tidal energy were no longer competing against offshore for government subsidies.
The CfD programme is the UK Government's main mechanism for supporting low-carbon electricity generation.
It offers an incentivised rate for developers of renewable technology for the electricity they produce over a 15-year period allowing companies and investors to take a long-term view.
As part of the fourth allocation round of the CfD due to open next month, the UK Government has ringfenced £20m for tidal steam projects to allow the technology to be developed at a lower cost.
Minimum funding guarantee needed
Tim Hurst, Managing Director of Wave Energy Scotland (WES) called on the UK Government to go a step further and guarantee a minimum level of funding for the wave sector to give confidence to the industry and prospective investors.
He said: "Wave and tidal energy has previously been set against offshore wind but has been unable to compete on price as wind is a much more mature technology that has benefited from 20 years of subsidies to drive down cost.
"The Government has just announced that it has separated wave and tidal from offshore wind in the CfD mechanism, but to truly kickstart the sector they need to ringfence a "minima" of funding for wave and tidal to get the first projects deployed."
The proliferation of home-grown wave and tidal technology would provide much-needed jobs and opportunities in Scotland's coastal towns.
This concept of a Just Transition, which is backed by the Scottish Government, advocates that no person or region is left behind by the move to net zero.
Henry Jeffrey said: "You might be able to deliver net zero without wave and tidal in your energy mix, but you are very unlikely to have a Just Transition.
"This is a sovereign technology that is being developed domestically and will deliver high quality jobs and empower communities."
Henry Jeffrey said energy policy makers had a challenge when developing policies that would develop renewables and urged them to look at the larger economic picture. He said: "The challenge for the energy policy maker is getting the balance right between technology push and market pull to ensure that you are developing homegrown technologies.
"You may be able to buy a cheaper offshore wind turbine from Germany and save a penny off a consumer's bill but there are no jobs associated with it.
"You might have done something good from an energy policy point of view, but you may not have done something good from an overall economic perspective."
The move towards a green economy will require creative thinking, according to Martyn Tulloch, Head of Energy System Integration at the Net Zero Technology Centre in Aberdeen.
He said: "The challenge is to make people aware of the role that wave energy could play.
"There is a willingness within the oil and gas industry to work together with wave energy.
"Wave is going to be important to getting to net zero and we have the skill set already here within our energy sector."
Henry Jeffrey called for collaboration between energy industries and for operators to move out of their "silos".
He said: "The UK and Scotland are a bit of a trailblazer on all things marine.
"There needs to be a recognition that these are not siloed technologies although they are different in the resources they are using - wave or wind.
"The overall infrastructure that is being developed should not be happening in silos.
"Rather than having a strategic plan for the development of wave or wind energy, there needs to be a strategic plan for offshore renewables and there needs to be recognition of this at government level."
Martyn Tulloch said that the North Sea oil and gas industry had committed to decarbonisation and that wave energy could help in this process.
He said: "People don't realise the scale of the assets involved in the North Sea oil and gas industry as they are over the horizon.
"There are over 200 producing assets and therefore a huge power demand.
"To decarbonise them you need to electrify them or use another low carbon fuel.
"The cost of producing power offshore is much more expensive than it is onshore; however, this is a market that is able to afford the currently higher cost of wave power."
Testing in real sea conditions
Mocean Energy's Blue X wave energy machine has returned to dock after a successful five-month test period at sea.
The 20-metre long, 38-tonne wave machine has been towed from the European Marine Energy Centre's (EMEC) Scapa Flow test site to Kirkwall and has been lifted onto Hatston Pier, where it will be cleaned, inspected, and maintained until next year's testing programme commences.
The innovative 10kW prototype began its test phase in mid-June and since then has completed 154 days at sea.
Mocean Energy Managing Director, Cameron McNatt said: "This has been an immensely valuable period where we have been able to understand how our machine operates in real sea conditions and gain practical experience in operations including towing, installation, removal, and access at sea.
"We've been able to unmoor, tow and moor the machine multiple times, trial the use of solar panels on deck, send commands from shore, test power production and compare our results against our numerical predictions.
"This has given us tremendous confidence in our design – both in its ability to capture wave energy effectively, and also the way in which it dives below the biggest waves, enabling it to shed the heaviest loads.
"Of course, we have been able to rely on the expertise of a number of partners and subcontractors and would like to thank WES, EMEC, Blackfish, Leask Marine, the University of Edinburgh and Supply Design, plus many other individuals and companies who have helped us on our way."
Potential applications for offshore operations
Next year, the wave pioneers plan to put the device to sea in Orkney again and will connect the machine to a subsea battery which will be used to power a remotely operated autonomous underwater vehicle (AUV) – with potential applications for oil and gas offshore operators.
The deployment and demonstration of the Blue X at EMEC has been funded by WES and supported by Interreg North-West Europe's OceanDEMO project.
Tim Hurst said: "It is only through testing technologies at sea that we can demonstrate the real potential for wave energy to make a significant contribution to the world's ever-growing green energy demands.
"The success of Mocean Energy underscores the merits of WES's stage gate selection process which has fostered a collaborative cross-industry approach from day one.
"In the years ahead, we will see Mocean Energy scale up its wave energy convertors to produce future technologies with the potential to help decarbonise the oil and gas sector and deliver grid-scale electricity."
The Blue X manufacture and testing programme has been supported by £3.3 million from WES through their Novel Wave Energy Converter (NWEC) programme.
Earlier this year Mocean Energy announced a £1.6 million project with OGTC, oil major Harbour Energy and subsea specialists EC-OG and Modus to demonstrate the potential of the Blue X prototype to power a subsea battery and a remote underwater vehicle – using onshore testing at EC-OG's Aberdeen facility.
The Blue X wave machine was fabricated in Scotland. Numerous hardware and services were supplied by companies who have developed capabilities though the WES programme, including the University of Edinburgh who supplied their CGEN generator, Supply Design and Blackfish Engineering Design.