Why Scotland has seen a big butterfly resurgence this year
Butterfly count shows one species increased 41% after decline in recent years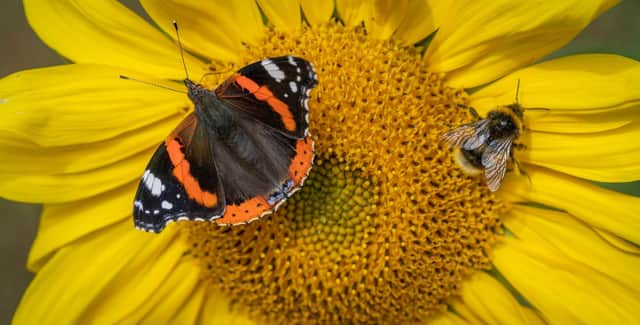 A butterfly species relatively new in Scotland boomed this summer, while another which declined in the 20th century enjoyed a revival, new figures show.
Habitat loss has been blamed for a long-term decline in the insects, although the number spotted across the UK this summer hit a four-year high.
Results of the Butterfly Conservation's Big Butterfly Count 2023 revealed a more positive outlook than expected.
Scientists wanted to study the impact of extreme weather after the drought in 2022, and 3,295 people in Scotland took part, conducting 5,087 15-minute counts in gardens, parks, and the countryside.
This year, those participants recorded more than 28,000 butterflies and day-flying moths between July 14 to August 6, spotting six butterflies on average, in line with last year.
The top five butterfly species spotted in Scotland were small white (5,310), large white 3,399, peacock (3,198), small tortoiseshell (3,035) and meadow brown (2,694).
Comma, which declined in the 20th century, had its best summer for 13 years, increasing by 41% since 2022 with 335 spotted.
The holly blue, first established in Edinburgh in 2006, increased by 118% since last year.
The species is common in England and Wales and appears earlier in the year than others.
But long-term trends show many species have significantly decreased around the UK in the past 13 years.
As well as forming a vital part of the food chain, butterflies are considered significant indicators of the health of the environment.
Dr Zoe Randle, senior surveys officer at the Butterfly Conservation, said: "It's wonderful that so many people have been out enjoying spotting butterflies.
"We had huge support for the Big Butterfly Count this year, and thanks to the many people who went out during those sunny intervals, we now know that the effects of last year's drought were not as bad for butterflies as we had feared.
"The mixed weather this year has helped as there has been an abundance of green food plants available for caterpillars, and plenty of nectar-rich flowers for adult butterflies.
"However, while the number of butterflies recorded across the UK this summer has been the highest since 2019, the longer-term trends show worrying declines for some of the most common butterfly species."
Scottish sightings of common blue, ringlet and six-spot burnet were down compared to 2022. Speckled wood recorded its lowest numbers in Scotland in 13 years and dropped 49% on 2022 levels.
Dr Richard Fox, head of science at the Butterfly Conservation, said: "One of the biggest threats butterflies in the UK face is habitat loss.
"While the weather certainly has an impact on numbers from year to year, butterflies, moths and many other species can generally cope with variable weather.
"What they can't cope with is habitat destruction.
"Butterflies need a place to live. If they can feed, breed and shelter, they can thrive.
"By creating a wild space in your outdoor area you can help to reverse the massive losses of wildlife-friendly habitat and start to turn around the fortunes of our declining butterflies.
"Nearly 137,000 Big Butterfly Counts were recorded across the UK this summer, if every single person who helped with the count creates a wild space, we can build a UK-wide network of spaces for butterflies to feed, breed and shelter.
"By creating a wild space, everyone can make a difference and help butterflies and moths thrive."
Comments
 0 comments
Want to join the conversation? Please or to comment on this article.