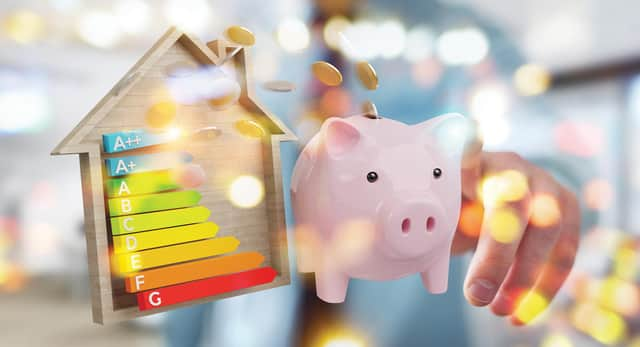 With complex questions about money, legislation, incentives, regulations, public attitudes and much more to navigate, where do you start? Is it making all new-builds zero-carbon, or improving the performance of existing buildings? "It's got to be both," says Ian Atkinson, partner and construction expert at legal firm Womble Bond Dickinson.
He acknowledges the slow pace across the UK in making new homes zero-carbon: "In the early noughties, Labour introduced its code for sustainable homes. The idea was that by 2016 all UK homes would be carbon-zero. Obviously, we've got nowhere near that. The main problem is new homes are such a small proportion of UK housing stock – around 1 per cent. It's going to take an awfully long time to try and make inroads in such small increments.
"Secondly, when sustainability standards for developers were set, they were given the option of 'allowable solutions'. If they were unable to meet standards, they were allowed to put money into carbon offsetting or off-site renewable energy sources. They were complying with the rules, but weren't always building zero-carbon homes. I am now expecting an acceleration in the delivery of energy efficiency in new homes at volume."
In 2013, the Scottish Government issued Scotland's Sustainable Housing Strategy. While this built on previous investment in existing housing stock, through the installation of cavity wall and loft insulation, and the replacement of inefficient boilers, it recognised the major work yet to be done to hit the carbon emission milestones in Holyrood's planned route map to 2030 – and with reducing fuel poverty as a consequence.
At the time the policy was implemented, the stated outcome was to see "Scottish companies maximise the potential of innovative design and construction techniques to deliver more, greener homes as part of sustainable neighbourhoods".
Alongside this sat a number of consultation groups and other policies intended to align with the Scottish Government's strategy for housing in the next decade.
While progress has been made, with 45 per cent of properties now having an Energy Performance Certificate rating of A-C, the scale of the challenge in Scotland is stark. The Heat in Buildings Strategy suggests by 2030 that more than one million homes and around 50,000 non-domestic dwellings will need to have been converted to alternative sources such as heat pumps and networks, with installations needing to double year on year to meet that target.
John Ralph, head of real estate at Womble Bond Dickinson, questions whether there has been a strong enough imperative on large-scale developers to increase the pace of change when it comes to delivering zero-carbon homes, but feels this is now changing.
He says: "Significant steps have been made by some larger developers in setting, and in some cases exceeding, targets for implementing innovative methods of construction to reduce emissions, but there must be a commercial imperative to deliver the scale and pace of change required.
"In the past, if they were doing well, developers might not have perceived that environmental urgency. It feels like that is changing, and the announcement at COP26 that large businesses in the UK will be required to disclose their environmental impact could help move this up the corporate agenda.
"If you have a tried-and-tested, trusted, profit-generating model, it's a risk for a PLC answerable to shareholders to pivot the business towards new, unproven technologies and operating models, so the announcement could be a welcome incentive."
He adds: "We've engaged with smaller regional housebuilders who are well attuned to embedding sustainable operating models – modern methods of construction, sourcing greener materials. They are more accepting of district heat networks and heat pumps, without the legacy issues of larger operators. They can be more agile, but for some, scale has held them back."
Ralph's colleague, Lisa Dromgoole, a managing associate in the construction team, says making progress is too reliant on non-statutory guidance. "There's general guidance around heating and insulation and energy efficiencies, but not really any clear indication as to how that is to be achieved. There's a lot of talk around energy performance certificate ratings, but are targets enough for what we need now?"
When launching the Heat in Buildings Strategy, Harvie conceded there was a long way to go, recognised the complexities around the issues – and stuck an eye-watering £33 billion price tag on what needs to be done to meet net-zero targets.
He promised "a framework of regulations setting clear standards for property owners across all tenures and building types" and to "build on existing standards… extending them to cover all properties and requiring action on both energy efficiency and zero emissions heating."
Atkinson stresses that there are limits to what governments can do, highlighting the £450 million announcement last month by the UK Government as part of its net-zero strategy.
He says: "A £450 million fund for heat pumps over three years seems like a lot of money. Actually, at £5,000 a time, you're doing 30,000 boiler replacements a year when you need to do 600,000.
"So where is such massive investment going to come from? Who's going to pay? It can't all be government-subsidised because there simply isn't enough money."
Harvie emphasised this point when launching the Heat in Buildings Strategy, saying: "Clearly, this cost cannot be borne by the public sector alone." He said a Green Heat Finance Task Force will be set up to find solutions to maximise private sector investment, and "new ways to help individuals and organisations spread the upfront cost of investing in making their properties warmer, greener and more efficient".
So what is the shift likely to mean for an average householder in Scotland? Atkinson says it depends heavily on location and property type.
He says: "I live in a Victorian house. I've had people come to try to make my house more energy efficient, but it's got solid walls, so you can't have cavity wall insulation. I'm not allowed a ground source heat pump because my garden's not big enough. I've got original sash windows, which I should change but they're astronomically expensive to replace. Personally, I feel there's limited change I can make and I know many people face similar issues."
Dromgoole says any solutions must be grounded in pragmatism: "Moving to electric boilers has a cost. There's obviously a lot of talk of hydrogen, but that is new technology and we need to see how efficient it is, how well it beds in with the housing stock we have, and – crucially –to establish if its green credentials are quite as they seem."
She also calls for political pragmatism and a joined-up, UK-wide approach: "The population of Scotland is so small in comparison to England that we must have a joined-up approach across the four nations to make it work because of economies of scale. Specific policies will differ, but the aims must be joined up."
Legislation has a role to play, especially in moving housebuilders in the right direction, but Atkinson says we need carrot as well as stick: "Government incentives to encourage housebuilders to adopt different technologies are important. At the moment, we set standards, and everyone's just touching them. No-one is racing through. We could build incentive models to encourage the use of new technologies."
Ralph summarises the challenge thus: "It is a combination of issues, different asset types, geographies, and solutions, all set against the sheer scale and pace of change that's being suggested. We're already seeing shortages of materials and skills – where's the workforce going to come from? "
It will be about identifying specific solutions for specific locations and types of building, he says: "A tenement might lend itself to some kind of centralised district heating solution, whereas more rural locations might suit ground source heating. For some assets, the cost will be lower because you've got scale, whereas in more remote locations, it could be disproportionately expensive. Affordability is a huge question."
Despite the enormous challenges, Atkinson sees progress: "In the last couple of years, we've started seeing big changes – including a push towards modern methods of construction (MMC) from central government, local authorities and private developers. That's a good thing because for so long we've been building the same way with traditional labour and materials.
"Moving away from that is the first step. As MMC is more widely adopted we'll start to see standardisation. That will get the snowball rolling and drive investment. People will see returns on investment in MMC. These new technologies will become common, scaleable, and more affordable. Insurance companies will start to get more comfortable with the products.
"There are positives – but the challenges come back to how much investment is the government willing to make in new technologies, in education and in the labour force to deliver sustainable solutions."