Video: Humpback whale in Firth of Forth breaches FOUR times in a row
This is the moment a humpback whale jumped clear out of the water four times in a row, just off the Scottish coast.
Onlookers in Fife were stunned to see the giant mammal leap from the water, breaching over and over in the space of a minute.
Sam Tedcastle only arrived at Pettycur Bay car park a few moments earlier during her morning walk at around 9.30am on Monday.
Sam, from Kinghorn, is a member of the Forth Marine Mammals group which watches the sea for signs of visitors to the area and raises awareness of marine life.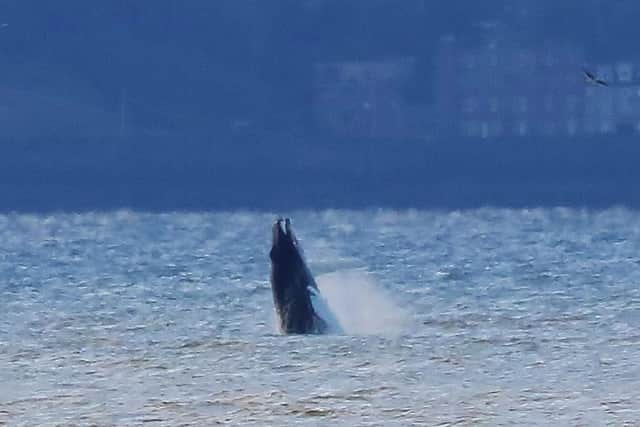 "I was just out for a walk, so I took my video camera in case I spotted the whale.
"I'd literally just got the camera out of my bag."
Sam said that the whales often dive deep in order to get a run up before breaching - something which was about to unfold before her eyes.
She added: "We think there might possibly be two humpbacks in the Forth right now, but we haven't seen any clear evidence of that yet.
"I was looking where we'd seen it the day before, and then we got word on our Whatsapp group that it had just been spotted there.
"There were a few blows then it just disappeared and we lost it.
"Suddenly it just came up out of the water.
"It just came out of nowhere. It was really really exciting. There were about four other people there, some of whom hadn't seen it before.
"It was nerve-wracking as I was trying not to mess u the shot by moving or breathing too much.
"It really made my day. I was still hyper later in the afternoon.
"Its amazing, there are so many people in Edinburgh who have no idea that there's a whale so close to the city right now."
The reason that humpbacks breach is a source of debate, with several theories as to why they do it.
Some say it cold be related to feeding, while others say it could be a way of communicating with other humpbacks in the area.
Another theory is that it could help get rid of parasites.
Comments
 0 comments
Want to join the conversation? Please or to comment on this article.