Vessel tracking Scotland: Ministers acting 'too slow' on fishing boat monitoring plans, campaigners warn
A consultation on vessel tracking plans closes next month.
Campaigners and members of the fishing community have renewed calls demanding the entire of Scotland's trawler fleet is fitted with advanced tracking technology to improve transparency and to protect the environment.
A coalition of more than 130 different coastal businesses and charities have complained the Scottish Government currently has no plans to rollout Remote Electric Monitoring (REM) systems on large fishing boats (bigger than 12m), particularly the trawler fleet.
At the moment, all large vessels are required to be fitted with a basic Vessel Monitoring Systems (VMS). But REM systems are more sophisticated and involve cameras, GPS and sensors installed on board vessels to monitor their fishing activity. They have been seen as an important tool to reduce bycatch in the fishing fleet – where the wrong type of fish or other marine creatures are inadvertently caught.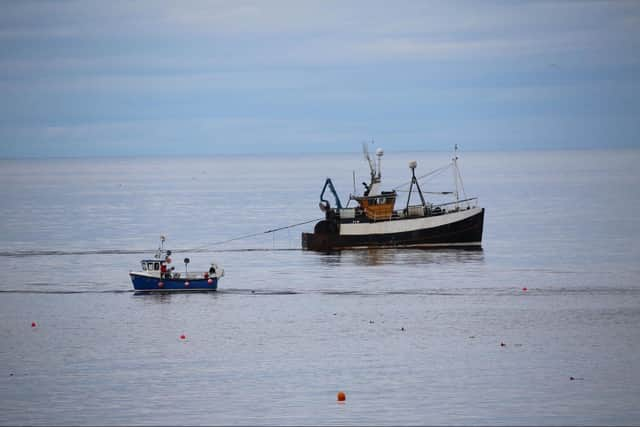 The coalition formed in response to an ongoing consultation on proposals to extend the advanced vessel monitoring requirements to small boats – under 12m – in commercial fishing, which closes next month. These include creel and dive fishing boats.
Government papers have indicated ministers intend to roll out REM to a percentage of smaller boats "where there are clear scientific and compliance benefits."
While the advanced technology will also become mandatory for some parts of the fleet such as scallop dredgers and pelagic boats working in Scottish waters, Our Seas campaigners said ministers should prioritise rollout for larger bottom-trawl vessels which they say has "the highest level of bycatch of any form of fishing."
Hayley Wolcott, from Our Seas, and coordinator of coalition, said: "The basic VMS tracking cannot adequately monitor and regular the trawler fleet, which have been found to have the highest level of bycatch of any form of fishing.
"Ministers should prioritise a rollout of REM for larger bottom-trawl vessels. At the moment there are no plans in place.
"Scottish Government analysis of a previous consultation revealed the vast majority of respondents said that fishing policies should address bycatch and that many respondents were supportive of implementing REM on large bottom trawl vessels.
"For decades Scotland's monitoring and enforcement has been unable to tackle illegal fishing practices, and these current plans will only partly address that."
The Scottish Government said the further rollout of REM on larger vessels "will be considered" alongside development of its Future Catching Policy, which is part of the its fisheries management strategy.
Rural affairs secretary Mairi Gougeon said: "We will continue to follow proper process and engage with the fishing industry and others. This will ensure that REM is deployed proportionately and effectively to support a blue economy that benefits our communities, economy and environment."
But Joe Richards, from marine conservation group Blue Marine Foundation, also part of the coalition, said Scottish ministers are acting "far too slow."
"Globally and within the UK, Scotland is lagging behind other countries in the use of electronic monitoring to assess and manage fishing effort and practices," he said.
"The pace at which the Scottish Government is progressing is far too slow.
"They must act urgently to streamline the implementation of vessel monitoring and introduce enhanced vessel tracking systems (Remote Electronic Monitoring (REM) on all fishing vessels that have a high impact on non-target species and habitats, such as bottom trawling) , regardless of size.
"This will provide vital information on bycatch and help to achieve fisheries that are fully monitored, documented and enforced, which is essential to ensure the sustainability of fishing stocks and the environment. "
Bally Philp, coordinator of the Scottish Creel Fishermen's Federation, said larger boats should be held to "at least the same standard" as small boats.
He said: "We support the principle of vessel tracking. As it stands, small-scale vessels often find it difficult to prove the history of their fishing activity in areas where other marine industries such as offshore wind or salmon farms are being developed.
"Vessel tracking will give the smaller vessels in the inshore fleet, many of which are Scotland's most sustainable fishing operations, more security to safeguard their interests in marine planning decisions. We believe there is a clear case for larger industrial bottom towed gear vessels to be held to at least the same standard as the smallest and least impactful of our inshore day boats."
Comments
 0 comments
Want to join the conversation? Please or to comment on this article.