UK Government facing legal challenge over burning of trees for energy in net-zero plan
The Government is facing a legal challenge over its reliance on burning trees for green energy in its climate plans.​
The Government is facing a legal challenge over its reliance on burning trees for green energy in its climate plans.
Rewilding charity The Lifescape Project, backed by the Partnership for Policy Integrity, filed an application for a judicial review in the High Court on Friday.
The case alleges that the Government's Biomass Strategy - a key part of its transition plans - is unlawful and will undermine the UK's ability to achieve net zero by 2050.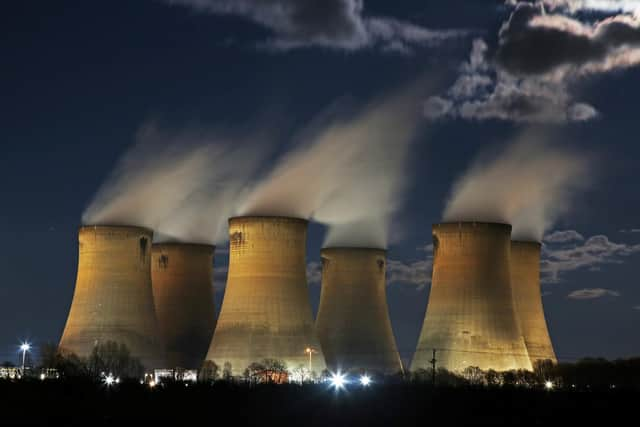 The strategy, published in August, outlines plans to generate energy by burning biomass and catching the carbon emissions before storing them below ground.
This process, known as Bioenergy with Carbon Capture and Storage (BECCS), is claimed to create "negative emissions" because the carbon released by burning wood is also absorbed by newly planted trees.
Biomass has been promoted as a carbon-neutral and renewable energy source on this basis while the industry claims the wood is sustainably sourced from forestry waste such as twigs and offcuts or newly grown forests, known as afforestation.
But scientists and activists have raised serious doubts over biomass's sustainability, whether it can be considered renewable and what the role it can play in national net zero plans is.
Some argue that biomass creates an illusion of climate action while reliance on BECCS will cost billions, worsen forest destruction and delay more meaningful climate action.
The new legal case alleges that the Government's Biomass Strategy fundamentally misrepresents the dangers of BECCS.
If successful, the court would declare that the decision to adopt the strategy should be quashed and ministers would be forced to withdraw it.
The legal team, which includes solicitors from Leigh Day as well as barristers Jessica Boyd KC, Ava Mayer and Peter Lockley, have filed evidence to demonstrate that the Government's own arguments contradict advice from its advisory panel convened to support the Biomass Strategy.
The BECCS Task and Finish Group found that only biomass sourced from afforested areas might provide climate benefits but that most biomass burned in the UK will be sourced in the medium to short term from existing forests where trees are regrown to replace those cut down.
The case argues that the Government Strategy nonetheless continues to treat biomass as "low carbon".
It alleges that the Government received evidence from the US showing that the wood pellet industry is logging wetland hardwood forests in the US Southeast.
It also comes after a BBC panorama investigation found that logging forests for fuel has affected ancient and biodiverse forests in Canada.
Elsie Blackshaw-Crosby, managing lawyer at The Lifescape Project, said: "Despite an abundance of evidence that logging forests for fuel is increasing climate pollution and destroying irreplaceable ecosystems, the government's Biomass Strategy supports continued use of imported wood fuels and takes the false solution of biomass even further, relying extensively on BECCS to produce 'negative emissions'.
"Not only will it cost billions of taxpayers' money but it will not even help achieve net zero.
"This case calls on the government to assess and reflect the actual climate impacts of biomass and BECCS in their climate policy, a move that will force them to look at other renewable energy solutions."
Ecosystem scientist Mary Booth, director at the Partnership for Policy Integrity, who has reviewed the Biomass Strategy and supporting analyses said: "It is greenwashing at the very, very, very highest level."
Ms Booth told the PA news agency that the team hopes to see the UK case to reverberate across many countries which are touting BECCS as a climate solution.
She said: "It's astonishing to see the UK moving forward with promoting a technology that will cost tens of billions, but where they can't produce any evidence it will actually remove CO2 from the atmosphere.
"Common sense tells us that burning trees and storing the carbon below ground isn't going to produce 'negative emissions', but, just as important, international rules for counting climate pollution show the maths doesn't work.
"The UK government's plans look more and more like a money-printing machine for the big companies that will benefit from the Biomass Strategy."
Rowan Smith, a solicitor at Leigh Day, said: "In adopting the Biomass Strategy, it is argued that the Secretary of State failed to properly assure herself that the combustion of biomass will actually deliver the carbon savings claimed.
"Lifescape is urging the Government to drop the inclusion of forest biomass from its future energy plans and look to use other, genuinely renewable ways to generate power."
The case has been filed in the Administrative Court on the grounds that the Government's decision to adopt the Biomass Strategy breaches its obligation under the Climate Change Act to properly analyse the extent to which forest biomass energy and BECCS can make the required contribution to net zero.
It also alleges that the decision was irrational, based on inadequate inquiry and failed to take into account relevant considerations, such as the carbon impacts of forest biomass energy and BECCS, and was also based on a flawed, unfair consultation process.
Drax, which runs the UK's largest biomass power plant in North Yorkshire and has received billions in renewable energy subsidies, could be affected by the case.
The company is trialling carbon capture and storage, which it claims will deliver negative emissions and has signalled to investors that it anticipates benefitting from new government BECCS policies.
A Department for Energy Security and Net Zero spokesperson said: "We cannot comment on ongoing legal proceedings."
Comments
 0 comments
Want to join the conversation? Please or to comment on this article.