It's a tale that stretches back nearly half a century and has all the ingredients of the best dramas: love, struggle for survival, bloodshed, celebrities, death, intrigue.
It also shines new light on one of the country's most successful wildlife projects.
The intrigue began during lockdown this spring when a majestic sea eagle touched down at a nest in Lochaber, captured on film by a hidden camera.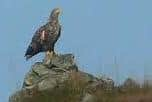 Close inspection of the footage revealed a leg ring on the bird of prey, bearing an inscription.
G1/56 is unlikely to mean much to most people, but to fieldworker Lewis Pate it confirmed the eagle's identity – a male he had himself tagged on the Isle of Jura in 2014.
This unexpected appearance of G1/56 six years on inspired a quest to trace the now mature eagle's family tree, which sprouted from a landmark reintroduction project.
Sea eagles, also known as white-tailed eagles, were once common across the UK but were hunted to the verge of extinction in the 1800s – the last pair bred on Skye in 1916 and the last bird was shot in Shetland in 1918.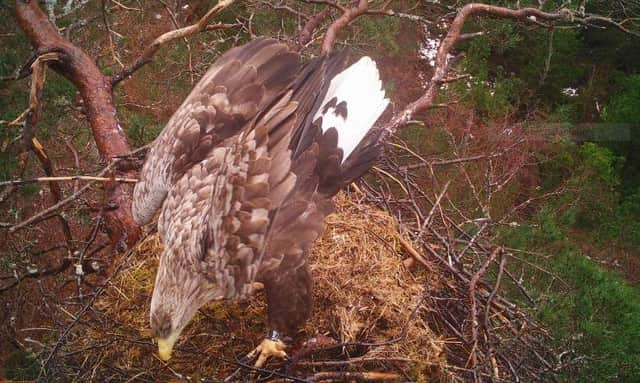 So in the 1970s a major effort was launched to bring the species back using birds taken from Norway.
The first individuals were released on the Isle of Rum in 1975, including a distinctive female named Blondie – the leading lady in this yarn.
Ten years after her arrival, Blondie and her mate produced the first sea eagle chicks to hatch in Scotland for more than half a century.
The pair were very productive, rearing several broods over the next 15 years.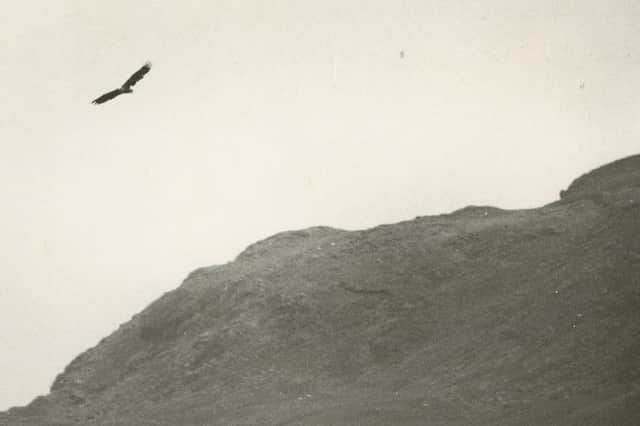 There are now about 150 pairs nesting across Scotland, ranging from Islay to Hoy.
Dave Sexton, Mull officer for RSPB Scotland, has been working to safeguard and monitor the birds since the 1980s.
Now he has recently finished piecing together the family tree of Scotland's 'first family' of sea eagles.
"Blondie was the most beautiful and striking sea eagle – it was love at first sight for me," he said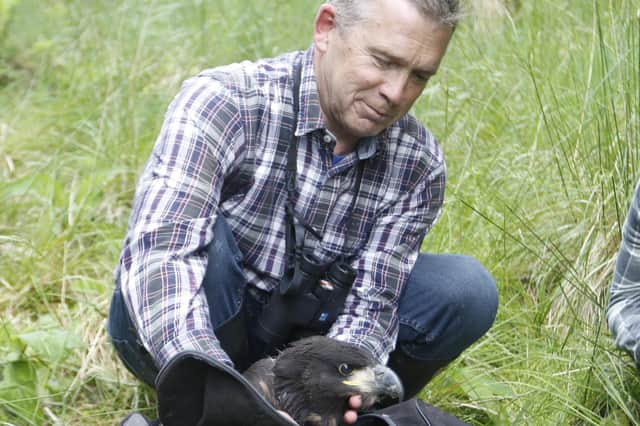 "We really have her to thank for the growing numbers of sea eagles we have today.
"Without her I think the reintroduced population would have struggled and maybe even died out again."
Blondie's offspring included a female named Frisa, hatched and tagged in 1992, who went on to pair up with a male born in Skye to birds released in Wester Ross during the second phase of the reintroduction project.
This couple became television stars when they featured in the BBC's first ever live Springwatch programme in 2005, showing off their new male chicks Itchy and Scratchy – named by local children at Dervaig Primary School – at their nest on the Isle of Mull.
The two youngsters fledged successfully and were seen from time to time over the following months, identified by their red wing tags, as they dispersed away from Mull.
Scratchy was last recorded a year later, feeding on salmon in a Highland river, but years went by with no sightings of Itchy – until one day in 2014 an adult sea eagle with red tags was spotted on the Isle of Jura.
With the Springwatch crew again in tow, Sexton set off on a mission to track down the unknown raptor.
It was Itchy, and he wasn't alone. He was with a mate and a chick – who was ringed G1/56.
Now, six years on, that chick is all grown up and has been observed courting a potential mate and demonstrating nest-building behaviours in recent days.
His great-grandma Blondie lived to a ripe old age for a sea eagle,and is considered the matriarch of what has proved to be a hugely successful reintroduction.
"I last saw her in 2000 when she would have been in her mid-20s," Sexton said.
"She and her mate had just hatched that year's chicks and then suddenly one day she went missing.
"She left the nest during a changeover, headed off hunting into the Mull hills and never returned.
"Her mate tried valiantly to keep the chicks alive and food was provided for him to help, but it was not to be.
"It's likely Blondie died in a fight with another eagle but her legacy lives on to this day.
"Her daughter Frisa fledged a chick this year and her grandson Itchy did too.
"Maybe next year it'll be the turn of her great-grandson, G1/56, to fledge his first progeny."
The sea eagle is globally endangered, with only around 10,000 pairs left on the planet.
With a wingspan up to 2.5m across and standing up to 1m tall, it is the UK's largest bird of prey – often nicknamed the Flying Barn Door.
Thousands of visitors flock to Mull each year to catch a glimpse of the birds, generating around £5 million annually for the local economy.
The award-winning Mull Eagle Watch project has distributed over £50,000 to local good causes on the island.
The reintroduction project was run by national agency NatureScot and the RSPB conservation charity, with support and help from farmers, crofters, landowners, Norwegian authorities and other conservation bodies.
It was undertaken in three phases, with 82 young birds released on Rum from 1975 to 1985, followed by 58 in Wester Ross from 1993 and 1998 and a further 85 in Fife between 2007 and 2012.
And the next chapter in the story has already begun.
A total of 13 Scottish-born sea eagles – some likely to be carrying first lady Blondie's genes – have already been relocated to the Isle of Wight in a bid to establish a new population in England.
A message from the Editor:
Thank you for reading this article. We're more reliant on your support than ever as the shift in consumer habits brought about by coronavirus impacts our advertisers.