Tourist tax Scotland: Cruise ships and all motorhomes should pay tourist tax, says Scottish council, amid over-tourism concerns
Cruise ships docking in the Outer Hebrides should be made to pay a proposed tourist tax – even if passengers come ashore just for the day – along with all motorhomes touring the islands, council leaders have claimed.
Comhairle nan Eilean Siar made the comments in its formal response to the Scottish Government's Visitor Levy Bill. The legislation would allow councils to collect a fee from those staying in overnight accommodation and invest it back into tourism infrastructure.
The council response comes amid a growing trend of motorhome users pulling up in roadsides and carparks for a free stop overnight stay. The cruise ship market is also booming, with an extension of Stornoway Port, which is due to be completed by the end of 2024, to take passenger numbers from 20,000 to an estimated 60,000 a year.
In its response, Comhairle nan Eilean Siar said: "The cruise sector in the Isle of Lewis and Harris is on course to become one of the largest users of visitor infrastructure. However – as per the current Bill – they would not be contributing to the sectors' continued development.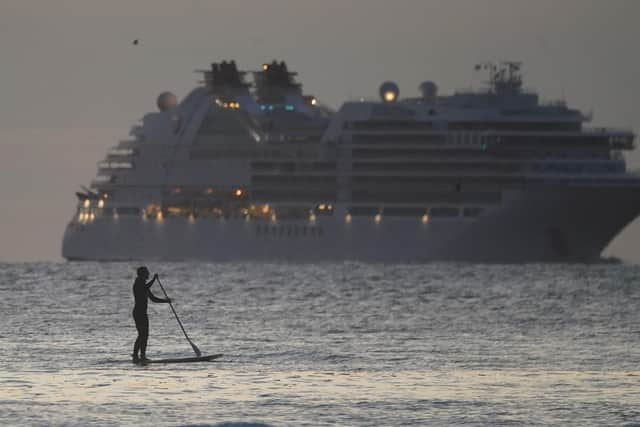 "Cruise ships tend to visit the islands for more than six hours and, whilst they do not stay overnight, they will visit the main sites using various modes of transport and visiting local shops."
The council said consideration should be given to allow local authorities to apply a flat rate per cruise ship or a percentage per passenger to be paid alongside pier dues.
The council said there had been a "clear omission" from the proposed legislation of motorhomes and campers who arrive on the islands and not use paid-for sites, where a levy would be applied.
"These visitors will still visit local attractions and use the infrastructure," the council submission said. "Its omission may give rise to increased 'wild camping', thus resulting on negatively impacting on the environment and the sustainability of the machairs."
The comments come after Highland Council stated its support for the levy to apply to all motorhome users.
Cruise Scotland, which promotes Scotland as a destination for cruise ships, was unavailable for comment.
The Bill comes amid growing concerns in some parts of Scotland regarding rising visitor numbers, over-tourism and the impact on local communites, particularly since Covid when travel restrictions drove a significant rise in domestic tourism.
Malcolm Roughead, chief executive of VisitScotland, said in a recent interview with The Scotsman that more work was being done with communities to establish the impact of tourism.
He said the work should have started sooner, adding: "We need to work with the communities to make sure they are happy and to make sure they can see the benefits tourism can bring them, not just in jobs, but generally speaking to enhance their own lives.
Mr Roughead added: "The issue has probably become more prevalent now because of Covid, but I think that work probably needed to be done pre-Covid. What you don't want to do is force it on people because that will lead to resistance and some people feeling that it is being done to them as opposed to them having a say in it."
Comments
 0 comments
Want to join the conversation? Please or to comment on this article.