Tickets on sale now for Scotsman Green Skills Conference
Scotland is facing opportunities and challenges as the drive for net zero powers on – The Scotsman and Skills Development Scotland have joined forces to host the second Green Skills Conference.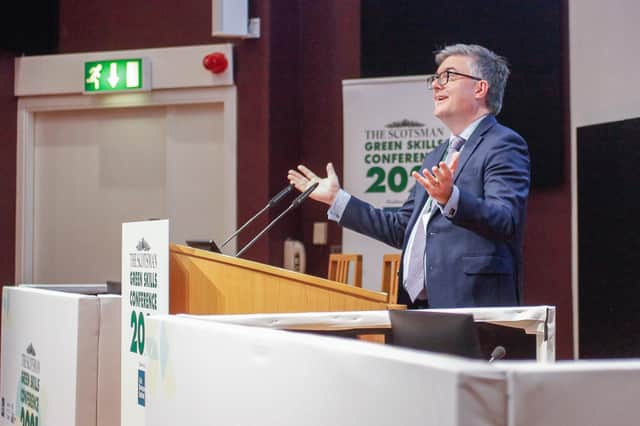 Scotsman Editor Neil McIntosh at last year's event - book your tickets now for 2022
How is Scotland addressing the Climate Emergency Skills action plan? What are the key issues facing us over the next 10 years? Is our education system delivering the future generation we need? And is industry upskilling its employees to deliver for the future?
These are some of the key topics on the agenda at the Green Skills Conference, returning to Edinburgh for a second time at the COSLA Conference Centre on October 4.
There's a fascinating line up of speakers, including host David Ready, Director of the Edinburgh Climate Change Institute; Lorna Slater, MSP, Scottish Greens co-leader and minister for green skills, the circular economy and biodiversity; Lauren Braidwood, project manager from the Energy Transition Zone; Christine Currie, head of skills policy at OPITO; and Paul Sheerin, chief executive of Scottish Engineering.
Put your company at the heart of Scotland's green revolution – sign up today
The day-long conference has sections on the skills challenges we face as we move to a net zero economy, the advances in technology to support that aim, nature-based solutions and rewilding Scotland, examining the green talent pipeline, a look at the transport network and changes, and how the workforce is being re-skilled and repurposed into heat decarbonisation.
The headline sponsor of the overall event is Skills Development Scotland, with support from ScottishPower, Scotch Whisky Association, Opito, Open University Scotland, HCI Skills Gateway, Nine Twenty Recruitment, ECCI, The Verdancy Group and Porsche Edinburgh Centre.
The headline sponsor of the overall event is Skills Development Scotland
They are on sale from now till October 3, at www.scotsmangreenskills.co.uk - however, spaces are limited, and potential delegates are encouraged to book early to guarantee a spot.