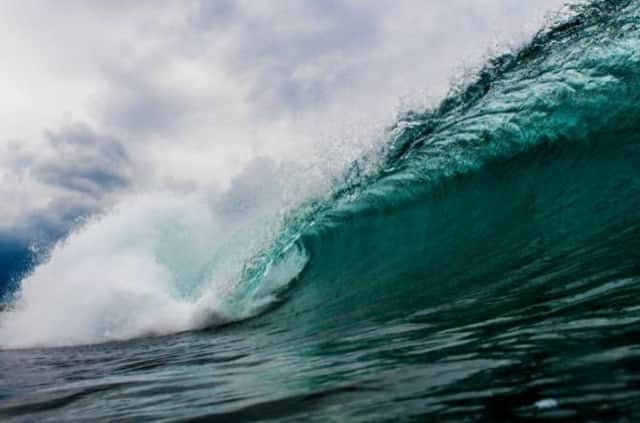 Shutterstock
Wave Energy Scotland (WES) has awarded a total of £1.8 million to be shared across three companies developing technologies designed to benefit the sector and, therefore, the wider economy.
The projects are all designed to make it easier and more cost effective to harness wave energy across the supply chain and, ultimately, help deliver the country's target of reaching net zero by 2045.
Scotland's work on achieving its ambitious net zero target will be in the spotlight across the globe in the coming weeks and months with Cop26, the high-profile UN Climate Change Conference, coming to Scotland at the end of October.
COP26 will be held in Glasgow in November: Picture: Shutterstock
The massive event will bring influential parties - including world leaders - together to discuss how the goals of the Paris Agreement can be reached to better tackle the growing climate crisis.
Apollo, Blackfish Engineering Design and Quoceant have secured the funding from WES, which was set up in 2014 to ensure Scotland maintains a leading role in the development of marine energy.
The companies will use the funding to demonstrate different quick connections systems for wave energy.
The aim is to reduce operating costs and improve offshore safety. It's also hoped the technologies could have applications in other parts of renewable energy, such as offshore wind, thus benefiting the wider industry supply chain.
This project is part of the WES's Quick Connection Systems Programme, fully funded by the Scottish Government.
Tim Hurst, WES managing director, says: "A crucial area that hasn't really been addressed by wave technology developers is how they connect their devices. If you can connect or disconnect something quickly it will be cheaper and if you can do so when there are waves around you don't have to wait for settled weather."
He explains that the three projects receiving the funding are seen to have the greatest potential to provide the safest and cheapest operations, with the best functionality.
Hurst adds: "We're trying to develop wave energy devices, but we're also trying to develop supporting technologies and take a whole sector approach. Programmes like this one exist to fill in the gaps."
Apollo's PALM (pull and lock marine) connector uses what is known as a passive locking mechanism that draws on proven mooring concepts deployed on oil and gas platforms. Apollo is headquartered in Aberdeen and its focus is on the energy transition from oil and gas to renewables, something evidenced by this project.
Nigel Robinson, sustainable energy director with Apollo, says the PALM is designed to make it faster for marine energy devices to hook to their moorings and electrical cables. He explains that it generally takes a lot of time for a boat to do that, so it's an expensive part of any project.
He adds: "This WES project allows us to build real kit and put it through its paces in the marine environment, which is an important step in getting it to production. It's an exciting stage for us – it brings it to life. Everything up until now has been on the desktop."
As part of the 12 month programme, Robinson explains that after laboratory testing, a prototype device will be built at demonstrator scale and factory tested at Global Energy's fabrication unit in Aberdeen. The aim is to get the device into the water for trials next spring.
He adds: "The idea is to bring down the cost of energy for wave and tidal devices. This programme is a good enabler. "I think it's exciting for the whole Scottish economy. Half of our funding is going to the local supply chain."
James Harrison, lead mechanical engineer and co-founder of Blackfish, says funding support from the WES programme has two distinct benefits. The first, and most obvious, is that it supports the development of innovative technology.
He adds: "The second benefit is centred around how that technology is developed. The competitive process, with regular stage gate reviews, ensures that the development process is not only well controlled, but also adds that competitive edge where all companies are truly striving to do their utmost to ensure their technology progresses."
He says the C-DART system can help reduce the cost of energy for wave and tidal devices in several ways.
"Our quick connection system is a facilitator; it will allow more wave and tidal energy devices to be installed more easily and with fewer risks. More devices installed, means more renewable energy for Scotland," adds Harrison.
The WES support will allow Edinburgh-based Quoceant to further develop the Q-Connect system. It is designed for rapid and safe connection and disconnection of moorings and electrical cables to marine renewable devices in a single operation.
Beth Dickens, company director and project manager, says the funding will allow it to focus on qualification testing to demonstrate the strength and durability of the Q-Connect and its range of applications.
She explains that this work is a crucial step on the path to commercialising the technology and would not have been possible without funding support. Such support encourages collaboration, increasing the changes of project success, fostering skills networks and encouraging market engagement.
"Scotland is blessed with a high ocean and wind energy resource, relatively long coast line and excellent existing infrastructure, skills and vessels from the offshore oil and gas sector," says Dickens. "A successful marine energy sector can play a significant role in decarbonising the energy sector and we hope that the Q-connect can play a part in realising the net zero ambition."
Scottish Government Cabinet Secretary for Net Zero & Energy Michael Matheson has said that the country is well-placed to capitalise on growth in the wave energy sector. He cited its abundant natural resources, expertise and forward-looking policy approach. He added that such potential led the government to invest more than £40 million to date into the globally respected Wave Energy Scotland programme.